Buy 3 Get 1 Free
Our Best Sale Yet! Add 4 Books Priced Under $5 To Your Cart     Learn more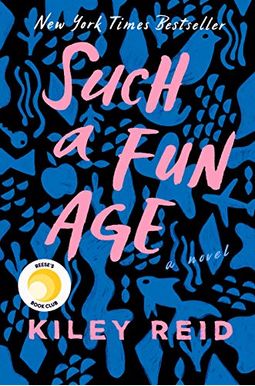  
Book Overview
A Best Book of the Year:
The Washington Post - Chicago Tribune - NPR - Vogue - Elle - Real Simple - InStyle - Good Housekeeping - Parade - Slate - Vox - Kirkus Reviews - Library Journal - BookPage
Longlisted for the 2020 Booker Prize An Instant
New York Times
Bestseller A Reese's Book Club x Hello Sunshine Book Pick The most provocative page-turner of the year.
--Entertainment Weekly
I urge you to read
Such a Fun Age
. --
NPR
A striking and surprising debut novel from an exhilarating new voice,
Such a Fun Age
is a page-turning and big-hearted story about race and privilege, set around a young black babysitter, her well-intentioned employer, and a surprising connection that threatens to undo them both. Alix Chamberlain is a woman who gets what she wants and has made a living, with her confidence-driven brand, showing other women how to do the same. So she is shocked when her babysitter, Emira Tucker, is confronted while watching the Chamberlains' toddler one night, walking the aisles of their local high-end supermarket. The store's security guard, seeing a young black woman out late with a white child, accuses Emira of kidnapping two-year-old Briar. A
Read More chevron_right
Frequently bought together
Frequently Asked Questions About Such A Fun Age
Books like Such A Fun Age
Book Reviews
(17)
Did you read Such A Fun Age? Please provide your feedback and rating to help other readers.
Phenomenal

Derived From Web

, Jul 8, 2021

For every college graduate, this book should be required reading. This book takes a deep look at the lives of three very lost people and shows the reader the devastating consequences of two of those people refusing to work for themselves. Emira is hurt time and again, but she has a fundamental sense of self and core values that guide her and the reader through the rollercoaster that grows up. Everyone can learn from Emira's attitude and Kelley's mistakes, but Alex is the true hero and will not be ignored or underestimated. I loved this incredible read, fast paced. It was hard to put down and the ending was everything.
such a fun book

Patti McRoy

, May 26, 2021

The title of this book drips with sarcasm, but the book itself is very straightforward. The main character is Emira, a 25-year-old Black woman who types 125 words per minute part-time for the Green Party and also babysits several days a week for a white three-year-old named Briar. The opening scene in this novel is one of the best I have ever read. It takes place in a grocery store, where a ripped-from-the-headlines racial profiling incident is caught on video. This video is crucial to the storyline, as is a coincidence, which the NY Times reviewer panned as farfetched but which I found to be entirely plausible. The heart of the story, though, is the fact that while Emira seems to love Briar even more than Briar's mother does, Emira is under pressure to find a job that provides some level of self-esteem and peer approval, as well as health insurance. At this point in her life, two white people—her boyfriend and Briar's mother--are infatuated with her, or perhaps just her blackness, and both of them are muddying the waters as far as her career dilemma is concerned. Although both of these white people claim to have Emira's best interests at heart, they both may or may not be clueless as to what those interests are. The saddest character in this book is Briar, a perceptive and talkative little heartbreaker, who, like Emira, is occasionally being lied to in the name of what is best for her. The author does an exceptionally good job of hinting at awkward, embarrassing, and/or revelatory moments to come, and I think this knack for building suspense is one of my favorite things about this book—that and Emira's good-heartedness, which sometimes blinds her to the lengths other people will go to in order to make themselves look good.
Loved this book

Derived From Web

, Apr 19, 2021

I saw this on several lists and loved it. It is not always an easy book to read because it touches on some uncomfortable topics about the race. But I thought the story was good, the characters well developed and although I did not love the ending, it was mostly because I did not love one of the characters. Well worth reading, and not a slog like some critically acclaimed books.
Worst book ever

Derived From Web

, Feb 6, 2021

A book club member chose Such a fun age for this month's read - we take turns on our book club selection. Based on the blind reviews, she selected this book positive. Even she, a very leftist Millenial, hated this book and apologized to the book club. It is that bad. We all hated it. She had high hopes for the novel's racial themes being relevant to current events, but it was far from being on the point. Poor writing, ridiculout plot and dialogue, shallow characters and vulgar content make this the worst book I ever read. I don 't get why it is so highly rated. I have always snarked at Amazon One Star reviews, like who are these people? And now I am a one star reviewer. One star is a star too many.
Thought provoking

Derived From Web

, Feb 2, 2021

This book is for love. It really made me think about race and boundaries. The three main characters are very multidimensional. I had a hard time getting past Alix's public breastfeeding scene, however, as a mother who had breastfed through pregnancy and then nursed tandem. The author seems to vilify Alix's breastfeeding her toddler as attention seeking behavior, but she gets the basics of nursing a two-year-old very wrong. No one feeds and then bottles a child that old. If a mother is this pregnant, she is not producing much milk anyways. And no two-year-old is going to tolerate a cover.
No Likeable Characters

Derived From Web

, Dec 11, 2020

I really wanted to like this book and care about the characters... but none of them are sympathetic or likeable. The ending was contrite and seemed to show one character as bad and redeemable and the other characters as good racist people.
So disappointing

Derived From Web

, Jun 16, 2020

However, for such an important topic for this day and age, this book was completely underwhelming. The characters are poorly engaged and not at all developed. The language between Emira and her friends was cringeworthy. I wanted her to stand so many times throughout the book and every time she was given the opportunity, her responses were ignorant and not fulfilling. I really hated this book ''.
This book is a must-have!

Derived From Web

, Apr 19, 2020

This book is phenomenal! This book made me cry in anger, almost cry in sadness and literally laugh out loud! Most importantly, it made me think of what it really means to live in this so-called post racial society of ours! You will identify with both Alix and Emira. DO NOT hesitate to buy this book. It is a must-have for your book club, you will love it and it is a must-have for your book club. This is not a paid review. I bought this book after reading a review in People magazine and I was in no way disappointed. Kiley Reid is definitely an author to watch out for!!
Basically a shopping novel trying to have social meaning.

Derived From Web

, Apr 9, 2020

This is a light read that wants more import. There is social media, there is institutionalized racism, old-fashioned racism and lots of clueless people. There is a lot of discussion about clothing and shoes. The main character is not really sympathetic, so I had a hard time sticking with this narrative. It felt like racism was thrown in kind of as an afterthought. I kept looking for the woken effect, but it wasn 't there. No one really spelled it out to this woman that she was a racist of the worst kind.
Maybe I've missed the punchline?

Derived From Web

, Apr 2, 2020

It is possible that others received something from this book that I did not. It seemed to be slightly ridiculous that this mother would have some silly desire to make her babysitter her new bestie and feel so excited about it. And this babysitter would be so in love with this child that she had been caring for for only a few months that she would be consuming her even two years later. There is more to say about how ridiculous this story is, but not worth the time to do it. I only finished it because it was our book group assignment. Don 't waste your time wasting it.