Buy 3 Get 1 Free
Ends Soon! Buy 3 Books Under $5, Get a 4th one Free.      Learn more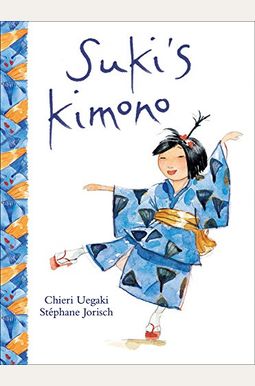 
 
Book Overview
Suki's favorite possession is her blue cotton kimono. A gift from her obachan, it holds special memories of her grandmother's visit last summer. And Suki is going to wear it on her first day back to school --- no matter what anyone says.When it's Suki's turn to share with her classmates what she did during the summer, she tells them about the street festival she attended with her obachan and the circle dance that they took part in. In fact, she gets so carried away reminiscing that she's soon humming the music and dancing away, much to the delight of her entire class Filled with gentle enthusiasm and a touch of whimsy, Suki's Kimono is the joyful story of a little girl whose spirit leads her to march --- and dance --- to her own drumbeat.
Frequently bought together
Frequently Asked Questions About Suki's Kimono
Book Reviews
(10)
Did you read Suki's Kimono? Please provide your feedback and rating to help other readers.
The clothes we wear don't define us, but they can connect us.

Derived From Web

, May 31, 2022

Suki's Kimono is a sweet book about dancing on the beat of one's own drummer while affirming family ties. Suki's sisters tear when she wants to wear a traditional Kimono to class, but the Kimono brings back happy memories, so Suki stands firm. My mother's side was cheering for Suki as she went to school and shared with her some of her memories out loud. Of course, any person can understand this profile, but is a less discussed tendancy and self-understanding. I purchased this book for my son because the connection to the family rings true. I also bought it for myself and was happy to see the main character dance.
Wonderful Book to Celebrate Uniqueness!

Derived From Web

, May 31, 2022

Suki Kimono is about a young Japanese girl named Suki who wears her favorite Kimono from her grandmother to school on the first day. Her elder sisters tell her that it is not cool and warn her about what others might think, but Suki wears it anyway because she is proud of it and its memories. Love the meaning behind this book ; be yourself ; and don 't worry about what others think of you. I read it every year to my second students and we have a nice discussion about what makes us all unique and why it is important to celebrate these differences. Also the illustrations are exquisitely done. Book is awesome!
Wonderful Book About Appreciating Your Heritage!

Derived From Web

, May 31, 2022

Instead of feeling embarrassed about her clothes, Suki embraces her differentd and explains to her teacher and her friends why she wears her Japanese clothes! A fun read for preschoolers and probably also for elementary school children.
Beautiful ❤️

Derived From Web

, Apr 9, 2021

A perfect little story about why it is important to understand yourself even if others don 't.
Loved it = )

Derived From Web

, Jun 22, 2020

There is a lot of pressure from other children and even our own family to deny our cultural heritage... Therefore, I love how this book encourages children to embrace and share what their culture is about and what they love about their culture. There is beauty in every culture, and sharing it with each other makes the world beautiful, but if we deny ourselves and our heritage is like a secret or something to be ashamed of, then we remain broken under a mask of uniformity. It does not work just fine. If someone is from Japan or Scotland or Zimbabew or from anywhere else in this world, they should grow up supported and encouraged by educators and communities to celebrate the beauty that their culture and their people add to the world. The good celebrates.
Love this story

Derived From Web

, Feb 27, 2019

For my preschoolers, perfect for our clothing study.
SO CUTE!

Derived From Web

, Jul 2, 2018

Lovely Book ''. I used it at my school for a multi-cultural day and my students LOVED it!
reading this unnecessarily wordy book aloud will leave you with a looped ...

Derived From Web

, Jun 25, 2018

Beautiful message. However, reading this unnecessarily wordy book aloud will leave you with a looped tongue that will require a trip to a tongue day spa to unwind!!! Don 't bother with any noise such as TV or music in the background or you 'll need an Ativan at the end of it all!
a brand new first grader who follows her heart and sticks to what she loves and gently makes others fall in love with her favorite thing too

Derived From Web

, Mar 13, 2018

I look at Suki, a new first grader who sticks to her heart and follows her favorite thing.. I also fall in love with her favorite thing. Lovely watercolor illustration of street scenes, activities and portraits.
Great story

Derived From Web

, Feb 12, 2017

After we spent 4 years in Japan, good for my 3- and 5-yo. Great lesson about marching with a positive outcome on your own beat. Didn't notice any big grammar or spelling issues in the story -- a glaring plus in this house!