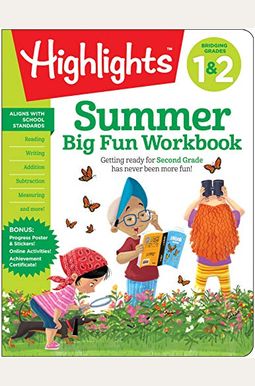 
 
Summer Big Fun Workbook Bridging Grades 1 & 2
Book Overview
Get ready for second grade and keep learning skills sharp all summer with this innovative activity-rich curriculum-based workbook. Organized week-by-week and aligned with state standards, kids will love the puzzles that make skills-practice fun plus the bonus pull-out Hidden Pictures progress poster, fun reward stickers, award certificate and the extra activities that they can take outdoors.
Expertly crafted to combat summer slide,
The Big Fun Summer Learning Workbook (1&2)
will give kids a head start on their upcoming school year. This book provides the right balance of review to keep skills sharp and a preview of what's to come, and features a wealth of Fun with a Purpose(R) puzzle-based activities. The book also includes ideas for simple ways to extend the learning through fun outdoor activities.
Includes:
Vowels and consonants
Syllables
Parts of speech
Cursive writing
Reading
Punctuation
Shapes
Addition and subtraction
Fractions
Time
Measuring
Regrouping
Map skills
Science
PLUS -- a bonus pull-out progress poster, reward stickers, and a Certificate of Achievement
Winner, Family Choice AwardWinner, PAL (Play Advances Language) AwardNational Parenting Seal of ApprovalWinner, Teachers' Choice Award
PAL (Play Advances Language) Top Ten Pick
Frequently bought together
Frequently Asked Questions About Summer Big Fun Workbook Bridging Grades 1 & 2
Book Reviews
(10)
Did you read Summer Big Fun Workbook Bridging Grades 1 & 2? Please provide your feedback and rating to help other readers.
Disturbing "typo"

Derived From Web

, Jan 19, 2021

My 6 year old Afro-Latino child finished his homework when he came across this word. He does not know how that word is spoken, but he can understand it if he hears it. He knows that it is a very bad and unkindled urn. I have contacted the company directly, but I've advised parents to be cautious about this particular book. I bought several of these books through Amazon throughout 2020 as supports for homeschooling material for my son and I'm deeply concerned and disappointed about how this company made it happen.
Great Summer Review Book

Derived From Web

, Sep 14, 2020

I would recommend this book for most children who have moved from second grade to first grade. In summer 2020, My Son worked through this book on his own. Instead, he would have spent his summer watching TV and hanging out with his buddy on the street, but it was a useful way for him to retain the information and skills he learned in the first grade. During his first month in second grade, he seems to be doing as well as he wants. Any job he is not good at is because he does not want to work at it, not because he lacks knowledge, skill or capability. A few more hours a day three to five days a week on this book during the summer helped him be exactly where he needs to be.
Good amount of lessons/practice pages

Derived From Web

, Aug 29, 2020

This book loved. Good practice and helpful instruction are shown. While she does not love math and English, the hidden puzzles, mazes and find the sporadic picture exercises leaves her more tolerant to do "school work " when not actually in school. Every year she will buy her corresponding grade.
Best workbooks

Derived From Web

, Jun 25, 2020

I have bought quite a few workbooks for my children and the highlights are the best by far! They mix various skills within a chapter, so that in each chapter you will get a little phonics, literacy, and math. There is a map at the end where children place a sticker for each completed chapter, which they like. There is also a fun crafting activity at the end of each chapter and a random search and find picture mixed in each chapter to keep it amused and keep them entertained. A must buy definitely!
Good for keeping students active during the summer

Derived From Web

, Dec 2, 2019

I think this is a really fun workbook to keep kids from losing what they learned between the first and second grade. Math could be a little bit too easy for my daughter, who is very bright and a little ahead of her peers, but could be perfect for an average student. Reading and solving puzzles will be really helpful.
Great workbook filled with different activities

Derived From Web

, Nov 19, 2019

The Summer Big Fun workbook is a fun and educational workbook for my child, who is currently in 1st grade. I like that the book covers many different subjects including reading, writing, critical thinking, mathematics and science. My child loves to put stickers on the progress page after she completes a chapter.
Love these workbooks!

Derived From Web

, Nov 17, 2019

Absolutely love these workbooks and my children so thoroughly enjoy working together on the pages. These are so great to throw in the car and use while running errands, at the restaurant or on vacation!
Great practice or supplemental learning

Derived From Web

, Nov 16, 2019

This book highlights has 138 brightly colored pages filled with state-aligned learning exercises in reading, writing, math, and science. Stories and activities have easy to read and understand directions, making them something that your child can work on their own and then check. The back of the book has stickers for the reward chart and a certificate page to give them on completion.
Amazing Educational must have!

Derived From Web

, Nov 15, 2019

I absolutely love the Summer Big Fun workbook, which will get my cookie ready for the second grade. It aligns perfectly with education standards and includes the language arts, mathematics, social studies and science! ''! The book is divided into chapters and includes a printed out-of-stack and access to online activities! I was fortunate to be able to use it for free I can 't wait to receive it with my first grader! #ad #highlights #highlights #highlightslearning #brilliantmindsmember
Schooling kids ask just for fun

Derived From Web

, Apr 30, 2019

I have tried highlights and love their work books. One of them is very good. It is fun, but so easy to ask my kids to learn just for fun. We went to high school and my five-year-olds all like it. The 5 and 7 year old would say, I learn most from it.