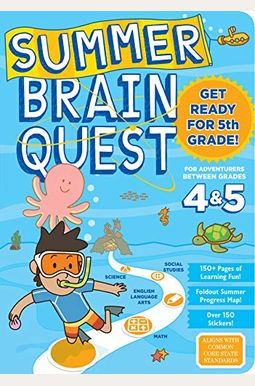 
 
Summer Brain Quest: Between Grades 4 & 5
Book Overview
Stop summer slide Stay summer smart For kids who just finished 4th grade, this Common Core-aligned workbook will get you back-to-school ready for 5th grade, with hundreds of fun activities, exercises, and games.
Learn all summer long with this personalized, interactive quest Begin with a map that guides you through a workbook jam-packed with activities based on reading comprehension, research, writing, decimals, fractions, earth systems, American history, and more, with fun illustrations throughout. Once you complete an activity, get your stickers and track your progress on the map Loved by kids, teacher-approved, and parent-trusted, this
Summer Brain Quest Workbook
also includes bonus challenges and stickers, outside activities, a summer reading list, a Brain Quest mini deck, and more.
Frequently bought together
Frequently Asked Questions About Summer Brain Quest: Between Grades 4 & 5
Book Reviews
(11)
Did you read Summer Brain Quest: Between Grades 4 & 5? Please provide your feedback and rating to help other readers.
Excellent and fun Summer review!

Derived From Web

, Jul 17, 2021

A bright 4th to 5th grader at school.
Helps Stop the Summer Slide!

Derived From Web

, Jul 11, 2021

My son absolutely loves the book. Like the stickers, he likes to see how much he's completed with them and make his way along the path.
Open Schools and Be Prepared

Derived From Web

, Jul 21, 2020

GREAT books for my kids and they are going to get extra credit for having completed them this summer when school opens in August, Ms. Caramore said.
Good concept, less-than-stellar execution.

Derived From Web

, Sep 23, 2018

They needed a second proofreader to check this over before publishing it. It's very annoying to have to correct the words and math in an educational book, when just a little more effort on their part could have caught the mistakes and it would have been higher quality, with higher ratings, Mr. O'Neill said.
Decent content, faulty book

Derived From Web

, Jun 29, 2018

I bought two of these for my twins who are entering 4th grade and are in the top 5 percent of their class. However, after having the books for less than a week the binding in both of the books sort of gave way and all of the pages of one book fell out, leaving it no longer a book. Now I have to find another way to keep them all contained and together, Mr. Dhaliwal said.
I love it!

Derived From Web

, Jun 12, 2018

I really enjoyed the book, said Blair. It includes math, language arts, social studies and science. My fourth grader used it as a bridge between 4th and 5th grade. He is really enjoying the activities, said Jennette Tamayo, a spokeswoman for the park. It's just that I don't feel like work. I just wish they had more instructions with some of the lessons.
Falls apart when you touch it

Derived From Web

, Jun 5, 2018

We have touched every single page of this book. We're losing one or two kids a week. He said the singer was "100 percent" committed to the cause. That was pretty impressive, right? Even where I just turned the page. Another huge pile of loose papers has arrived at the post office. It's especially a pain because we got it to work on in the car and now my entire backseat is covered in loose paper. I don't know why they would even need to perforate the pages in the first place, but their perforation machine must have been on overdrive. 0 1462228 14622201 The printer did not hesitate to cut corners and I don't know why they would even need to perforate the pages in the first place, but their perforation machine must have been on overdrive when they printed this book. Turner said he was "100 percent behind George Bush" and called the Iraq war a "big mess."
Well balanced, colorful and fun

Derived From Web

, Jun 5, 2018

This workbook is large and colorful, and is also useful for creating PowerPoint presentations. My son, 10, has a very good idea of the map. Tutors will do the work on his time until they are completed, Hughes said. This is great for him during the summer to keep him from getting too lazy. It's very interesting that the workbook also allows the user to choose his or her own path. Once you have completed the first two sections, the user chooses which section he wants to progress to next. Highly recommend.
I'm not sure

Derived From Web

, Aug 12, 2017

The book flows from one grade level to the next, sometimes at a maddening pace. It all seems to me like it was just mixed up in one. I was expecting something going from 4th grade level to be more difficult, but that wasn't the case. For the subjects to be color coded and because I used to use their long question and answer cards when I was little, I expected much more organization at hand. We got through the book pretty okay, but I was disappointed at how confusing the set up was. The academy has since added two stars to the list. Even though my son finished the book, I would not recommend it to anyone.
This should be for 3rd to 4th grade

Derived From Web

, Jul 23, 2017

This is a 4-year-old. At this level, the reading level is 2nd to 3rd grade and some of the math is too easy.