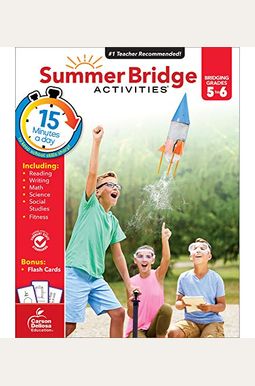 
 
Summer Bridge Activities(r), Grades 5 - 6
Book Overview
Workbook Features:

- Ages 10-12, Grades 5-6

- 160 pages, about 8 inches x 10 1/2 inches

- Reading, writing, math, science, social studies, and more

- Includes fun fitness activities

- Flash cards, completion certificate, and answer key included
Hands-On Summer Learning: Summer Bridge Activities Workbook helps fifth--sixth graders keep their skills sharp during the summer months to prevent summer learning loss through fun practice pages and activities, engaging fitness activities, and more.
What's Included: This book covers all subjects, focusing on grammar and writing skills, fractions, solving equations, social studies, science experiments, fitness activities, and more. Flash cards and a completion certificate are also included.
How It Works: Each page is numbered by day so kids and parents can track progress and reach monthly learning goals. Each activity features clear, step-by-step instructions and practice pages to help sharpen students' skills for the school year ahead.
Just 15 Minutes A Day: Two months of learning loss occurs during the summer, with the highest losses being in math and spelling. This activity book is designed to prevent summer learning loss in just 15 minutes per day through hands-on activities.
Why Summer Bridge: Summer Bridge Activities(R) engage Read More chevron_right
Frequently bought together
Frequently Asked Questions About Summer Bridge Activities(r), Grades 5 - 6
Books like Summer Bridge Activities(r), Grades 5 - 6
Book Reviews
(11)
Did you read Summer Bridge Activities(r), Grades 5 - 6? Please provide your feedback and rating to help other readers.
Great book to keep kids engaged over the summer!

Derived From Web

, Apr 20, 2022

It has activities assigned to each day of the week. It's a great way to keep track of how many chores each kid has to complete each day. My son has dyslexia and a processing disorder, and I found that this was appropriate for him. I bought this book for my daughter because she had no learning disabilities and I still found it made her think and practice skills without being too easy. I originally looked over this book at a large retail store and it was twice as expensive.
I'm one of those moms...

Derived From Web

, Jul 10, 2021

No wonder Simon and Schuster were so happy with the outcome of this book. It takes him 10 minutes or less to finish a page, front and back, each day. We both like the extra trivia at the bottom of the pages, Hollingworth said. Some of the work has him practicing math skills he didn't cover in 5th grade. He also tells us that if we go over a bridge, the book won't fold. He has done review books before, so I help him with those too. I've already bought the book.
PERFECT for summer studies/refresher!

Derived From Web

, Jul 12, 2020

These workbooks are great value for money, even if you have no interest in computers. At first, it took 30-60 minutes per day for the network to fully function. Some of the videos are more advanced, and some are brand new to them. But, all I can say is that along with my kids, they will be prepared for the fall, if not a smidge ahead, giving them the confidence they need to start off strong for the new school year. Recommend this product to all your friends! Great product, said Brian Goodrich, product manager at Dynegy.
One of the best summer resources for students!

Derived From Web

, Jun 7, 2020

I've been a teacher for over 20 years and the Summer Bridge books are superb. They are well-written, focus on a variety of skills and are fun! There are also science activities included, along with a few game cards at the back of this one. I'm quite impressed with the results. Not surprisingly, the two have great writing. And I love that the answers for the math and grammar are at the back of the book, giving immediate feedback to students.
Must have!

Derived From Web

, May 19, 2020

Really impressed with what I've seen so far, especially with the cutting school run short this year, Mr. Goin said. Overall, I think it was a great first day of school, and I'm looking forward to the rest of the year.
Worthwhile workbook

Derived From Web

, May 5, 2020

The only criticism I have is that one doesn't always have the necessary resources to complete the task, for example, my son doesn't have wifi access on a portable device to do the super exciting latitude and longitude discoveries. But the assignments are very doable with 3 sections of 2 pages each which helps pace and keep the interest. There are also breaks in the middle of the sections. Though the answers are available in the back there are not many examples of how to do it. It's great to see that there are people out there who feel this is a worthwhile purchase to assist in keeping the mindset of schoolwork glowing.
education and entertaining

Derived From Web

, Sep 17, 2018

Great product, very educational and entertaining for my 11 year old son. It's great to hear from Dr. Goin that they recommend it. Great tool to keep my son busy, said Jennette. He also said he loved that there was an award at the end of the book that showed his accomplishments.
Great!

Derived From Web

, Jan 5, 2018

I've had a lot of fun with the bridge activity books. It's great to be able to stay up with the kids during the summer, he said.
Great

Derived From Web

, Sep 29, 2017

I bought this book for the first time over the summer and I am so happy I did! We've noticed a huge difference in preparedness for school since using this work book, Mr. Caramore said. I bought on for my 5th and 6th graders. Each day, we will have four lessons that focus on different subjects. The lessons get progressively harder but are well thought out. Each day is designed to take about 15 minutes, so there's not too much grumbling about doing school work over the summer, Ms. Caramore said.
I like brain quest better

Derived From Web

, Aug 2, 2017

This is good for kids that like to do homework and are relatively sharp or for parents that want to explain each excersize. What do you expect from a teacher of this caliber? I like the variety and do mix it in for a change, but the brain quest books are more fun and give GREAT instruction so kids can pick up and do things on their own, said Dr. Richard. Goin. It's great to be outside, exercising and having fun, said Jouejati. The book is also very cool, Rowling said.