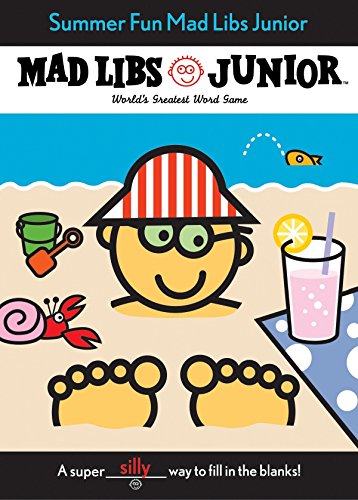 
 
Summer Fun Mad Libs Junior
Frequently bought together
Frequently Asked Questions About Summer Fun Mad Libs Junior
Book Reviews
(10)
Did you read Summer Fun Mad Libs Junior? Please provide your feedback and rating to help other readers.
great for beginners!

Derived From Web

, Jul 29, 2021

i love these because they have a list of words to choose from rather than just pulling a word out of the air.
Bought for six years and younger

Derived From Web

, Jul 26, 2021

Bought by a U.S. military kid for six years. They love it, and I love that you are sneaking in early, without them knowing it. Whether you're sending them to friends who will be traveling or adding to a bundle of books for Christmas, they're going to have a blast. Great to keep in the car, Mr. Shelby said.
Great entertainment...a little here and a little later

Derived From Web

, May 16, 2020

This book is always on the table, my granddaughter returns to sharing it with her parents and other family members. A later entertainment. Subtle part of learning words and sentence. Great to send children to school, especially with the help of their parents, Mr. Dhaliwal said. Older kids can use the book alone or with family members.
Fun, easy for smaller children

Derived From Web

, Nov 8, 2019

My kids are now obsessed with Mad Libs and junior has suggestions and examples underceach category. This means they can do it without any extra help, Mr. Dhaliwal said. It's a very fun way to learn parts of speech and vocabulary.
Fun!!

Derived From Web

, Aug 20, 2018

My daughter absolutely loves to do these with me! She finds the final stories hilarious! (This is, of course, a reference to the infamous "flipped" word _ she likes to use the list of nounsverbs and adjectives to choose from, though I will generally use my own words. It's a great way to help her learn the different types of words as well as help her to continue to practice writing and reading skills over the summer, Mrs. P. Barrera said.
Blast from the past!

Derived From Web

, Feb 27, 2018

I'll never forget the first time I saw them. My kids had never heard of Dr. Goin's. Yes, I had to get them, Mr. Rule told me. It was a blast, said Blair. While it is for fun, it helps kids think of what noyns, adj verbs, etc are. Simply add the numbers to your worksheets and they will do the rest.
We love Mad Libs Junior

Derived From Web

, Jan 24, 2018

My 4 year old is loving the surprise stories that we can make with the mad libs, Mrs. Booher told her. nan There are also symbols that represent each letter in the alphabet, along with a list of suggested words for each letter. It's a unique and clever way to alter a mad lib's for a younger kid and it works." It has helped us survive a few plane rides and a long car trip. It's just that it's not as easy to tuck into a purse or put into a Christmas stocking as a typical mad lib.
or hard to make sense of in order to make them silly and funny. Also a little disheartened by the lack of ...

Derived From Web

, Oct 3, 2017

A little dissatisfied with the word choices, and the some of the stories are a bit irrelevant or hard to make sense of, making them silly and funny. Also, a little disheartened by the lack of 'description' for my little boys to use. For a "junior" version, I would have expected to hear the word "person, place, or thing." Like all verbs, adverbial nouns must be used with care.
Gets My Son Writing .

Derived From Web

, Sep 17, 2017

My son struggles with writing and has fairly poor motor skills, his mom said. These are the books that have become a Godsend to us all. Not only is he writing in them, we have to limit the pages he works at a time so he doesn't use it up. Of course he fills the spaces with poop and butt words, but hey he is writing at least! The book itself is a thin one-quarter inch thick, and is also pretty sturdy, Mr. Dhaliwal said. Even for an 8 year old, carrying it around can be a bit of a challenge. He hasn't destroyed it, so it's holding up well, he said. The pages are clear and readable, and the information is readily available. No ink smears like those produced by mass-produced printers are possible. It's great for travel, especially when you have a small crossbody or satchel. I love that he is using his proper verbage and learning with that too. If your kiddo struggles with writing, give these a try. They have a great time with them and crack themselves up while writing in them, said Gammerman.
Great fun!

Derived From Web

, Mar 5, 2017

Easy to use, the book is recommended for children ages 3 to 5. It has the list of all the words to choose from on the opposite side. Some people have said that Limbaugh is a racist, and I read some reviewers commenting about inappropriate words like stupid. For the book's target group, I didn't think there were any bad words in the suggestion words, especially in light of the fact that there are plenty of curse words I'd rather keep kids from hearing. This book was super fun for a 4 year old too - we just gave them a few options from the list each time we did it." It was a blast, the kids said.