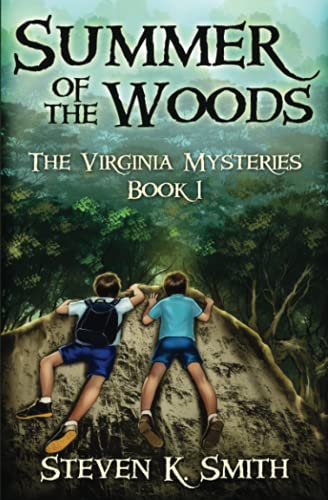 
 
Book Overview
When ten-year-old Derek and eight-year-old Sam move with their family to Virginia, they have no idea what adventures the summer will bring. As the brothers explore their creaky old house and the deep surrounding woods, they uncover a sixty-year-old mystery of a valuable coin collection stolen from the local museum. Join the boys as they spend their summer running from danger and searching the woods, secret caves, rushing waters, and hidden passageways for treasure and the rare 1877 Indian Head cent coin The Virginia Mysteries Book 1
Frequently bought together
Frequently Asked Questions About Summer of the Woods
Book Reviews
(7)
Did you read Summer of the Woods? Please provide your feedback and rating to help other readers.
Packed with adventure

Derived From Web

, Sep 30, 2021

My 7 year old son is a big fan of adventure. I have 2 sons 3 years apart, so he felt like he could relate to it. This is the second non picture book I have read to him, and he was very into it. The book had him as quiet as a mouse, but he is a very hyper child. There were a few places in the book where we were laughing and I enjoyed reading it to him. I wanted to read this book to him so that we could spend time together before we go to sleep. There is a great story with history. I ordered Book 2.
Can't put this book down!

Derived From Web

, Feb 8, 2021

I like the books of the author. We' ve read all 9 Virginia mystery books. It was interesting and page turning. I hope that is the case. Liberty University is located in Virginia but is online. Washington State is where we live. He is learning a lot from the books he has read. I read to him, because he is seven. I enjoy the books as much as he does. The relationships between the characters are one of the better parts. Sam is very similar to his brother who pushes him into bad situations. Every child faces peer pressure. Caitlyn is smart but relies on the other two to help her. Sometimes it is necessary for someone to hold back Dereck's overly ambitious spirit. Happy reading!
Painfully boring

Derived From Web

, Jan 1, 2021

My kids found this book very boring. I tried to make it interesting for them but it's boring for me. If I wanted a story that would put them to sleep, it was my go to book. When my family can't sleep at night, I will threaten to read this book, and they will calm down immediately. If your kids like books where the story moves quickly and steadily, you should keep looking. I was surprised that my kids preferred a Secret Seven story over the one in this book, I had high hopes for this book, but it was disappointing.
Nice story, moves quickly

Derived From Web

, May 10, 2019

The story was fun and engaging and I pre- read it to use next year. I believe my son will eat it. I can't find books that challenge him on reading level since he is 6 years old and reads on a 4 th level. It was a great fit. I will buy more in the future.
A 7 year old boy from Virginia loved this book and read it in a few days!

Derived From Web

, Apr 10, 2019

My grandsons were interested in the book. The story takes place in the Virginia woods. If an adventurous boy, the 2 boys in this story could be the reader. He read the story in a few days. As a second graders, that's pretty good parents. The subject matter is the most important. It is believable. Their reading skills are also challenged. I didn't hold my grandson back to age level or grade level, but more on interesting topics. The book kept his mind interested. He can give you every detail of the story, so I know it was well written. Write about Steven Smith.
Just okay

Derived From Web

, Jan 13, 2019

Was that a full book? It was like a short tale. Maybe it's a preview of the next book. I have five sons and the dialogue sounded like an adult trying to write as a kid. I could have walked away, but I was determined to finish it and I can see how a younger child might enjoy it.
great adventure book for boys

Derived From Web

, Dec 3, 2017

My 10- year- old loves to read and I spend a lot of time reading out loud. The book was enjoyable. The main characters are engaging, and the story is realistic, so it allows your child to imagine the adventures they will have. The writing for a children's book is exceptional. From one sentence to the next the writing flows smoothly. As I read out loud, I never found myself skipping or rewording a sentence. The story actually ends at the end of the book. You don't have to keep buying more books to find out what happens. This book is perfect for any boy. My son loves to read, but this book is so well put together that I believe it would be appealing to a reluctant reader as well. I will purchase the second book soon.