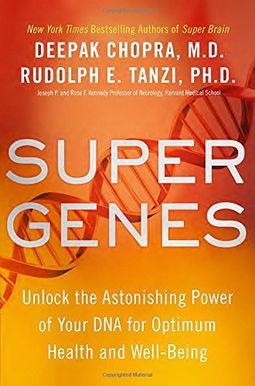 
 
Super Genes: Unlock the Astonishing Power of Your DNA for Optimum Health and Well-Being
Book Overview
This Description may be from another edition of this product.
The authors of the New York Times bestseller Super Brain present a bold new understanding of our genes and how simple changes in lifestyle can boost genetic activity. The leap into radical well-being is a promise waiting to be fulfilled.
You are not simply the sum total of the genes you were born with, writes Deepak Chopra and Rudy Tanzi. You are the user and controller of your genes, the author of your biological story. No prospect in self-care is more exciting. Learning how to shape your gene activity is at the heart of this exciting and eagerly-anticipated book from the bestselling duo behind
Super Brain,
which became a nationwide hit on public television. For decades medical science has believed that genes determined our biological destiny. Now the new genetics has changed that assumption forever. You will always have the genes you were born with, but genes are dynamic, responding to everything we think, say, and do. Suddenly they've become our strongest allies for personal transformation. When you make lifestyle choices that optimize how your genes behave, you can reach for a state of health and fulfillment undreamed of even a decade ago. The impact on prevention, immunity, diet, aging, and chronic disorders is unparalleled.
Frequently Asked Questions About Super Genes: Unlock the Astonishing Power of Your DNA for Optimum Health and Well-Being
Book Reviews
(10)
Did you read Super Genes: Unlock the Astonishing Power of Your DNA for Optimum Health and Well-Being? Please provide your feedback and rating to help other readers.
Disappointed

Derived From Web

, Feb 9, 2022

I am a health care professional, so I appreciate research studies backing things up, but I felt like there was just too much fluff and not enough solid information here. We already know that probiotics are beneficial. I didn't expect to get a huge new revelation, but I felt like I wasted my money on it. I didn't learn anything new because Deepak seems to be recycling his ideas a lot lately. Take a probiotic and meditate. The book is in 10 words or less.
A Super Surprise!

Derived From Web

, Feb 9, 2022

I was looking for a new book to read when I found this gem. The book helped me understand the world of the human genome in a way that I could easily understand. I learned a lot and was interested in all of the experiments in the book, but I also learned a lot of skills and habits that I could implement into my life to become a more rounded person. The book is very good and I would recommend it to anyone.
Two Out of Three!

Derived From Web

, Feb 9, 2022

Sections one and three were very good. Section three attempts to integrate mind and conscience into the genetic equation. In my opinion, these are the areas where the authors excel. Dr. Tanzi is a geneticist, and Dr. Chopra is a philosopher. The practical lifestyle advice in Section 2 was weak. Neither of the authors and currently in private practice work with a large number of patients. The advice was too general and limited. I didn't think they had the power to match the other possibilities in the book. I'm glad they wrote it because it's an important work.
Get the book if you want to improve your body and mind

Derived From Web

, Feb 9, 2022

I heard about the book on the show. I work for a window company and I put fuel in trucks for them. If you have an understanding of what a average person wouldn't even think about, you might change your life by opening your mind. My family looks at me like I'm nuts and half retarded when I talk to them. Sometimes I sound like I need to go back to school, I have been told. I need to stop talking about myself when I start improving. The book is available for purchase.
Nicely organized. Some parts were challenging to read (some ...

Derived From Web

, Feb 9, 2022

Practical solutions and the science to back them up. It was well organized. Some parts were difficult to read. Simple solutions are offered in part 2 diet, stress, exercise, meditation, sleep, Emotions. The appendixes were enjoyable. Drs and Health Professionals will not find it difficult to read, but for the lay person it may be difficult to understand some biological concepts.
The book provides an easy "no brainer" approach to making 52 easy permanent changes ...

Derived From Web

, Feb 9, 2022

Everyone who cares about their health needs to read this book to fully understand how much control each person has over their own health and how much they are able to do alone. We think everything from do to eat. Our genes are affected at the level of our genes. About 5% of genes are fully penetrant, but each person can affect the functioning of their genes through diet and life style. 52 easy permanent changes with positive effects on health can be made with the book. Each person chooses what they want to change and commits to one simple, easy thing they can do each week. We are in control of our health. It is easy to read back up with lots of science.
Super Book

Derived From Web

, Feb 9, 2022

We should include this in the school curriculum so that people can live healthy. It was nicely presented, even though I can't understand it.
Empowering! Encouraging! Excellent!

Derived From Web

, Jan 21, 2021

This book is so valuable that I have read it 3 times in order to be in the company of two brilliant minds as they share information that we can use to improve our lives, our health, and our brain. I would like to thank you for writing the book. It is!
Learn, think, awaken!

Derived From Web

, Sep 15, 2018

This is a great read to broaden our perspectives, quench questioning attitude, and find interesting implications supported by science. Neal Walsh's books have given us the more spiritual enlightenment. I like science because it backs up what I and countless others have always thought. We are on in close proximity of transformation and how we feel about it and react to it will determine our path forward. Hope it makes sense. I think that I learn. I am not who anyone else tells me to be. I believe that there needs to be a law. I will not accept what religion, doctors, big pharma, politics, commercialism feeds me. I'm not a dog. There are more people waking up and that makes me happy. This is a well written book that should be read again in a year or so.
This book is very deep.

Derived From Web

, Feb 20, 2018

I liked it, but I didn't understand a lot. It made me think about how I can change myself. It made me realize that many genes can be changed and made better. It went against what I thought. I hope to read it again. I can understand it better than the first reading.