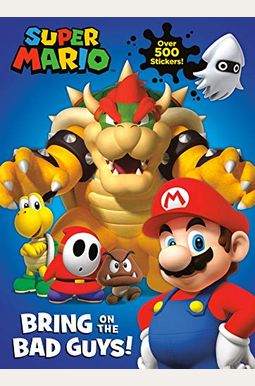  
Super Mario: Bring On The Bad Guys! (Nintendo)
Book Overview
A brand-new full-color activity book with over 500 stickers starring Nintendo's classic team of Mario and Luigi, and their most fearsome foes
Super Mario fans will love this full-color activity book featuring Mario, Luigi, Princess Peach, and all their foes--Bowser, Koopalings, Wario, Waluigi and more Filled with action-packed activities and over 500 stickers for gamers of all ages Mario made his debut in the 1980s in arcades around the world and has since gone on to star in many adventures, evolving into the beloved icon he is today. He is a video game sensation, appearing across all genres--from action platformers to sports, kart racing, and beyond.
Frequently Asked Questions About Super Mario: Bring On The Bad Guys! (Nintendo)
Book Reviews
(10)
Did you read Super Mario: Bring On The Bad Guys! (Nintendo)? Please provide your feedback and rating to help other readers.
Another fun sticker and activity book

Derived From Web

, Dec 28, 2021

My son loves these! My son loves these! '' There are always a few activities meant for two people, so that it gives us an opportunity to play together and share the laughs over a game. We love it very much and the book keeps him occupied for hours.
So Awesome!!

Derived From Web

, Jun 1, 2021

This thing is amazing! It's full of activities and stickers that tell you what page to put them on. It is colorful and so much fun! My 6 year old LOVED IT!! Hours of fun!
Perfect for kids' who love stickers

Derived From Web

, May 11, 2021

This has stickers from the first Mario game all the way to the new ones. Tons of them. Tons of them. My friend's daughter turned 5 and is going to love it. It is a pretty good book if you need something to keep your child busy for a while.
My grandson loved this.

Derived From Web

, Mar 14, 2021

He is a big fan of Super Mario. He loved all the stickers and fun pages. He is five and could do most of the activities, but still isn 't reading, so needs help from time to time.
Cute activity book

Derived From Web

, Jan 4, 2021

My son Mario is a lover of sand. He saw this in an Amazon search I was doing and wouldn 't stop begging until I got it for him, so I did. He seems to like her. There are lots of puzzles and stickers to keep him occupied. I like that he gets to do Mario stuff that isn 't on a screen, so it works for me!
Fun book for kids (and parents)!

Derived From Web

, Aug 23, 2020

Just like me thirty years ago, my daughter is fascinated by Mario's character designs! This is a perfect companion to any game-loving household during art time, fun time or at any time! The cool bad guys get their due with fun coloring pages and activities. PLUS, there are lots of stickers featuring the characters as they are in different play-old school and 3D styles. Cool, very much so. Super Mario theme music! Cue Mario!
The stickers are amazing!

Derived From Web

, Jul 19, 2020

I bought this product as a reward for my cousin, while I coached him. If he did a good job, I gave him a sticker. He loves her! Nevertheless, I wish there were more simple interactive pages to use stickers with, but I am happy with this product!
The ultimate book for a Mario lover

Derived From Web

, Jul 15, 2020

Bought this as a gift for a 7yo There's pages of stickers of new characters and classic characters. Not only in the new Mario style, but also in the 8-bit SNES style! There are cool activities like word search, picture matching and mazes. Each has their own theme and there is even an answer key in the back. The stickers were so cool that I wanted to keep them for myself lol.
Video game Alternative

Derived From Web

, May 31, 2020

My autistic kid, who is addicted to video games, found the activities in this book interesting enough to relegate for a few minutes. Sadly, 10-20 minutes at a time is the most time he spends with it and then it returns to the games. I love the images and STICKERS! I love the images and STICKERS! He even used it to learn the names of some of the Mario characters. By the way, my 9 year old kid is a non-reader. I needed a book like this to get his attention while reading and other activities he would do in a school setting.
Best activity book ever!

Derived From Web

, Apr 26, 2020

I have ever seen a better activity book of the highest quality I have ever seen. The paper is thick and the pages have excellent ink quality. I never reviews, but I had to for this product. The activities on each page are entertaining for Grade 1 and up. Some activities require a partner to complete. The book comes with over 500 excellent quality stickers and the book has pages that allow the user to create scenes using the stickers. Super cool. Super cool ''. There was another book like this to purchase. If there is, let me know!