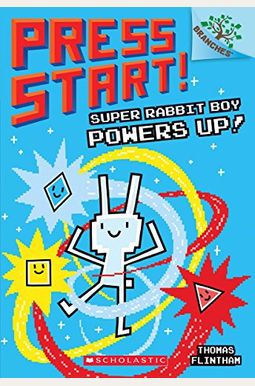 
 
Super Rabbit Boy Powers Up! A Branches Book (Press Start! #2): Volume 2
Book Overview
King Viking has a plan to defeat Super Rabbit Boy once and for all Can Super Rabbit Boy power up before it's too late?
Pick a book. Grow a Reader This series is part of Scholastic's early chapter book line, Branches, aimed at newly independent readers. With easy-to-read text, high-interest content, fast-paced plots, and illustrations on every page, these books will boost reading confidence and stamina. Branches books help readers grow Meanie King Viking is tired of always losing to hero Super Rabbit Boy. So he's gone to the Secret Lands to search for the legendary
Super Power Up
, which has powers even Super Rabbit Boy won't be able to defeat. But Super Rabbit Boy is determined to stop King Viking. Can he navigate through the Secret Lands, locate the hidden dungeon, defeat the mini bosses, and claim the legendary Super Power Up before King Viking does it first? With danger everywhere, this may be the most difficult
quest
yet for Super Rabbit Boy.With full-color art on every page by Thomas Flintham
Frequently Asked Questions About Super Rabbit Boy Powers Up! A Branches Book (Press Start! #2): Volume 2
Book Reviews
(18)
Did you read Super Rabbit Boy Powers Up! A Branches Book (Press Start! #2): Volume 2? Please provide your feedback and rating to help other readers.
Great books

Derived From Web

, Jun 9, 2021

My son absolutely loves them, said Blair. The boy's first-grade teacher suggested that he read some of the books aloud. I would recommend it to rising 2nd graders.
Child's graphic novel

Derived From Web

, Sep 3, 2020

It's a present for my son who enjoys playing video games. In this book, the story is told through the eyes of a young boy who is playing a video game. It's great to hear children's voices singing, too, a great read aloud. Very good book. The Beatles' "Yellow Submarine" was a hit with children as young as 7.
Great books!! Very entertaining.

Derived From Web

, Jul 4, 2020

My 7 year old has all the Super Rabbit books. He's trying to get the entire collection. He also told the interviewer that he can read it, but that there are also pictures he is more into comic books. These are the perfect size for a wedding band. They're so hilarious and keep his attention so he can read the entire book!
Terrible quality binding. Falls apart

Derived From Web

, May 14, 2020

My stepson absolutely loves these books as an early reader, but the quality is terrible. The bindings of the books fall apart and are unusable. We have 8 of these series books and have had to tape or glue all of them before we could even finish reading them. It's just that she's so disappointed.. She was really disappointed.
Books in this series fall apart.

Derived From Web

, Dec 11, 2019

No wonder the series has fallen apart. Ragin and his gang are notorious for breaking the law and taking money from unsuspecting buyers.
My second graders love these!

Derived From Web

, Apr 8, 2019

Both are wonderful early books, particularly for the reluctant reader. Only my issue with these is that the book falls apart. They are not really rough with us, Mr. O'Neill said. The other started to fall apart within days of receiving it. It would be great to have more book tape, but I can't afford to buy library binding.
PRESS START

Derived From Web

, Jun 6, 2018

It's also the name of a level in the "Dash" series. PRESS START books are so good, I recommend them to anyone.
Fun book, but very poorly made, binding falls apart easily

Derived From Web

, May 24, 2018

The second time the book came loose, it took around two weeks for the printer to process the order. My son is 7 and is careful with his books, so he is not being too rough on it, Mrs. Dhaliwal said. Simple use and reading the book cause it to wear out in a matter of weeks. It would take several weeks for an average book to last more than two weeks. I am hoping the other 3 won't fall apart as well. It's a good idea to read the book before you buy it.
I think it's a clever idea to make a book for kids by incorporating video game idea (what could be better for the modern kids to get them interested in ...

Derived From Web

, May 21, 2018

I'm not ashamed to admit that I was a kid at heart, said My 6y.o. I'm a huge fan of the series of books. I think it's a clever idea to make a book for kids by incorporating video game idea, Libowitz said. We bought one of these books at the book fair, he read it by himself that night, and we had to buy more. He's a huge fan of these books, and I love that he's reading on his own.
Great! I'm sure you will like it

Derived From Web

, Apr 29, 2018

I chose this book because I have read the first book. This book is better than the last.