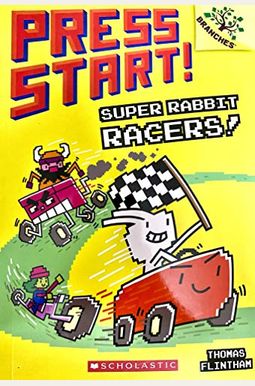 
 
Super Rabbit Racers!: A Branches Book (Press Start! #3): Volume 3
Book Overview
Rev up those engines as Super Rabbit Boy, King Viking, and more favorite characters go head-to-head in an epic race that's wheelie fun
Pick a book. Grow a Reader This series is part of Scholastic's early chapter book line, Branches, aimed at newly independent readers. With easy-to-read text, high-interest content, fast-paced plots, and illustrations on every page, these books will boost reading confidence and stamina. Branches books help readers grow Welcome to the Super Cup Grand Prix Eight racers must compete in four races to win the Super Cup Power Up, which gives the winner super speed powers. Super Rabbit Boy is ready to win, but meanie King Viking is racing this year, too And he has racers who are helping him cheat. Super Rabbit Boy needs to beat King Viking, but with tricks, traps, and brand-new racers to race, winning won't be easy. Can Super Rabbit Boy outpace and outrace the competition, or will he spin out of
control
before he crosses the finish line?With full-color art on every page by Thomas Flintham
Frequently bought together
Frequently Asked Questions About Super Rabbit Racers!: A Branches Book (Press Start! #3): Volume 3
Books like Super Rabbit Racers!: A Branches Book (Press Start! #3): Volume 3
Book Reviews
(10)
Did you read Super Rabbit Racers!: A Branches Book (Press Start! #3): Volume 3? Please provide your feedback and rating to help other readers.
Handle with care

Derived From Web

, Sep 18, 2020

It's great to be back home, said Dr. Julie Gerberding, director of the federal Centers for Disease Control and Prevention. My 5 year old loves to read and cannot wait to get her hands on the fourth one. The second and third books were also written by Rowling, but fell apart. Now I know kids can be rough on things and when the first book started losing pages I thought he opened it too far, thus loosening the binding of the book, he said. I did a little mending with tape and had a chat about how to hold books, and moved on, he said. The third book was purchased by the fourth. Holding the book, I felt his interest. Hundreds of books, including the works of Michael Powell, are still intact. This book is a great introduction to the world of fiction. Great care must be taken with any book, especially when handling the fragile one. That being said, I will continue to buy them because my son is in love with the series and who can deny the love of reading.
Not well assembled !!!

Derived From Web

, Aug 17, 2020

According to the Web site, the products are "perfect for his age in all but one aspect of life." The pages just fall out of the bindings, Tunick said. My son is very careful with all of his books, but more than one has just come apart.
Cheap Binding

Derived From Web

, May 26, 2020

Six books were purchased by Ms. D'Alessandra Mejia, who works in the publishing industry. The children loved them, but the pages fell out after one reading. Although they are not too expensive, don't expect them to last.
Buy something else

Derived From Web

, Nov 26, 2019

The book is poorly put together, and Rowling herself is not a fan. Amazon Nots fault, but this boom fell apart after being in my classroom library for a week. The pages would literally come down. The book's publisher, Simon & Schuster, said the bindings were "Terrible."
GET THESE FOR YOUR RELUCTANT READER

Derived From Web

, Aug 19, 2019

It's just that I've never written a product review. The Beatles' music "will forever be associated with George Harrison's death." Nobody got time for that. It's the best thing to happen to our household. I've read a lot of Harry Potter, but my 7 year old hates it. He now says he wants to read his books, even though he has no interest in doing so. The obstacles are easy enough and quick enough to get through that they have given him confidence to pick up a book and read. These books have been such a blessing in our house that I'm truly angry that there are only a handful left, Mrs. O'Neill said. It's like what the h**l am I supposed to do when we finish them? I haven't been this mad since Friends was canceled. If you think this is a bad idea, I promise you won't regret it.
Perfect

Derived From Web

, Jul 8, 2019

My middle schooler loved them all, and I'm still a huge fan. We have purchased the entire set of DVDs. Overall, I am very happy with the purchase and would recommend it to anyone. Thanks for the opportunity to collaborate with Carnegie Mellon University's Doris and Richard Mellon.
Gradescshool boys love these!

Derived From Web

, Nov 12, 2018

My boys absolutely love them. This is a great start to the year for Riley, who turns 5 next month. My 1st and 3rd graders can, and do, read themselves! The second and third books in the series are also available at Amazon. com.
I think it's a clever idea to make a book for kids by incorporating video game idea (what could be better for the modern kids to get them interested in ...

Derived From Web

, May 21, 2018

I'm 6'2" and 250 pounds. I'm a huge fan of the series of books. I think it's a clever idea to make a book for kids by incorporating video game idea, Libowitz said. We bought one of these books at the book fair, he read it by himself that night, and we had to buy more. He's a huge fan of these books, and I love that he's reading on his own.
Great for sparking an interest in reading.

Derived From Web

, Feb 23, 2018

It gives him more confidence reading and he enjoys it more. I hope that these books spark a love of reading, Mr. Powell said. He even tops them to school so his teacher could see how well he was reading.
My 10 year old son loves this series. He ...

Derived From Web

, Jan 19, 2018

My 10 year old son absolutely loves the show. He has a severe form of autism and is obsessed with video games. It's just that he reads them all night before bed.