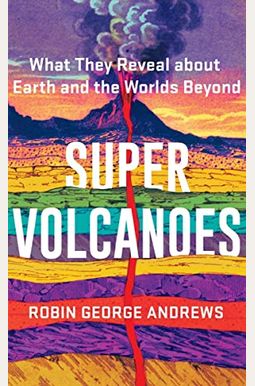  
Super Volcanoes: What They Reveal about Earth and the Worlds Beyond
Book Overview
Volcanoes are capable of acts of pyrotechnical prowess verging on magic: they spout black magma more fluid than water, create shimmering cities of glass at the bottom of the ocean and frozen lakes of lava on the moon, and can even tip entire planets over. Between lava that melts and re-forms the landscape, and noxious volcanic gases that poison the atmosphere, volcanoes have threatened life on Earth countless times in our planet's history. Yet despite their reputation for destruction, volcanoes are inseparable from the creation of our planet.
A lively and utterly fascinating guide to these geologic wonders, Super Volcanoes revels in the incomparable power of volcanic eruptions past and present, Earthbound and otherwise--and recounts the daring and sometimes death-defying careers of the scientists who study them. Science journalist and volcanologist Robin George Andrews explores how these eruptions reveal secrets about the worlds to which they belong, describing the stunning ways in which volcanoes can sculpt the sea, land, and sky, and even influence the machinery that makes or breaks the existence of life.
Walking us through the mechanics of some of the most infamous eruptions on Earth, Andrews outlines what we know about how volcanoes form, erupt, and evolve, as well as what scientists are still trying to puzzle out. How can we better predict when a Read More chevron_right
Frequently Asked Questions About Super Volcanoes: What They Reveal about Earth and the Worlds Beyond
Book Reviews
(8)
Did you read Super Volcanoes: What They Reveal about Earth and the Worlds Beyond? Please provide your feedback and rating to help other readers.
Interesting, informative, fun

Derived From Web

, Mar 25, 2022

The writers appreciated the approach to the theme greatly. The details were cligged in depth without being detailed with too much data. Fascinating to see the world through the eyes of experts. Much deserved thanks!
Pitched at Junior High School Level

Derived From Web

, Mar 22, 2022

Given the volcanoes's intermittent power, their glimpse of what is going on below the Earth's crust and their great influence on climate deserves serious scientific inquiry. We will have to wait for Mr. Andrews book falls far short. For someone blissfully ignorant of Earth history, this book provides a broad brush - depiction of volcanoes. It is a story book, not an adult book, nor is it even a high school book.
Great subject, basic presentation

Derived From Web

, Mar 6, 2022

Fascinating subject, but written in the first person at a junior high reading level. Discussions of volcanoes'emotions and gems like I have literally squirted with joy, don 't really add much to the narrative. All said, there are interesting details in this book. If you're looking for a good reading about volcanoes, this is a light start.
I could not put this book down!

Derived From Web

, Jan 22, 2022

Not only is it interesting to read about volcanoes on Earth, but also on other planets. There is so much more for scientists to understand about the Earth and the solar system, reading this made me want to know more. Timely read with the recent eruption in Tonga and if you are reading articles about it, Andrews is most likely the author. I highly recommend '' this book. In my house it has been the subject of conversation for days!
Not So Great!

Derived From Web

, Jan 20, 2022

If you are looking for an informal inquiry into volcanoes, this book may be for you. I bought it expecting a scientific, entertaining and educational book. For me, the tone is much too informal. This book contains not a single map, photograph or sketch of the locations or volcanoes that you are reading about. Quite frankly, it is a very frustrating read because of the lack of visual support.
Volcanoes past and future.

Derived From Web

, Jan 8, 2022

Volcanic eruptions have always happened in the past, present and future. They have created the Earth and looks like it and will always do so. Today, there is volcanic activity in countries. When you read this book, you wonder if it will happen and when.
Interesting and entertaining

Derived From Web

, Nov 28, 2021

I found this interesting ''. He starts with the recent Hawaiian volcano and works his way across the Earth and the other planets, explaining how volcanoes have influenced the Earth and the other planets. He also delves into what makes other planets uninhabitable using their volcanoes as their point of reference. Mr Andrews gets into some of the debates between scientists and volcanologists. There were times I did not understand what he was saying, but as I read more, I understood more. By the time I got to the last chapters with Venus, Jupiter and Saturn, I understood what was happening and why in the world of volcanoes. Worth the read :
Informative and entertaining

Derived From Web

, Nov 2, 2021

This book demystifies the concept of super volcanoes while at the same time giving us an in-depth look at numerous large volcanoes on the Earth and other bodies in our solar system. It is written in a style that is easy to understand and follow for a layperson. It is good for anyone interested in Earth science, informative and entertaining. NetGalley thanks me for the ARC I received.