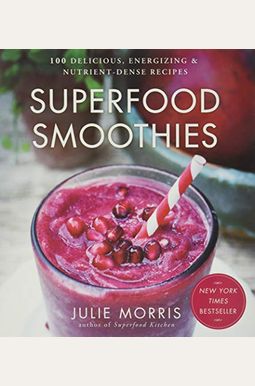 
 
Superfood Smoothies: 100 Delicious, Energizing & Nutrient-Dense Recipesvolume 2
Book Overview
Power up the blender with New York Times bestselling author Julie Morris for an energy boost, a gentle cleanse, and a healthier lifestyle.
Everyone loves smoothies--and this is the ultimate smoothie book, written by Julie Morris, author of
Superfood Kitchen
and a superfood expert Morris whips up 100 nutrient-rich, plant-based recipes using the world's most antioxidant-, vitamin- and mineral-packed foods, and offers innovative culinary methods for making your smoothies incredibly nutritious and delicious.
Frequently Asked Questions About Superfood Smoothies: 100 Delicious, Energizing & Nutrient-Dense Recipesvolume 2
Books like Superfood Smoothies: 100 Delicious, Energizing & Nutrient-Dense Recipesvolume 2
Book Reviews
(9)
Did you read Superfood Smoothies: 100 Delicious, Energizing & Nutrient-Dense Recipesvolume 2? Please provide your feedback and rating to help other readers.
It makes me want to buy a better blender

Derived From Web

, May 20, 2022

I really like this book ''. I wanted to start consuming more superfoods in my overall diet, and this book definitely helps! If you are unfamiliar with superfoods, you will have to read it from the beginning. I knew a couple, but there are several I was unaware of. The author does a good job of explaining what each of the superfoods is, their benefits and where to buy them. The superfoods included are expensive, which she talks about. If you are dedicated to utilizing this book on a daily basis, however, the ingredients are worth the investment. I just noticed that one of our grocery stores has started stocking all the superfoods listed in the book, so that I think the ingredients will be easier to find depending on where you live.
Great

Derived From Web

, May 20, 2022

I have a few smoothie books and this is the best. The recipes are mouthwatering and varied, but that is not why I love this book. What I think is great is that it uses super foods that I saw at our local grocery store, but I didn't know what to do with them, like camu powder and dried mulberries. Yes, these ingredients are not cheap, but last for a long time. When I drink superfood smoothies, I can definitely tell the difference, more hunger, less energy, my workouts are better and I feel great!!! Definitely recommend!
My Go-To Smoothie Book

Derived From Web

, May 20, 2022

I bought this book purposely because I wanted to enjoy flavorful, healthy smoothies without added sweeteners or dairy. Julie has created some fantastic and delicious smoothies packed with nutrients! This is not your everyday smoothie book and many recipes require that you store your pantry or freezer in advance. Most recipes use fruit or coconut water for sweetness, leaving you the option to add more if necessary.
I am so glad I found this!

Derived From Web

, May 20, 2022

I love a few recipes in this book and have made them all. One even had kale in it, but the chocolate, yes - chocolate covered the taste of kale. Not to mention it actually, the smoothies were a natural energy boost as well. Ich am not a vegan and it does not upset me, in the least that there are no dairy products. I actually like this book about ''. Besides, I had no issues with finding the products. Just about all of the superfoods can be found on Amazon here. If not the local health retailer chain does and some can be found in a warehouse store.
Excellent resource and inspiration!

Derived From Web

, May 20, 2022

I am a nurse and have been on a path to support my nutrition over the past few years to improve my health and well being. My first book, Superfood Kitchen, helped me to incorporate the nutrient dense whole foods that are referred to as superfoods in my diet. I tried several of the recipes and have not been disappointed. Who knew that good fried eggplants and a few other healthy ingredients could be transformed without the sugar rush into a red velvet cake! It is enough about your health to know more about the super nutrient dense foods Julie uses in her books to upgrade your diet! It is an investment in your health through good nutrition! I look forward to the release of her new book, Superfood Juices!
Be Aware: Vegan & Exotic Ingredients

Derived From Web

, May 20, 2022

As I'd like to have recipes that sometimes use milk, I return it. You should also be aware that some ingredients are difficult to find and expensive. I love grocery stores from Whole Foods as much as any foodie, but I can not afford to shop there on a weekly basis.
For those who have money and access to expensive, hard to find ingredients

Derived From Web

, May 15, 2020

I live in a rural area and there is no way that I have access to half the ingredients in this book. And even if I did, I would probably not be able to afford them. I'm so disappointed that I bought this book. There is no way these smoothies are as expensive exotic because the smoothies are mostly fruit and ice, with a dash of whatever filling ingredient she says to hunt. Dairy is bad, whey protein is bad, everything is BAD BAD according to her. So yeah, save the time and just chew some ice while eating a strawberry and you will get the same results as in this book.
LACKS NUTRITIONAL INFO

Derived From Web

, Sep 20, 2018

I can 't believe that a cookbook about nutritional options did not have the healthier info with each recipe. The list of low calorie '' smoothies buried in the back of the book is 275 calories plus for recipes. Not necessarily a book to help with weight loss. There was a lot of reading involved. As well, pricey ingredients. In these areas, Vitamix books are superior. If you don 't have a Vitamix, recipes would work just as easily in whatever blender you use.
Not Impressed

Derived From Web

, Jun 22, 2018

I wish I had read all the reviews before ordering this book. These recipes contain ingredients that I have never heard and sound quite frankly unappealing. Today I return to this book.