Buy 3 Get 1 Free
Our Best Sale Yet! Add 4 Books Priced Under $5 To Your Cart     Learn more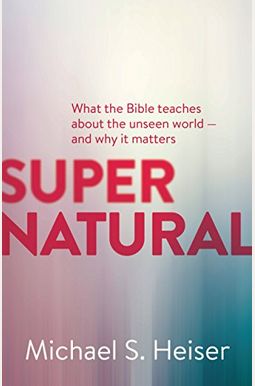 
 
Supernatural: What The Bible Teaches About The Unseen World - And Why It Matters
Product is currently Out of Stock.
You can add it to your wishlist and you will be notified once we receive a copy.
Book Overview
Dr. Michael S. Heiser, a Scholar-in-Residence at Faithlife Corporation, presents fifteen years of research on what the Bible really says about the unseen world of the supernatural-unfiltered by tradition or by theological presuppositions. People shouldn't be protected from the Bible, Dr. Michael S. Heiser says, but theological systems often do just that, by explaining away difficult or troublesome passages of Scripture because their literal meaning doesn't fit into our tidy systems.
Who were the sons of God? Who were the Nephilim? Where do angels fit into the supernatural hierarchy? Why did God find it necessary to have the Israelites destroy the populations of entire cities-man, woman, and child? What relation does Jesus bear to the rest of the supernatural world? Dr. Michael S. Heiser tackles these questions and many more in his books Supernatural and The Unseen Realm.
In both books, Dr. Michael S. Heiser shines a light on the supernatural world-not a new light, but rather the same light the original, ancient readers-and writers-of Scripture would have seen it in.
After reading these books, you won't be able to read the Bible in the same way again.
Supernatural, What the Bible Teaches about the Unseen World-and Why it Matters presents this approach to reading and understanding scripture for the person in the pew. The Unseen Realm covers the same material but at a deeper, complex, and highly documented way, for pastors, the seminarian, or serious students of the Bible.
Frequently Asked Questions About Supernatural: What The Bible Teaches About The Unseen World - And Why It Matters
Books like Supernatural: What The Bible Teaches About The Unseen World - And Why It Matters
Book Reviews
(10)
Did you read Supernatural: What The Bible Teaches About The Unseen World - And Why It Matters? Please provide your feedback and rating to help other readers.
THIS IS ONE OF THE BEST SPIRITUALLY ENHANCING BOOKS I'VE READ IN THE LAST 10 YEARS.

Derived From Web

, Apr 20, 2022

This is one of the better books I've read in a decade. I don't know that it's startlingly new, nor is it a medical breakthrough. However, he brings subtle evidence of Scripture together in rather clear and emphatic ways that make Biblical sense. Indeed, his discussion of the fallen angels was a passionate one. The other gods of the former Heavenly court, which I don't know, are clearly Biblical. As we realize more clearly WHO WE ARE as GOD IMAGERS-living object lessons into God's character and service should be made more fittingly dedicated to His work and walking in His Spirit, he said. I heartily encourage folks to give this book a read, Mr. Rule told the judge. I think that their spiritual walk can be enhanced by it, he said. Blessings to all.
Be amazed!

Derived From Web

, May 16, 2020

If you want to know why some people say the Lord created the universe, then this is the book for you. It is true that you will never see your Bible the same way again. It's wonderful to hear your voice again and again. I believe I now have a more coherent understanding of God's Word, he said. Dr. Heiser and the entire Baylor team are truly grateful for the opportunity to serve.
GET THIS BOOK!

Derived From Web

, Jan 4, 2020

The book was 1000% better than I thought it would be. This book is really allowing me to understand the Bible the better in the past hour of reading, and I have the best six months of studying on my own.
A true eye opener

Derived From Web

, Jan 26, 2019

An eye opener. Great way to understand the times and the literal meaning of many scriptures, and the online seminar is very informative, said Mark.
A Must Read for Everyone

Derived From Web

, Sep 3, 2018

I finished reading this book and came running for my laptop. Two words, I believe, are truly inspirational. I finished The Unseen Realm a couple of weeks ago. Tip Supernatural is available on DVD and Blu-ray. It's more for the layperson and very inspiring, Garton said. Both books, "The Two Kings" and "The Conjuring," reveal how the ancient and New Testaments are fused. As I read the other book, I kept thanking God and saying, "Oh! Now I get it. Thanks to Michael Heiser for all your hard work. You have done a marvelous service in demystifying the Bible,' said Dr. Goin. Our Lord put your books within eyeshot of the Lamb. Most importantly, as revealed in Heiser's books, all praise is due to our one and only God and Savior Jesus Christ! Heiser reminds us that our Lord is sovereign and it's our job to share the Good News. Thanks for the tip, Michael. Michael Jackson's estate said the singer died Sunday at age 44.
Awesome insight

Derived From Web

, Apr 23, 2018

Many of the questions have been answered. I feel empowered to live my purpose of advancing God's kingdom on earth, he said.
I highly recommend this book

Derived From Web

, Mar 8, 2018

I highly recommend this book to anyone. I've had several books signed by Elizabeth Warren. Even though I'm not a Christian, I'm so much more of the Bible and things are starting to make sense as to what God's plan is, he said.
Good but The Unseen Realm was better!

Derived From Web

, Aug 12, 2017

I'd recommend buying The Unseen Realm by Dr. Heiser instead of The Fifth Estate. There was nothing in this book that wasn't in The Unseen Realm. I have been researching the mindsets of the ancient Hebrew people and early Christian missionaries when it came to translating the Bible. He added that if we can find how the earliest readers of the Bible interpreted the scriptures we will have a closer relationship with our Creator.
Must Read

Derived From Web

, Jun 22, 2017

I'm so glad I bought this book. If you are a person who has not studied the Bible and would like to understand some of the major points of the book, this is a book you must read.
The truth will set you free

Derived From Web

, Feb 8, 2017

Heiser's books have helped me to find the answers I need as well as the fact that he answers many of the questions I've had over the years. While I've been wrong about some of the things I've wondered about, I've been right about many of them, even if there are some who don't believe me. [Defense Secretary Donald] Rumsfeld said: "I know the truth. It's just that important, Beckham said. If you're curious about Psalms 82, and other such passages, but you don't want a more scholarly book, then this is the book for you. If, however, you prefer to read scholarly books, I would recommend the Harry Potter series by the same author.