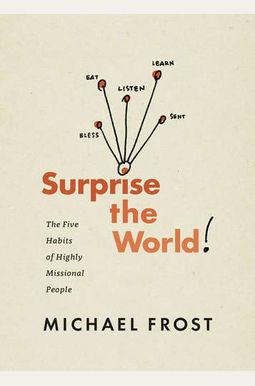 
 
Surprise The World: The Five Habits Of Highly Missional People
Book Overview
Share your faith in surprisingly simple ways . . .
Christians throughout the world have found renewed enthusiasm to share their faith using Michael Frost's BELS model.

We Bless people, both inside and outside the church.
We Eat together, sharing meals with believers and nonbelievers alike.
We Listen to the guidance and direction of the Holy Spirit as we engage with those around us.
We intimately Learn Christ as our leader and model for making disciples.
We see ourselves as Sent by God to everywhere life takes us.

Surprise the World is a practical tool for cultivating these habits in our lives. Ideal for personal use and for training groups on evangelism, the simple lessons in this book will surprise those who receive the gospel--and will surprise you with the overwhelming goodness of the kingdom of God.
Frequently Asked Questions About Surprise The World: The Five Habits Of Highly Missional People
Books like Surprise The World: The Five Habits Of Highly Missional People
Book Reviews
(10)
Did you read Surprise The World: The Five Habits Of Highly Missional People? Please provide your feedback and rating to help other readers.
BELLS primer

Derived From Web

, May 31, 2022

This is essentially a longer essay by Frost on missional practices of BELLS. Frost packs a lot of sense into this for a short read. He hesitates to provide such practical and model-able advice, but I found it helpful to see what it looked like in his context, so that I could contextualize it within my own. This would also work as a primer for a small group or MC that wanted to get into some of the BELLS practices.
We can do this!

Derived From Web

, Jan 27, 2021

Frost does a great job of making missions '' a lifestyle that is biblical, doable, enjoyable, and transformational for us and the world. I particularly like the focus on first commitment to action, namely blessing and eating, followed by praying, reading and discussing. This keeps the horse in front of the cart and makes us motivated to love and serve on behalf of Jesus.
3.5 stars - good

Derived From Web

, Aug 20, 2020

Great read with some quick ideas. This felt to me like a lot ; I might implement things more slowly or gradually. There were also pieces that bordered me proudly. This is the kind of book where I take the ideas that feel like the right fit for me and I'll hang on the book to possibly revisit the rest of the ideas in the future.
Very insightful

Derived From Web

, Jul 28, 2020

This was very informative and insightful. If we are not careful, we can get stuck in a rut in the way we approach the Great Commission. This book gives creative insight into Evangelism in a way that everyone can be effective and not feel threatened. The bottom line is... we want to reach others with the wonderful gospel of Jesus!
Best Book To Show A Christian Life

Derived From Web

, Jul 5, 2020

It is a simple book. The books was good, but I added much more Bible passages and illustrations when I used it in a small group class and then at a retreat. I have given away many of these books and bought them.
Well organized and an easy read

Derived From Web

, Jun 18, 2020

Got this for my girlfriend, who has not read a whole lot. She said it was a good book and easy to read, and she said the way it is organized is one of the best parts because it makes it very easy to follow. They reference NT Wright a lot, and I don 't agree with him on some important things, but in general, the theology sounded like it was pretty basic and decent.
Easily Actionable Evangelism Suggestions

Derived From Web

, Oct 24, 2018

I love the saying that the things that are easy to do are also easy not to do. In this short read, Michael Frost suggests FIVE simple habits to incorporate into your life as you try to live out the Great Commission Great Commandment. He establishes the stage quoting David Bosch, Mission is more than and different from the recruitment to our brand of religion. It is the awakening of the people through Christ to the universal reign of God.
An Excellent Resource!

Derived From Web

, Sep 6, 2017

This is an excellent resource for any individual, small group or congregation. Invites you to consider more deeply what Evangelism means and how each individual can live the practices of discipleship daily. It is a transformative resource for those who embrace the missional practices. I recommend this book highly to every congregation that takes evangelism seriously, but especially to those who struggle with evangelism.
Brilliant book

Derived From Web

, Jul 11, 2017

Our life is our destiny. Our love is ours.
Inspiring!

Derived From Web

, Jan 26, 2017

I bought this book with the hopes that it would give me some ideas about living a more real Christianity ''. I have been in the Church all my life, but I find ways for the Truth of the Gospel to be ever relevant to my life and real in my life. This book was clear, practical, and included a lot of stories, examples, and quotations to reinforce the key points. It challenges the very world we have as Christians and provides refreshing, interesting steps for putting this new perspective into action. I probably will not now base my whole life and routine on the strategy of the book, but I will definitely be more aware of the points it focuses on and will try to implement them in creative ways as I am able. The money is well worth it!