OUR BIGGEST SALE EVER - SAVE 20% AT CHECKOUT WITH CODE CYBERBOOK. Learn more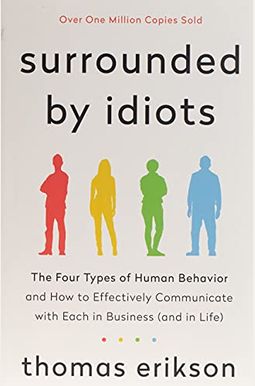 
 
Surrounded By Idiots: The Four Types Of Human Behavior And How To Effectively Communicate With Each In Business (And In Life)
Book Overview
A runaway bestseller in Sweden that has sold more than a million copies worldwide, Surrounded by Idiots shares a simple, revolutionary method of understanding the people around you that will change how you interact with everyone from your coworkers to your spouse.
Author Thomas Erikson explains that there are four key behavior types that define how we interact with and perceive the people around us. Understanding someone's pattern of behavior is the key to successful communication. The so-called idiots in our lives are most often simply people who have a different behavior profile and style of communication.
Erikson breaks down the four kinds of behavior types--Reds who are dominant and commanding, Yellows who are social and optimistic, Greens who are laid back and friendly, and Blues who are analytical and precise--and explains how to identify and interact with each type of person. Instead of being bogged down with overly technical categorizations, the simple four-color system allows you to speedily identify a friend or coworker and adjust how you speak and share with them.
Surrounded by Idiots is full of practical information for interacting with people based on their color, including the strengths and weaknesses of all the profiles, how to give positive and negative feedback to each, and the best way to word an email when writing to someone with a different profile.
Frequently Asked Questions About Surrounded By Idiots: The Four Types Of Human Behavior And How To Effectively Communicate With Each In Business (And In Life)
Books like Surrounded By Idiots: The Four Types Of Human Behavior And How To Effectively Communicate With Each In Business (And In Life)
Book Reviews
(6)
Did you read Surrounded By Idiots: The Four Types Of Human Behavior And How To Effectively Communicate With Each In Business (And In Life)? Please provide your feedback and rating to help other readers.
DISC Personality Designations are too Gimicky for me

Derived From Web

, Jun 11, 2021

A good guide to human interaction in the workplace. I would recommend anyone who has to lead or supervise. It only works for the necro-typICAL. Theauthor says this. It gets only 3 stars because of that limitation. If you don't have atypical staff, it can be a good way to frame work dynamics. Some fields have a lot of brilliant people. The book won't help those fields. It will give you an idea of how to approach different colleagues and work with them. The DISC model is too simple and gimicky for anything other than superficial interaction. Every supervisor and team worker should read it because it is a good metaphor and frame work.
Read in One Sitting

Derived From Web

, Feb 28, 2021

I recommend this book to anyone who wants to know what makes people tick. The simplification of the four colors made me happy. I was in two different categories. I know that I am not surrounded by idiots but by people who are different. I am enjoying the sequel, Surrounded by Psychopaths.
Best choice I ever made

Derived From Web

, May 2, 2020

The book was literally changed by life. It will give you insight into certain key perosnality types so that you can understand why they act the way they do. The book can make you more patient with others and allow you to let them be who they are. If you've ever looked at a person and wondered why they were like that, then you've been wrong. That doesn't make sense, this book will explain it all. It gives you the same thought patterns about yourself as it does about others. All people are doing the best they can and they are probably very exceptional. This is a must-read for anyone who has ever wondered about any of these things or found it hard to deal with difficult people.
An interesting topic. Well written but just one among thousands of similar books.

Derived From Web

, Nov 17, 2019

Another take on something. A concept with a new perspective. It is always interesting to learn more about this topic.
Good Book!

Derived From Web

, Oct 29, 2019

This book was very good. It made me understand myself better. The only thing that should be mentioned is that it doesn't touch on personal relationships. A good read and useful information.
Using the four types for greater communication

Derived From Web

, Oct 1, 2019

Surrounded By Idiots was the first book I saw when I went to Scandinavia. I ordered a copy because it was available in English here in the US. The book is a fascinating look at different types of personality, and how to identify your own personality type, as well as those you work with, and others in your life. It is helpful in all walks of life because of the result. I've been using the ideas in the book in my workplace, and it's amazing to see how useful it is. Highly recommended.