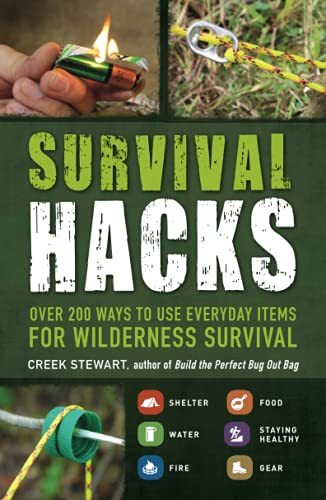 
 
Survival Hacks: Over 200 Ways to Use Everyday Items for Wilderness Survival
Frequently bought together
Frequently Asked Questions About Survival Hacks: Over 200 Ways to Use Everyday Items for Wilderness Survival
Book Reviews
(9)
Did you read Survival Hacks: Over 200 Ways to Use Everyday Items for Wilderness Survival? Please provide your feedback and rating to help other readers.
Fun, but that's about it

Derived From Web

, Apr 20, 2022

I bought this book for my husband as a Father's Day presenter. The book is fun, but do not buy it if you are expecting it to show you serious survival techniques of any kind. The majority of ideas are more fun to try as a neat science experiment, but a lot of them are not even that. In all honesty, there were less than five that we think could actually be used in a survival situation, but even then it would have to be a perfectly constructed survival situation where you had all the spare materials that you needed for each hack ''.
"Survival Hacks for Distant Suburbs of the Pacific Northwest"

Derived From Web

, Apr 20, 2022

This book was quite disappointing. If you live in a region where water is abundant, this could be a good book. If you're afraid of being stranded for a month in your own home without electricity or natural gas, it could be useful. But if you live in a part of the country where climate is arid and water is the main concern, this book is woefully inadequate. It did not even offer how to make a carbon filter out of coal and a soda bottle. Want to make a spoon of a spoon? Well, that's definitely in there. He offers many ways to light a fire without wood, but tell me where the hell I'm going to find lighter fluid, heet or rubbing alcohol in the remote woods? Almost everything that is offered can be seen on Youtube or Buzzfeed almost any time.
Procede with caution

Derived From Web

, Apr 20, 2022

Bunch of the cheap tricks is shown here. If you were lost in the wilderness, this book would contribute little to your survival. Just not comprehensive enough for this purpose.
Another good addition to your library.

Derived From Web

, Apr 20, 2022

This is another valuable addition if ever this day comes. You may know some of the hacks, but an urban dweller will find inside lots of valuable information.
LOVE IT! Absolutely love so many of the ideas and I use them around the house too!

Derived From Web

, Nov 21, 2020

I love small inventions and I especially love when the ingenuity used is with items I most likely already have. This book is all about this! The hacks are usually very simple and very cheap! They are cool and they are really fun too! Recently I threw an outdoor dinner party for my stepson. 2 of these used plastic beef jerky containers with our iphones to set the table. Threw some pine cones around it, and it was so pretty, everyone couldn 't get over how fancy the table setting was. I guess my point is that I use hacks here and there around the house, not just for survival. When I was visiting them, my stepfather fell in love with my first copy, so I gave him mine and ordered another because I did not want to be without this book! LOVE IT! LOVE IT! '' Thank you to the author and please add some photos to the original ( if you do another, add some photos please! ).
GREAT INFORMATION TO ADD TO COLLECTION

Derived From Web

, Jul 8, 2019

CREEK STEWARTS BOOKS LOVE ALL CREEK STEWARTS BOOKS! Can't go wrong with any of them! Great Survival and Everyday Living Information to add to your knowledge and BOBs for emergency, whether it be earthquakes, floods or worse when SHTF! Rememer..................................................................................................................................... It is NOT IF... WHEN!, BUT WHEN!
It was a gift for a "Good Ole Boy" i know

Derived From Web

, May 10, 2017

This book was so good that I actually read it before I gave it as a gift. There are a lot of great hacks in there with common items that you can find day to day. A great book would make a great camper.
Nothing new...

Derived From Web

, Feb 19, 2017

The 200 hacks weren't new. The hand drawn pictures were not terribly useful. Out of the 200 topics, I would count 10 or so as being meanful to me. If you were just starting out on this trail, it would be more valuable, but anyone with more than a year or two of research into survival woodcraft fields will be disappointed. I was excited about this book, but it was not at all what I expected based on Creek's earlier books, which I thought were great.
Very well done book for those who camp or hike.

Derived From Web

, Feb 13, 2017

Many learned in the military survival school, but some really new innovative hacks '' too worth reading and passing to family boy or girl scout.