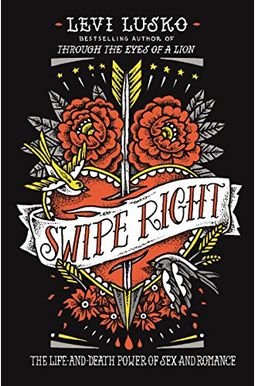  
Swipe Right: The Life-And-Death Power of Sex and Romance
Frequently Asked Questions About Swipe Right: The Life-And-Death Power of Sex and Romance
Books like Swipe Right: The Life-And-Death Power of Sex and Romance
Book Reviews
(7)
Did you read Swipe Right: The Life-And-Death Power of Sex and Romance? Please provide your feedback and rating to help other readers.
More

Derived From Web

, Jan 12, 2020

I bought the book after reading the devotional in the app. I won't be as impressed. The length may have been too long, but the parts were spread out. A lot of pop culture references and bible verse can be found in Lusko's writing. I realized that pop culture references to a certain degree date the book, but they don't outdate the overall message. He talks about the context of an example like the working relationship between Steven Spielberg and John Williams more effectively.
Not as great as the catchy title

Derived From Web

, Feb 13, 2018

I was expecting this read to be a little bit more thought provoking. It isn't as good as the cover or blurb would suggest. Some examples are too long and not related to the topics. I understand that there's a tone of morality in this book, but he goes a little too heavy into it. Suggesting that if you don't have sex with your husband you' re opening him up for temptation is simply too much. It's the way he conveys his messages that makes them so hard to read. The reading isn't inspiring. I stopped halfway because the content wasn't uplifting and you don't learn much from it.
This dude knows how to write

Derived From Web

, Jan 9, 2018

The book was great. I had a hard time reading Chapter 4. I gave it to a brother who needed it. I would like to see his thoughts on it. Levi keeps his audience entertained while educating them. His next book is something I want to read. The book Through the Eyes of a Lion is one of my favorites.
Very informative and enjoyable

Derived From Web

, Oct 3, 2017

Levi Lusco writes about dating in the modern age in this book. I have never heard much of the wisdom that was delivered in this book. The church didn't do this or that without explanation. Levi puts it all out there. I would have this book years ago. This book is very similar to Single. Dating. Engaged. Married.
Levi does a great job of talking about hard subjects in a relevant ...

Derived From Web

, Sep 14, 2017

This book is needed by this generation. Levi talks about hard subjects in a way that is relevant to truth. Teenagers and adults should read it. Some of the old cultural references will be lost on teens and college students, and some of the newer cultural references will be lost on older adults. This is a great book that is relevant to our culture. This is the best book I' ve read about this topic.
A book I wish I read as a teenager. Life changing.

Derived From Web

, Apr 20, 2017

I needed this book at a time when I really needed it. Levi's words made me want to keep going. It's been 2 years since my divorce and I'm tired of being alone and seeing everyone around me. People are telling me that times have changed and that I should have fun. It doesn't feel right or God is honoring me. The book made me realize that what I'm trying to do is what God wants for me and now I understand why. My determination is renewed and I now have more strength in this book. I recommend this book to everyone. People searching for more include teens, married, divorced and single. Thank you! Levi!
A MUST read

Derived From Web

, Mar 4, 2017

I wish this book was around when I was younger. It was thought provoking. It's a must read for every stage of life. Stories from the Old Testament were brought to life for me. I was made to see Jesus in a different way. I' ll never look at a pineapple the same again. This book is wonderful.