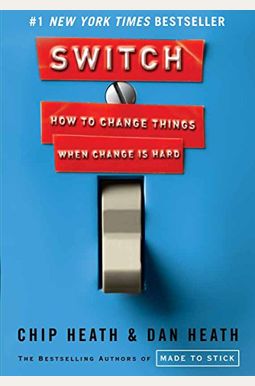 
 
Switch: How To Change Things When Change Is Hard
Book Overview
Why is it so hard to make lasting changes in our companies, in our communities, and in our own lives?
The primary obstacle is a conflict that's built into our brains, say Chip and Dan Heath, authors of the critically acclaimed bestseller
Made to Stick
. Psychologists have discovered that our minds are ruled by two different systems - the rational mind and the emotional mind - that compete for control. The rational mind wants a great beach body; the emotional mind wants that Oreo cookie. The rational mind wants to change something at work; the emotional mind loves the comfort of the existing routine. This tension can doom a change effort - but if it is overcome, change can come quickly. In
Switch
, the Heaths show how everyday people - employees and managers, parents and nurses - have united both minds and, as a result, achieved dramatic results: - The lowly medical interns who managed to defeat an entrenched, decades-old medical practice that was endangering patients
- The home-organizing guru who developed a simple technique for overcoming the dread of housekeeping
- The manager who transformed a lackadaisical customer-support team into service zealots by
removing
a standard tool of customer service In a compelling, story-driven narrative, the Heaths bring together decades of counterintuitive research in psychology,
Read More chevron_right
Frequently bought together
Frequently Asked Questions About Switch: How To Change Things When Change Is Hard
Books like Switch: How To Change Things When Change Is Hard
Book Reviews
(13)
Did you read Switch: How To Change Things When Change Is Hard? Please provide your feedback and rating to help other readers.
Excellent "business" book that has implications for your real life, too

Derived From Web

, Apr 20, 2022

By no means, I am a big fan of business books. Most of them feel like they're thrown together quickly and read like Dirge. I was pleasantly surprised by Switch -- which is both easy to read and is absolutely relevant to the problems we all face in our work lives. It breaks the process of change into three easily understood and compelling constructs and gives lots of practical examples for each construct. I found myself immediately incorporating the concepts of Switch into my daily activities, and my enthusiasm for the model hasn 't diminished over the past few months. If you deal with change in any aspect of your life, this is an excellent book. If you think that you *don't* deal with change -- you are probably not paying attention!
Excellent book

Derived From Web

, Apr 20, 2022

Unforgettable Book, very easy to read, not a scientific book, but rather an essay with some advices, but not with enough scientific background, works very well if you are a pragmatic person and want to try something new and easy, but if you are a scientific book with incontestable statistics, the books they suggest at the end can help you.
Brilliant and hopeful...change is possible and here's how

Derived From Web

, Apr 20, 2022

The Heath Brothers are members of a cadre of brilliant new thinkers who write clearly and persuasively about the fundamental issues that confront us, as well as live our lives in the context of modern society. This little book provides a gentle if powerful nudge for those of us who feel stuck or who are working to help our companies and our colleagues get un-stuck. This is not new thinking... it is a translation of heretofore abstract gobbledygook or boring how to business books. Everyday we face a change in our faces. Read and change this book.
The most useful book on leading change that I've ever read

Derived From Web

, Apr 20, 2022

Leading change is not just about inspirational - there are hard realities that most executives overlook. This is easily the most practical, useful book on leading change that I have ever read. Key quotes Big Picture, hands-off leadership is not likely to work in a change situation, because the hardest part of the paralyzed part is often a situation problem. Written with vivid examples, you'll easily remember the lessons of the book after a quick read. I've quoted this book more often than any other.
Strongly recommend reading this book

Derived From Web

, Jul 11, 2021

It is very simple to read and understand how to change behaviors, due to practical examples and clear steps. I begin implementing it today.
Really helpful with change at work and at home

Derived From Web

, Nov 23, 2020

This is a fantastic book for facilitating change by helping to facilitate it. The authors combined a number of different sources together. It is not original thoughts by the authors, but a whole bunch of ideas gathered together. I've used this at work and at home. There is a cheat sheet that you can download as well from their site. At work, we talk about motivating your elephant and we now have a bright spot call-out in our team meetings. I feel it has been really helpful to use these concepts and ideas in our lives as we've gone through major changes in our lives due to the events of 2020. Overall, it is a great book and has a lot of practical ideas.
It's hard to read this without changing your Kindle

Derived From Web

, Aug 11, 2020

I purchased this to read on my Kindle Touch. When I downloaded it, it told me that the book could not be synced because it was incompatible with my device. There were no obvious warnings about this before I purchased the book, so that I can read it on my laptop using a web browser. I expected this experience, but it is not the experience I am now. It does not appear to contain videos or other content that my Kindle can not handle. Is this Amazon way of engineering obsolescense into their devices? It makes me upset.
One of the best books on change

Derived From Web

, Aug 1, 2020

I am an organizational psychologist and a professional change manager. I highly recommend this book for anyone who wants to learn how to change their organization or their lives. I highly recommend this book for anyone who wants to learn how to make change in their organization or their lives. It uses a simple analogy to help explain the levers of change and how they all need to work in concert to ensure a lasting change. There are even some great YouTube videos based on it.
Great book

Derived From Web

, Aug 21, 2019

I love the simplicity of how it outlines the challenges of change ''. In the past, I have attempted to explain similar concepts in terms of neuroscience, and people do not get it. This gives me a new language, so easy to understand.
Very on target

Derived From Web

, Jan 6, 2019

I found this book very on target ''. It breaks the process of change into 3 areas, so that you can zoom in and see where you have failed in your previous attempts at achieving change in yourself and others. They also drop tons of advice on the way. I read this again soon, probably more than once.