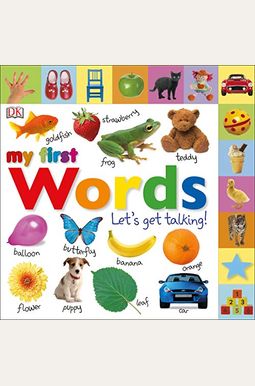 
 
Tabbed Board Books: My First Words: Let's Get Talking!
Book Overview
Teaching your little one their first words is as easy as A B C with this fun board book
Jump-start your toddler's ability to communicate and talk Packed with fun-filled pictures, things to name, and simple questions and activities. This engaging preschool book is creatively designed to help your kids find their first words. Can you spot the fluffy teddy bear? Where is the fluttering butterfly? From toys and farm animals to shapes and things that go, your child will love pointing to and naming the different objects. This is the perfect first-word book for any curious toddler. This activity book has strong board pages made especially for young children. The chunky tabs, on the top or the side, are easy to grab to help with early motor control. Preschoolers will quickly recognize the colorful objects on the tab, which will take them straight to the pages they love. Each section of this educational book is dedicated to a different theme, like pets, seaside or fruit. There are easy-to-read labels so your little one can sound out the words with you. Read the fun text together and help your little ones develop their speaking, listening and observational skills as they learn to identify objects. This interactive book is the perfect way to introduce babies and toddlers to speaking and listening. It will also boost their language development.
Let's Get Read More chevron_right
Frequently Asked Questions About Tabbed Board Books: My First Words: Let's Get Talking!
Books like Tabbed Board Books: My First Words: Let's Get Talking!
What should you read after Tabbed Board Books: My First Words: Let's Get Talking! Book? Here is a list of books to read if you read and loved Tabbed Board Books: My First Words: Let's Get Talking!
Book Reviews
(10)
Did you read Tabbed Board Books: My First Words: Let's Get Talking!? Please provide your feedback and rating to help other readers.
the images are pretty small and there is no significant zoom in

Derived From Web

, May 4, 2022

Amazon's Kindle Fire tablet crashes after two hours of use. Don't worry, I have other books. The images are small and there is no significant zoom in.
A real keeper!

Derived From Web

, May 4, 2022

One of my favorite pastimes after almost two years - my 4-year-old grandson often spends time with the now-familiar, but always has fun photos and words of so many common objects.
Great learning book

Derived From Web

, Apr 21, 2021

I'm a huge fan of the last book, with all the numbers to learn my kid's love of math.
Tons of colorful objects and words organized into categories.

Derived From Web

, Feb 18, 2021

Thanks to the tabs, we can now find those 'favorite' pages or any page, even though we just like turning each page. This tool is very useful, said Robert Green, director of NASA's Ames Research Center in California. my kiddos are 1 and 2 years old and they, and I, too, love it. I think they will be able to enjoy it for a long time, and it's great addition to their library, Tunick said.
Needs updating 😏

Derived From Web

, Oct 5, 2020

Even though my toddler seems to like this book, I feel that a lot of the object photos are very outdated which makes it hard for the child to recognize in real life. I really like and I believe it's what my toddler likes most about the photos of the farm animals and wild animals, she said. The quality of this book when it comes to sturdiness and ease of use is excellent but if I had known the contents of the book I most likely would have just bought the animals book or the nature book from this series instead. The book's cover is in need of some updating, too.
Great book apart from a few pages

Derived From Web

, Jun 13, 2020

Overall, this book is a great read. The Graco name matches the product I purchased for my 5 month old. We look at this book together, and already she likes looking at the pictures and reaching the book, she said. Some of the pictures are a little dated, like the radio, rolling elephant, and the rocking horse. Most children these days don't play with those particular toys so I wish the publisher could update that page with more modern toys. There are also six varieties of ice cream sundaes, along with cereal, pasta, baked potato, Cup cakes and an ice cream maker's manual. It's great to see the government take the time to research healthy eating habits, but I wish they changed it to just a section on fruits and vegetables, as toddlers will learn the names of these unhealthy foods far earlier and may be less inclined to make Food healthy choices.
Love the DK Tab Books

Derived From Web

, Dec 10, 2019

We have many of these DK board books. It's great for toddlers to learn to speak. But they're also great if you're teaching your kids another language.
Cute!

Derived From Web

, Jun 12, 2019

It was a great book for my daughter and she absolutely loves looking at it and pointing out the things she recognizes on each page. There are so many different categories of products.
Captivates toddlers!

Derived From Web

, Sep 19, 2017

Even before he read the book, Mr. Daschle was enthralled by the pictures. Lately, he brings it to me constantly to point to pictures and have me talk about them. One thing that I really appreciate is that the tabs make it easy for him to turn the pages, Hollingworth said. Only by making it toddler-proof could it be improved, they said. Our little fellow has a tendency to open the book by force which breaks the binding and causes the pages to separate, Hollingworth said. It's easy enough to run a bead of glue down inside the spine to fix it, but if anyone ever figures out how to prevent a board book from doing that, they'll make a million dollars.
I would highly recommend this book to parents of babies

Derived From Web

, Sep 2, 2017

There are so many excellent real-life images paired with the printed words that help children develop their vocabulary. Holding the book in your baby's hand, you can read the pictures and labels. From infancy onwards, babies learn to understand language by repetition. After multiple readings, the parent can ask the baby to point to a picture of the child. As the child's speech develops, he can become the teacher and ask his mom or dad to find the picture they say. Even with time, I can't stress enough the importance of reading to babies right from the start and talking to them all day about everything. Simply put, children learn by listening. .. [T]he problem is that the people are not paying attention.