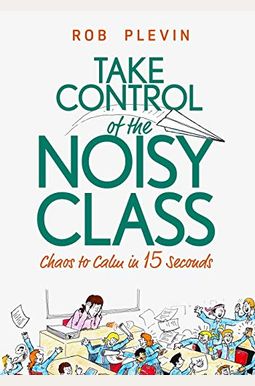 
 
Take Control Of The Noisy Class: Chaos To Calm In 15 Seconds (Super-Effective Classroom Management Strategies For Teachers In Today's Toughest Classro
Book Overview
Fed up with students who talk over you and ignore instructions?
Drained and worn out by disruption, disobedience, and defiance?
Does the thought of facing some groups fill you with utter dread?
Drawing on 20+ years experience in special education and mainstream settings, teacher-trainer Rob Plevin explains a proven, step-by-step plan for successfully managing the most challenging individuals and groups in today's toughest classrooms. Packed with powerful, fast-acting techniques - including a novel routine to get any class quiet in 15 seconds or less - this book helps teachers across all age groups connect and succeed with hard-to-reach, reluctant learners.
You'll discover:
The simple six-step plan to minimise & deal with classroom behaviour problems
How to gain trust & respect from tough, hard-to-reach students
How to put an end to power struggles & confrontation
How to have students follow your instructions. with no need to repeat yourself
The crucial importance of consistency (and how to achieve it)
Quick and easy ways to raise engagement and enjoyment in your lessons
The 'Clean Slate' Read More chevron_right
Frequently Asked Questions About Take Control Of The Noisy Class: Chaos To Calm In 15 Seconds (Super-Effective Classroom Management Strategies For Teachers In Today's Toughest Classro
Book Reviews
(13)
Did you read Take Control Of The Noisy Class: Chaos To Calm In 15 Seconds (Super-Effective Classroom Management Strategies For Teachers In Today's Toughest Classro? Please provide your feedback and rating to help other readers.
A gem of a book that should be required reading for every teacher

Derived From Web

, May 9, 2022

As a seasoned educator, educational consultant and teacher coach, I have been in countless classrooms over the years, including mine. I ensured that I was up-to-date on the latest and greatest behaviour management strategies. I've read countless books on this topic. The bottom line is that some strategies and approaches look real on paper, but fail to work in the beautiful classroom. Rob's approach is positive and empowering, yet authoritative and sensible and, most importantly, it works! The stories he tells you not only to understand his thought process, but also to create effective analogies so that the reader can understand his points fully. While reading this book, I wanted to shout from the rooftop Yes, Yes! '' If every teacher used these strategies and techniques in their classroom, they would definitely be able to control a noisy class.
Absolutely amazing.

Derived From Web

, May 9, 2022

It explains behavior when the student enters the building and then enters your class room. I have been using elements of this book since September and have seen a difference in my students. As explained by the author, Rob, I use post-class procedures in the room, so that my students always know exactly what is expected of them and how it is expected. When they try to test me, all I do is point to the procedure that is posted on the wall. Rob is an absolute genius, this is my 16th year teaching and I work in Jamaica, Queens, NY. This is an extremely challenging school district, but with the help of Rob I am able to survive each day and keep my extremely high blood pressure down.
Better than expected.

Derived From Web

, May 9, 2022

At first, many of the ideas seem to be the same old suggestions, but for me they seem to work better. When I looked closer, I realized that even the ones I knew already had made some new adjustments to me. I am so glad I found this book, as it does help the teacher with that class that just won 't mind.
Essential reading for any teacher wanting to eliminate stress and conflict in the classroom.

Derived From Web

, May 9, 2022

I'm very grateful for this book ''. I no longer prepare for my classes with a feeling of dread and believe that I may even begin to truly enjoy my job! Orien has been a great deal of trouble for Orien.
Would recommend!

Derived From Web

, May 22, 2020

Tried these during my 6th grade teaching placement, it was amazing how these worked with a difficult student class! Would recommend to anyone who needs a few extra tricks for leading a classroom!
Great book for classroom management

Derived From Web

, Aug 25, 2019

I enjoyed this book quite ''. It is chock full of ideas for helping you achieve your classroom management style. The book is not creative and allows for dull ways to keep your students engaged and not always in trouble. Highly recommended. Easily in my top 5 books on this topic!
Wouldn't order

Derived From Web

, Jul 3, 2019

As I was reading this text to see if I could get some other ideas suggestions for a class that I was teaching that was great, but they just stopped talking. This book is, however, as a ton of typos, etc. Within It '' I returned it.
Useful tools for your teacher toolbox

Derived From Web

, Feb 6, 2019

I am 7 years into teaching the middle school and I have found it harder and harder to catch my students'attention. I stumbled across Mr. Plevin's work on YouTube and was immediately impressed by his clearly defined step by step instructions for resetting a noisy class and bringing them back on the right track. In his book he shares his experiences with difficult classes with his own tried and true methods and puts them into easily implemented techniques. From ideas for building relationships to ways to add humor and keep students engaged by injecting short, interesting activities into your lessons, his ideas will help you regain and maintain your sanity!
Not too late to change...

Derived From Web

, Jan 29, 2019

Reading through chapter 6, ot had I many Aha moments, I laughed at myself while I recall my I'm too strong to smile teachers while slapping myself on my back, assurance in the knowledge that all the mistakes in my teaching career can be rectified. Together, piques and rewards go well, just need to find the fine balance and meet the delivery finesse. This wonderful book shares tips on how to give feedback creatively and succinctly. Benefits take a new meaning and comes with a twist. Rewards '' need not be really expensive all the time.
Real Teaching Strategies That Work!

Derived From Web

, Jan 29, 2019

As a teacher of children of different ages and abilities, Rob Plevin's book helped me develop strategies to promote a safe and cooperative learning environment. For proven teachers who have burned the candle at both ends, this book offers respite in the form of busy strategies as well as explanations behind what could go wrong when a class gets disruptive.