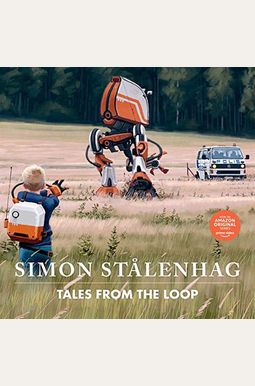 
 
Frequently Asked Questions About Tales from the Loop
Book Reviews
(12)
Did you read Tales from the Loop? Please provide your feedback and rating to help other readers.
This is a table art book, telling a visual story of a world that never was.

Derived From Web

, May 22, 2022

This is a visual book of table art, telling a story of a world that has never been. There are some original written passages, but the art works speak for themselves. I was a backer on the Kickstarter for the project that brought this book to life. There will also be a second book published next year. The Verge provided a beautiful writeup on the author, the backstory for the pieces and did a small sample of about 5 images.
The scary world of Simon Stalenhag AWESOME

Derived From Web

, May 22, 2022

The images of a future non-future should scare any passionate robotics believer. Simon's work is a futuristic tour de force made even more believable inside daily country life with inimitable Saabs and Volvos trundling in the background. The joy of this type of Sci - Fi - art is that it has to be completely believable and he succeeds in spades. Just read the art or use the text enjoyment is equal and if your jaw does not drop by page 5, you are not from this planet. Also shows Kickstarter what should look like a real community project.
An immersively illustrated sci-fi world that will suck you in.

Derived From Web

, May 22, 2022

To see more pictures from the book, visit my blog via my Amazon profile link. Initially conceived as a 2 volume Kickstarter - Art - Book - Project, Simon Stlenhag's Tales from the Loop is a mesmerizing sci-fi journey that takes the viewer through various desert country and urban landscapes inhabited by abandoned robots, machinery and giant mecha. Stlenhag combines his apt eye for pleasing aesthetics and spectacular application of visual tricks like atmospherics, perspective, depth of field and subtle rim lighting to create highly cinematic images that really draw the viewer in. The 2 Volume Kickstarter set was a little out of my price range so I'm really glad that this general release is now available and I have spent a little time picking it up, lest it goes out of print again.
Kindle version is difficult to navigate

Derived From Web

, Aug 29, 2021

This is really not an art book, but a connected story with very big and evocative pictures. The problem here is that Kindle is not great and handling both in a sensible way. The texts and the pictures need space in a way that the Kindle is not set for. You are constantly having to zoom out and zoom in of everything. It is exhausting to read more than a few pages at a time, because the constant need to switch from text to image zoom is a serious pain in the back. Honestly, if you're interested, get the paper version of these Simon Stalenhag books. His work is very good and the books are worth the wait for digital and not for real.
Very little like the TV series

Derived From Web

, Jul 9, 2021

It is that, and the art is clearly the basis for the wonderful SciFi series of the same name on Amazon Prime. But the ideas that led the series are sparse in the book, and the events and ideas that made the films so spectacular are all but absent. The TV series captures the visual landscape of the book and also the quiet tone, but as a SiFi reader I found nothing much. The people who made the Amazon Prime series have created one of the best SciFi movies ever, with inspiration from Simon Stlenhag, but little content from him.
The "Now an Official Amazon Prime TV Show" Sticker Ruins The Aesthetic For Me

Derived From Web

, Jan 18, 2021

Don 't get me wrong, the contents of this book are great. However, IMHO it is inexcusable for an art book to have a permanently embedded sticker hawking its Amazon Prime TV adaptation. I understand that we are in late capitalism, everything is commodity, advertising, Simon has to make money, but this sticker ruins the aesthetics of the book for me.
Beautiful and Unsettling

Derived From Web

, May 4, 2020

Tales from the Loop is an extraordinary art journey through the history of a world that was never. Told as a collection of memories by a child who grew up in the shadow of the marvels of The Loop, it paints a mysterious and foreboding image of the rise and fall of a technologically advanced civilization from our past.
It was great at first

Derived From Web

, May 3, 2020

It is interesting and intriguing. It is different in a good way. Was absolutely loving the show until one episode, it shows a man in his briefs looking at an image of what is to be assumed his ex boyfriend and I won 't say what happens next. Why is this necessary?!?! '' It does not support the storyline, so why add it? It is a pity because I thought this show was different from your usual streaming plarform show, but alas it isn 't. Sadly, Will not be watching any more episodes.
The artwork is great, but the "Amazon originals" circle is not a sticker and cannot be removed

Derived From Web

, Apr 20, 2020

The hardcover is great in quality and contents are great as expected. I disagree with the publisher's choice of making the Amazon Circle part of the cover artwork instead of a removable sticker. I like that it has been turned into a series, but I don 't need to be advertised every time I pull out this book.
Tales of the Loop Kindle book a bit disappointing

Derived From Web

, Apr 9, 2020

I just finished Tales of the Loop on Prime Video and loved it. I highly recommend this series! '' I thought that the book on which the series was based would be interesting. The book isn 't bad now. It is kind of interesting to see how the author has created this strange world of futuristic technology, mixed with the old. But it was not for the almost $20 price tag. The images were fewer than I 'd imagined and most small, and that's with the largest iPad model. You must open and expand each one. It sounds like a trivial complaint but makes a difference. I would have had full-sized images to scroll through just. It would seem to be an easy fix. In all, I am reluctant to recommend this, given the steep price and the problem cited. But for those who like the series as much as I did, it might be worth it.