BLACK FRIDAY DEALS CONTINUE - SAVE 20% AT CHECKOUT WITH CODE CYBERBOOK. Learn more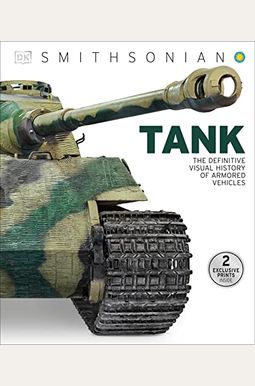 
 
Tank: The Definitive Visual History Of Armored Vehicles
Book Overview
Pivotal to modern warfare, tanks have dominated the battlefield for over a century. Get up close to more than 400 military colossuses with this definitive visual guide to armored vehicles.
In 1916, the British built a vehicle that could pound the battlefield impervious to enemy fire, crushing obstacles and barbed wire in its path. The first tank, or Mother as it was known, had arrived. In
Tank
you can view it in detail, along with other iconic models including the German Panzer, the legendary Tiger, the Vickers Medium Mark I, the Centurion, and the Hellcat - the fastest armored fighting vehicle ever. This comprehensive volume takes you through the most exciting story in recent military history with the development of heavy artillery, anti-tank weaponry, and the men - such as Mikail Koshkin and Sir William Tritton - who designed these awe-inspiring beasts. Produced with The Tank Museum,
Tank
traces the tank's development in response to two world wars, Korea, Vietnam, the Cold War and many other conflicts. It shows each model in detail, highlighting details such as their performance, specification, armor, weaponry, and much more. If you are interested in modern warfare,
Tank
is truly unmissable reading.
Frequently Asked Questions About Tank: The Definitive Visual History Of Armored Vehicles
Books like Tank: The Definitive Visual History Of Armored Vehicles
Book Reviews
(9)
Did you read Tank: The Definitive Visual History Of Armored Vehicles? Please provide your feedback and rating to help other readers.
Outstanding!

Derived From Web

, Mar 10, 2022

I read this book for my son and my retired special forces husband, who received just about every book ever published about military history. I couldn t get them to put it down to open their other Christmas presents! Beautifully illustrated, including full technical details with complete color pictures.
This is exactly what it states

Derived From Web

, Feb 28, 2022

The most comprehensive, informative and visually supported book on tanks. There are fabulous pictures and descriptions of all types of chassis, towers, main guns, machine guns, engines, ammunition and tread assembly. This book is exactly what an armor officer dreams of and what my grandson needs to further his understanding of armored warfare.
Good Brief History of Tanks

Derived From Web

, Jan 28, 2022

As a cold war tanker, there is a mention of the M60A3 Tank Thermal Imaging Sight TTS, which had better imagery and clarity of the M1M1A1 Thermal Imaging Sight TIS. This is a personal statement, as I know from personal experience of being on both these vehicles. This book shows the differences between the tank and the gun - motor - carriage, like the M18 Hellcat, which was not a tank, but looks like a tank used in WWII. I bought the book for the color illustrations and pictures as a guide for accurately painting scale models. If you build scale model tanks, this is a must have book for your library, and if you want to learn more about the history of tanks, this is a good starting reference.
Excellent quality. Great book. Exactly what I was looking for.

Derived From Web

, May 22, 2021

After watching the movie Fury, I became interested in tanks. Covers modern tanks to pre-modern. The book is now published because it mentions Fury. The book is awesome. Photos of each tank. Battlefield Photos by David Atwood. More important tanks have more detailed photos, photos of the interior. Sections about armour, armaments, boots, etc. It is a DK book, so the quality is excellent. Strong pages and a beautiful spine are laminated. I have a few DK books and are all of the same quality. Excellent service. Paping through this for many years to come.
Great source for historic tanks

Derived From Web

, Feb 16, 2021

I have really enjoyed reading this book on historical tanks and tank-like vehicles. The pros are a lot of vehicles covered by a lot of countries, and there is some good info on all of them. The cons are that they do not go into enough detail on a lot of very important historical vehicles and even when they do it is not a complete description, but a 1 or two page short. If you are a tank fan, this book is well worth a read.
Great for your tank obsessed kids!

Derived From Web

, Sep 26, 2020

I bought this for my tank - obsessed son so that he can leave me alone for a while so that I can work from home. He takes it with him everywhere and quizzes us now on Tank Facts. The cost is well worth it!
Inadequate

Derived From Web

, Jun 7, 2018

The photos themselves are mostly good, but I don 't consider a photo of a tank to be definitive. A number of tanks have been given more detailed coverage with pictures, such as : A closeup of a yellow triangle painted on the hull, a closeup of one of the tail lights, a temperature gauge, part of a suspension spring. If all you want to do is look at photos of random tanks and select parts of some of these tanks and you really don 't care about any specifications or capabilities, you might enjoy this book. It would be a good, primary school level introductory, but is completely inadequate for someone interested in a serious study of tanks.
Illustrated primer on tanks of the world

Derived From Web

, Aug 3, 2017

This gorgeous coffee table book is illustrated lavishly with just about every military tank that has ever been made.
4 out of 5

Derived From Web

, Jun 17, 2017