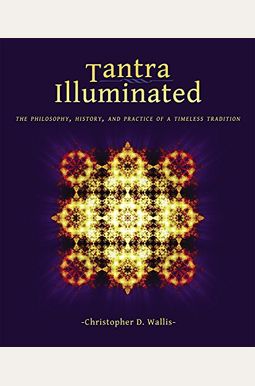 
 
Tantra Illuminated: The Philosophy, History, and Practice of a Timeless Tradition
Book Overview
This book takes readers on a fascinating journey to the very heart of Tantra: its key teachings, foundational lineages, and transformative practices. Since the West's discovery of Tantra 100 years ago, there has been considerable fascination, speculation, and more than a little misinformation about this spiritual movement. Now, for the first time in the English language, Tantra Illuminated presents an accessible introduction to this sacred tradition that began 1,500 years ago, in the far north of India. The book uses translations from primary Sanskrit sources, offers a profound look at spiritual practice, and reveals Tantra's rich history and powerful teachings.
Frequently bought together
Frequently Asked Questions About Tantra Illuminated: The Philosophy, History, and Practice of a Timeless Tradition
Books like Tantra Illuminated: The Philosophy, History, and Practice of a Timeless Tradition
What should you read after Tantra Illuminated: The Philosophy, History, and Practice of a Timeless Tradition Book? Here is a list of books to read if you read and loved Tantra Illuminated: The Philosophy, History, and Practice of a Timeless Tradition
Book Reviews
(6)
Did you read Tantra Illuminated: The Philosophy, History, and Practice of a Timeless Tradition? Please provide your feedback and rating to help other readers.
This book is amazing. I disagree with the reviewers who said it's ...

Derived From Web

, Feb 11, 2022

The book is great. Reviewers said it was too technical. It's very readable, but still being nuanced and sensitive. The Triadic Heart of Shiva or The Doctrine of Vibration is a very dense and technical book on nondual Shaiva tantra. This book has the same amount of information, detail, and insight as those books. The author uses language that is right to him. It remains intellectually stimulating. If you don't want to read the technical parts, you can skip them and still get the full philosophy and history of Tantra, with little details here and there about how it applies to modern yoga practice. This book has a lot of history and inspiration for my own practice. I have already read parts of it and will be returning to it again and again.
Amazing Scholarship Made Accessible to Any Seeker of Wisdom!

Derived From Web

, Feb 11, 2022

I wish I had this book when I started on my spiritual path. It's a unique blend of excellent scholarship and guidance for those who want practical suggestions on how to proceed on the path the amazing texts inspire. I bought the audio version so I can hear the Sanskrit pronounciation of key terms, although this is written so anyone can read it.
Unrivaled, thorough introduction to Tantrik Shaivism.

Derived From Web

, Sep 9, 2019

This is the most accessible book on Tantrik Shaivism that I have read so far, as well as The Recognition Stras. The topic is difficult and deep, and Wallis is the best place for those who are not scholars to find legitimate information to deepen their knowledge base. Christopher is one of the few people who can give us a thorough, applicable and authentic window into Tantrik Shaivism.
For the Serious Seeker

Derived From Web

, Sep 1, 2019

This book is wonderful. Christopher Wallis gives his readers the tools to understand this ancient cosmology at a time when tantra has become little more than a topic of prurient New Age chatter. A Sanskritist and a scholar of religions, Wallis does a great job of making an obscure text accessible to contemporary readers. This book is for serious seekers. If you buy it, be sure to read it multiple times before taking it all in. It isn't an academic book even if it is written by a scholar. This book is not for you if you are looking for sources for your PhD. It was never intended to serve a narrow academic community. Thank you for raising the bar for yoga literature. Hopefully works like this will help wipe the slate clean.
Philosophy

Derived From Web

, Jul 10, 2019

I' ve read many books about Tantra. I like the research that the authors do. I want to learn practices that are not just for the fortunate. There is a title for the book. I understand that most should be kept under wraps but how about a sneak peek with a few exercises? We don't know if word of mouth has changed practices or if Tantra was 5000 years ago before writing them down. If the book measured up to the title, I would give better stars. Is tach for women something you know about? I bought this book after receiving a high referral from a YouTube channel. It makes sense that she would suggest a philosophy only book since they would have to come back to her to buy actual exercises.
Great Practical Resource

Derived From Web

, Sep 12, 2018

There is a good resource to further a practice of the tantric path. The author chose a practitioners voice to further his own consolidation and anyone wanting to dive into the subject could.