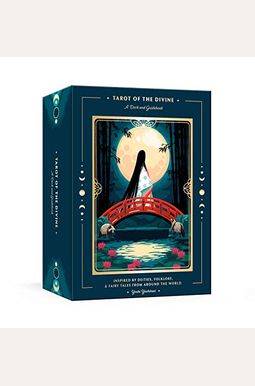 
 
Tarot Of The Divine: A Deck And Guidebook Inspired By Deities, Folklore, And Fairy Tales From Around The World: Tarot Cards
Book Overview
Take a step forward on your spiritual journey with this gorgeously illustrated celebration of deities, folklore, and fairy tales from all over the world.
The path to enlightenment is unique for each of us, but many of the lessons we learn are shared stories passed among cultures and generations. With rich, vibrant art and a keen understanding of traditional tarot archetypes, illustrator Yoshi Yoshitani infuses
Tarot of the Divine
with worldly insight and an intriguing selection of fables and folktales from cultures across the globe. The Major Arcana cards are brought to life with characters from beloved stories who embody the fool's journey, from the Danish fable of the naive Little Mermaid (a character who represents The Fool) to China's Beauty and the Beast (The Lovers) to the Maori legend of Hinemoa and Tutanekai (The World). The archetypes of the Minor Arcana--focused on suits of cups, coins, swords, and wands--are made richer with diverse cultural fables, ancient mythologies, and spiritual legends like the Crane Wife (Japan), Aladdin (Persia), Jack and the Beanstalk (England), Fenrir (Norway), Oedipus (Greece), the Pandavas (India), and dozens more. As you acquaint yourself with your cards, a 44-page guidebook illuminates how these fables support traditional tarot imagery and themes. With fables from more than forty countries, this spiritual journey is a worldly experience like no other.
Frequently Asked Questions About Tarot Of The Divine: A Deck And Guidebook Inspired By Deities, Folklore, And Fairy Tales From Around The World: Tarot Cards
Book Reviews
(14)
Did you read Tarot Of The Divine: A Deck And Guidebook Inspired By Deities, Folklore, And Fairy Tales From Around The World: Tarot Cards? Please provide your feedback and rating to help other readers.
A beautiful themed deck

Derived From Web

, Nov 22, 2021

It is, however, a beautiful deck. Most of the stories do speak to the meaning of the cards, but some of the imagery doesn 't match up really well, and can be confusing if you don 't read the card names first. Based on the main issue, I wouldn't recommend this deck to a beginner, because of the card's imagery can make it difficult to read.
My first Tarot Deck and I'm in love !

Derived From Web

, Jun 26, 2021

The media could not be loaded. Tarot deck was my first set and I am very pleased with it! The imagery on each card is absolutely beautiful and the imagination of the artist is exquisite, as different fairytales are definitely able to be recognized as you do your readings. I love the case it came in too! Included are a few pictures, including my healing altar, which I use to make my most accurate readings, which so far have been spot thanks to this beautiful little deck! Yoshi Yoshianti, Yoshi Yoshianti, thank you. Also, thank you for including pictures that are open to the lgbtq world . I included such pictures as well.
Accurate and beautiful imagery

Derived From Web

, May 6, 2021

I was nervous at first for a new Tarot deck when I purchased it, because I was used to the classic edition. However, once I read the meaning and story behind each card, I quickly came attached to this deck. This is my go-to tarot deck for all my readings. Of course, I 'll buy more Tarot decks, but this one will always have a place in my heart. It fits really well in my hands, too! I love the size of the cards, I love the quality of the cards. Also, while searching for my favorite cards to take a picture of, I noticed that I had not even seen some of the cards on the deck, while I read readings! I notice that I get repeated a lot, which makes me notice just how accurate this is!
Beautiful artwork

Derived From Web

, Apr 18, 2021

Beautiful artwork by Teresa delhi. For those not familiar with the meanings and symbolism of the Tarot deck, they may want to purchase an additional book to learn more. The Guidebook has very limited information about the meanings of each card. I would still recommend the cards, especially for those who are more experienced with Tarot.
May be best for more advanced tarot users.

Derived From Web

, Apr 8, 2021

These cards are beautiful and were my first choice when I became interested in Tarot. I did not understand that they were not as detailed as a more traditional deck. I am enjoying it and bought one of the more traditional decks to learn and compare to these cards.
Diversity and depth

Derived From Web

, Mar 9, 2021

This is the most unique and diverse deck I ever owned. The artwork is beautiful, the stories are intriguing and add another level of depth to each reading. The only thing I 'd suggest is buying the accompanying book. The one that comes with the deck explains the card but not the story, so for depth or even sometimes for the card to make sense, you need to know the story it based on, and it is convenient to have them all in one place. If they were sold together, they would make more sense if they were combined. The quality of the card stock is just fine. About nothing to write home, but also nothing to complain about. Amazing Deck for the price.
👁👄👁

Derived From Web

, Feb 21, 2021

This taro deck is great I'm a beginner and this was the only deck that called to me the art work is phenomenal. The cards are thiccc and a good size to shuffle. I really connected and gave me realy good answers, I was skeptical at first Bc I'm new to this. If this is the only thing you buy Amazon will put it in a thin paper bag, so don 't blame the owner for the scratches on the box. Make sure you buy something else so that Amazon can put it in a box.
This is the best deck I've ever worked with!!!!

Derived From Web

, Feb 16, 2021

Tarot deck : I am so grateful for this tarot deck! Immediately after I opened it ceremonially, it merged with my spirit, after I merged with it. I bought this to add to my collection, but I use it only for personal readings. The artwork is absolutely beautiful and it is just very easy to use these cards. The cards really do work with you and speak gently and powerfully with you. I think that this is a great deck for both beginners and advanced readers. Pure joy and gentle truth when you need it. And we all need that nudge when we are stuck in denial or in denial. Why not wait with the truth until you are slammed over the head with the truth? Hahahahahahahahahahahahahahahahahahahahahahahahahahahahahahahahahaha Get it now. You will not regret. I highly recommend ''. Namaste. Namaste.
Purchased for my Daughter

Derived From Web

, Oct 19, 2020

These are really pretty cards. I bought these for my daughter, 25, because she wanted a tarot deck after seeing mines and was considering the modern witch tarot. That is a really nice deck, only I wanted to surprise her with something more specific of her interests so that she could work better with them. I knew that she loves manga, video games and mystical books... really all kinds of books, so when I say she loved them! She really does, she said she couldn t have picked a better deck for herself. Beautiful card stock and It came in a beautiful box and with the book, very, very nice!
Person that designed this, probably never actually used tarot cards

Derived From Web

, Sep 25, 2020

Extremely hard to shuffle because it is textured on both sides. The texture is rough. You can't hold the cards well and are so thick that small hands can 't even slide them in one hand. The case is also really large, so storing the cards is problematic. I now understand why it was on sale. I wouldn 't have these if they were given to me for free. These are terrible. The images are nice, but because it's a standard sized deck, they are just not very good. Great images for oracle decks for great decks, but no.