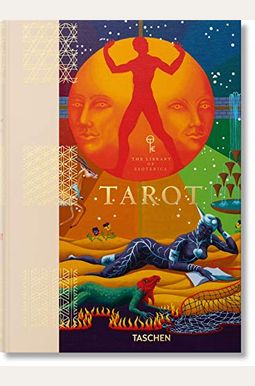 
 
Book Overview
To explore the Tarot is to explore ourselves, to be reminded of the universality of our longing for meaning, for purpose and for a connection to the divine. This 600-year-old tradition reflects not only a history of seekers, but our journey of artistic expression and the ways we communicate our collective human story.
For many in the West, Tarot exists in the shadow place of our cultural consciousness, a metaphysical tradition assigned to the dusty glass cabinets of the arcane. Its history, long and obscure, has been passed down through secret writing, oral tradition, and the scholarly tomes of philosophers and sages. Hundreds of years and hundreds of creative hands--mystics and artists often working in collaboration--have transformed what was essentially a parlor game into a source of divination and system of self-exploration, as each new generation has sought to evolve the form and reinterpret the medium.
Author Jessica Hundley traces this fascinating history in Tarot, the debut volume in TASCHEN's Library of Esoterica series. The book explores the symbolic meaning behind more than 600 cards and works of original art, two thirds of which have never been published outside of the decks themselves. It's the first ever visual compendium of its kind, spanning from Medieval to modern, and artfully arranged according to the sequencing of the 78 cards of the Major Read More chevron_right
Frequently Asked Questions About Tarot
Book Reviews
(9)
Did you read Tarot? Please provide your feedback and rating to help other readers.
Gorgeous

Derived From Web

, Oct 10, 2021

I love Tarot ''. I am keeper of many decks and many books. This is not a book how to get there. This is the history of the township. It is mainly a visual collection to show the depth, evolution and diversity of the Tarot. It is not just a picture book, though. I found a lot of info ''. I never knew ''. This is currently my favorite book. If you love history, symbology, discovery and art or Tarot. This is how you buy it.
A collection item

Derived From Web

, Jan 19, 2021

Good, however, if you're a beginner learning about Tarot. It is a reference book. about each card and the variety of art given to each card. Good art - work can be a collection - object. But if you had enough of the basic information, this book is not for you.
Watch my video

Derived From Web

, Jan 15, 2021

If you like a Tarot book with a wide variety of images from different decks over the years that are large and clear, this is a must have.
Beautiful book, tiny print too small to comfortably read.

Derived From Web

, Dec 27, 2020

Beautiful book with tiny eye-straining print. I need a magnifying glass to read. I do wish that publishers thought through these things. The 520 page volume is all printed in what appears to be the 6 point type. I had intended to enjoy the entire library of Esoterica, but I'm reconsidering because geez wadda hassle to collect. Either of these would have been more desirable, honestly. The first volume of the set has reproductions of the full color tarot cards from at least a dozen decks. Once I order a page-sized magnifying glass, I'll comment on the written content.
Extraordinary

Derived From Web

, Sep 22, 2020

The quality of the graphics and attention to detail... thanks Taschen for doing it right.
Beautifully designed - a real feast. But...

Derived From Web

, Aug 27, 2020

The print is so small! I love the images, which are incredibly diverse, almost comprehensive ''. Such fun to move through, gasp and then leaf on to gasp again. There are so many faces to Tarot and this collection shows this masterfully. The type is so small that I needed a magnifying glass to read it, and since I don't have a good magnifying glass, I pretty much gave up the printed part. I understand that the images are primary, but this goes too far. That is why four stars instead of five are being crowned. When I read it, it is very interesting. Mostly Bravo, though.
Spanish

Derived From Web

, Aug 27, 2020

Promising for a research experience that is pleasing to the eye. I expected the pages to be matted, but they are glossy. It is mostly disappointing that they have included the names of major arcana cards in English, German, French and Italian, but not in Spanish.
Disappointed.

Derived From Web

, Aug 25, 2020

Thank you to the author for assembling it all and the book construction is beautiful as one would expect from Taschen. The art is, however overwhelmingly tacky and incoherent. It is sad to see how degenerate and meaningless the Tarot can be. There are certainly a few interesting pages, but are far to few.
Fantastic!

Derived From Web

, Aug 23, 2020

The book is absolutely stunning. The result is executed very well. It may become the must have source for the Taro justification. I've been reading Tarot for over 40 years and discovered things that I have not come across in other books. Taschen always puts out great work and the pages smell awesome.