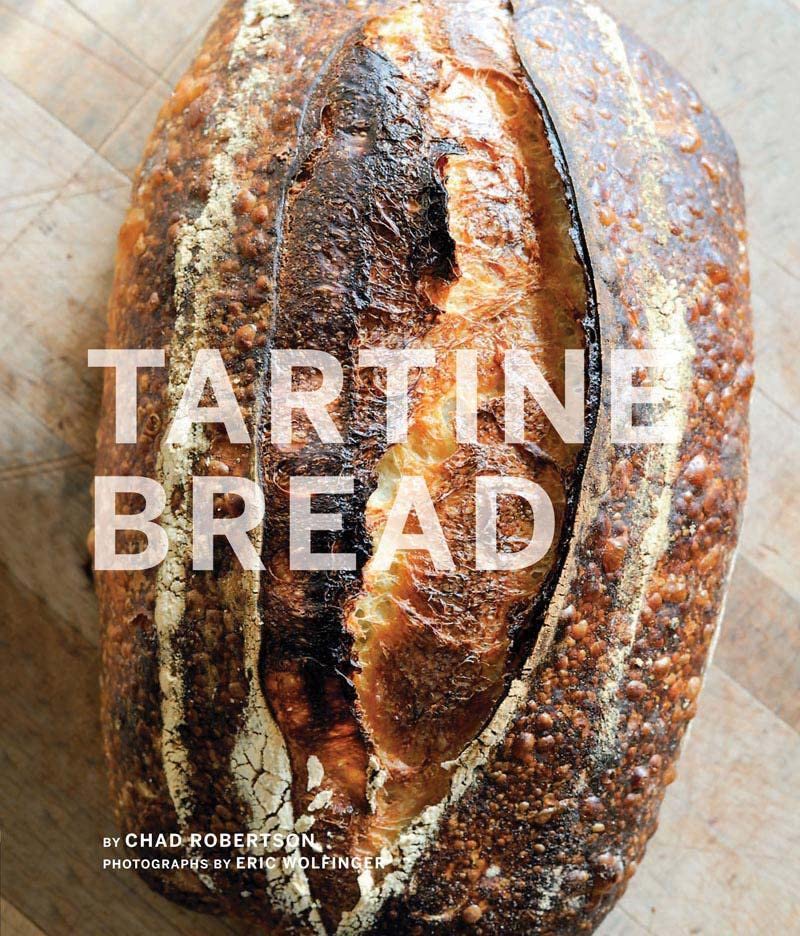  
Book Overview
The Tartine Way - Not all bread is created equal
.The most beautiful bread book yet published. - The New York Times
Tartine - A bread bible for the home baker or professional bread-maker
It comes from Chad Robertson, a man many consider to be the best bread baker in the United States, and co-owner with Elizabeth Prueitt of San Francisco's Tartine Bakery. At 5 P.M., Chad Robertson's rugged, magnificent Tartine loaves are drawn from the oven. The bread at San Francisco's legendary Tartine Bakery sells out within an hour almost every day.
Only a handful of bakers have learned the bread science techniques Chad Robertson has developed:
To Chad Robertson, bread is the foundation of a meal, the center of daily life, and each loaf tells the story of the baker who shaped it. Chad Robertson developed his unique bread over two decades of apprenticeship with the finest artisan bakers in France and the United States, as well as experimentation in his own ovens. Readers will be astonished at how elemental it is.
Bread making the Tartine Way:
Now it's your turn to make this bread with your own hands. Clear instructions and hundreds of step-by-step photos put you by Chad's side as he shows you how to make exceptional and elemental bread using just flour, water, and salt.
If you liked Tartine All Day by Elisabeth Prueitt, Chad's Read More chevron_right
Frequently Asked Questions About Tartine Bread
Books like Tartine Bread
What should you read after Tartine Bread Book? Here is a list of books to read if you read and loved Tartine Bread
Book Reviews
(12)
Did you read Tartine Bread? Please provide your feedback and rating to help other readers.
Nice hardcover cookbook.

Derived From Web

, Mar 21, 2022

The paper and materials are high quality. Good recipes but not step by step pictures. This may be more challenging than a cookbook that has step by step photos. I'm looking forward to making these awesome European breads, I enjoyed them so much when I was there.
One of the best bread baking books

Derived From Web

, Apr 20, 2021

The book made me want to read it again. I tried the recipes and methods in the book for the first time and saw a real bread that an artisan bakery would be proud of. If you're interested in baking breads, you should get this book. You will thank the author later.
Terrific Book, Love the Recipes

Derived From Web

, Mar 20, 2021

I love the book. I use the basic bread recipe weekly. I have the ingredients and weights memorised. If you haven't used starter before, or haven't got the tub necessary for folding, this one takes some time to get used to. It was on my shelf for 3 years. I went through my collection and thought about donating or giving it away. I tried the basic bread recipe, and haven't looked back.
Amazing Sandwich Bread

Derived From Web

, Dec 31, 2020

After adjusting the cook temptime for my hot oven, the second attempt turned out a lot better. This bread is better than any I've ever eaten. I still bake fresh bread every week. The smell of bread in the oven makes me smile.
Can't wait to read more!

Derived From Web

, Nov 1, 2020

I've only read 58 pages, but I love it! It does read like a textbook. It's Sourdough read after all! I love the cover of this book. When you pick it up, it has a little bit of give. It made me feel like the book was intended for the owner to love it as much as the bread itself.
Must have for sourdough bread bakers

Derived From Web

, Mar 9, 2020

This is a great book for bread bakers, as well as his next book for using more whole and sifted grains. The recipes are worth the effort, and it is lovely to look at. This is in the top 5 of my favorites.
Want to bake great bread at home? Buy this book!

Derived From Web

, Jan 31, 2020

This book is amazing. I've learned a lot about making artisan bread at home. It is a good book for people who don't mind trying a bake that requires a couple of pieces of specialty equipment and want to try something new. It isn't a great choice for a novice in the kitchen, but it is ok for people who don't consider themselves a baker but want to try. You will be able to make amazing bread with this book. How much do I like this book? I bought a hard cover copy after reading it on my iPad, even though I had a free version of it.
Content maybe good but the production quality is horrible.

Derived From Web

, Sep 21, 2019

I bought this as a gift and it was a disaster. I didn't think I would need to make sure it was printed right when I gave it to a friend. It is a nice looking book, but it is a wreck on the inside. The color code is on the bottom of the page, some pages are not secured to the binding and the pages are upside down and backwards. You have to read from the back page. I am embarrassed to have given this as a gift.
Excellent breat book!

Derived From Web

, Oct 6, 2018

The science of great bread is explained in simple terms by this book. There are many great recipes and good suggestions to help you make great bread.
Best book out there on creating old world

Derived From Web

, Apr 14, 2018

It was outstanding. The best book on making bread. I don't use commercial yeast or long ferment times to make bread. The irritation caused by rapid commercial bread making is why most people avoid it. If you eat my bread, you will be amazed. No bloat.