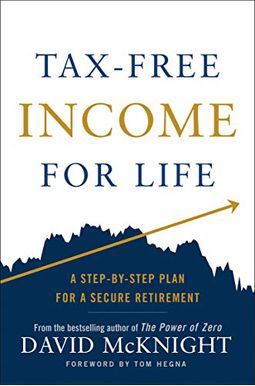  
Tax-Free Income For Life: A Step-By-Step Plan For A Secure Retirement
Product is currently Out of Stock.
You can add it to your wishlist and you will be notified once we receive a copy.
Book Overview
The follow-up to the bestselling The Power of Zero, providing a blueprint to build a guaranteed, tax-free income stream that lasts for the long run.
American retirees face a looming crisis. We are living longer than ever before, and most experts predict a dramatic rise in tax rates within the next ten years. The hard truth is that no matter how much you save, you are likely to outlive your money or watch it be taxed into oblivion. But when traditional retirement distribution strategies won't provide sufficient income in the face of higher taxes, what can you do?
Tax-Free Income for Life
lays out a strategy that guarantees a secure retirement. McKnight shows how the combination of guaranteed, inflation-adjusted lifetime income and a proactive asset-shifting strategy can shield you from longevity risk and the cascade of unintended consequences that result from higher taxes. If ever there were a solution for the American retiree, it's guaranteed tax-free income for life.
Frequently Asked Questions About Tax-Free Income For Life: A Step-By-Step Plan For A Secure Retirement
Book Reviews
(7)
Did you read Tax-Free Income For Life: A Step-By-Step Plan For A Secure Retirement? Please provide your feedback and rating to help other readers.
Basically a Commercial for Annuities

Derived From Web

, Sep 26, 2021

I thought this might be a good book to give relevant strategies for multiple passive income streams of income for retirees, he said. It was a commercial for Fixed Income Annuities. I think FIAs have a valid place in a retirement mix but I didn't appreciate paying for a light weight book to get sold insurance products, he said. A lot of things in the book are very disappointing.
Insurance agents gold

Derived From Web

, Apr 15, 2021

My wife is an insurance agent and is constantly giving these books to her clients, helping them learn how to save money and live well.
More quality info needed

Derived From Web

, Feb 20, 2021

No explanation of what to buy for the tax-free part of one's portfolio. Should one buy State Munis, advantages of buying in one's own state for double tax-free, fed and state, or is it better to buy tax-free muni funds? Very important to live very thrifty in the early years of employment and good health to accumulate and grow a stronger base, he said. He follows the old rule of Don't Put All Your Eggs in One Basket.
Selecting the Right Tools for Your Retirement Toolbox

Derived From Web

, Dec 6, 2020

I've followed David and his work for the past year and have been thoroughly impressed with the themes and messages of his work, said Blair. He has opened my eyes to insurance products that could be incorporated into my retirement planning, he said. Prior to seeing his documentary and reading his books, I was of the Dave Ramsey approach that all insurance products are bad, but David McKnight has a methodical way of showing that certain products can be used as strategic tools in your retirement toolbox. However, he said, there was not one set answer for all, but one had to identify the purpose and then select the right tools for their plan. This book was easy to read and provided a thorough case study of how it can be applied. Highly recommend.
READ THIS BOOK IT WILL CHANGE YOUR FINANCIAL LIFE!

Derived From Web

, Nov 23, 2020

Dave is going to change your beliefs of conventional financial planning. These are strategies which are based on scientific, mathematical, and economic fact, not some uneducated person. It's time to think outside the box, become educated and secure for yourself a tax-free retirement, Hyman said. Asteroids have been blamed for much of the damage done to the Hubble Space Telescope.
DON'T JUST READ IT, BUT FOLLOW THE STRATEGIES FOR A BETTER RETIREMENT!

Derived From Web

, Nov 22, 2020

This is one of the most important books of our era written about taxes, why they're skyrocketing and how to shelter ourselves from the coming calamity. McKnight makes his tax-free income case before the court of law, with reasonable and compelling arguments backed up by data and facts. Even his fiercest opponents are now disarmed. There simply is no way to logically or reasonably dismiss the $239 trillion in national debt racked up by the U.S. government, Ryan said. Beckham has done a great job, said James.
Incredible book!

Derived From Web

, Nov 20, 2020

A great book. I enjoyed every page of it.