Buy 3 Get 1 Free
Our Best Sale Yet! Add 4 Books Priced Under $5 To Your Cart     Learn more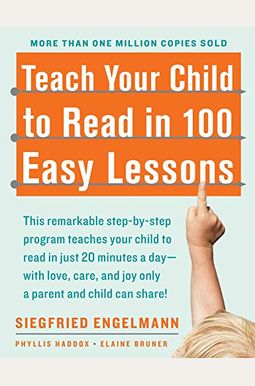 
 
Teach Your Child To Read In 100 Easy Lessons: Revised And Updated Second Edition
Book Overview
With more than one million copies sold, Teach Your Child to Read in 100 Easy Lessons is a remarkable step-by-step program that teaches your child to read in just 20 minutes a day--with love, care, and joy only a parent and child can share.
Is your child halfway through first grade and still unable to read? Is your preschooler bored with coloring and ready for reading? Do you want to help your child read, but are afraid you'll do something wrong?
Teach Your Child to Read in 100 Easy Lessons
is a complete, step-by-step guide that shows parents simply and clearly how to teach their children to read. Twenty minutes a day is all you need, and within 100 teaching days your child will be reading on a solid second-grade reading level. It's a sensible, easy-to-follow, and enjoyable way to help your child gain the essential skills of reading. Everything you need is here--no paste, no scissors, no flash cards, no complicated directions--just you and your child learning together. One hundred lessons, fully illustrated and color-coded for clarity, give your child the basic and more advanced skills needed to become a good reader.
Frequently Asked Questions About Teach Your Child To Read In 100 Easy Lessons: Revised And Updated Second Edition
Books like Teach Your Child To Read In 100 Easy Lessons: Revised And Updated Second Edition
Book Reviews
(9)
Did you read Teach Your Child To Read In 100 Easy Lessons: Revised And Updated Second Edition? Please provide your feedback and rating to help other readers.
Three days a week and they are awesome readers by summer

Derived From Web

, Apr 20, 2022

I taught my children to read. I start January before they start Kindergarten. They are awesome readers by the summer. The pages of my first book were falling out and I had to buy another book for my two youngest. I'm sure child number 5 and 6 will like not having a book. These easy lessons will remind me to read with my kids. If you remember to move at your child's pace and be patient, this will be a great teaching tool.
Make sure you kid is ready to learn to read. Don't force it or it won't work.

Derived From Web

, Jul 5, 2021

As a parent, you have to understand that your child may not be ready to read. The reviews about how bad this book is for young children are out of place, 4 year olds should be playing and never spending more than a few minutes on academics daily. Set the book down for a few weeks if your child is crying. This book is fantastic and your child is ready. My 5 year old son is doing great and we are currently on a show. We only work when he is able to focus, and he is really enjoying his lessons by going with his cues. He's sounding out letters because they give him confidence. I used reading eggs or alphablocks to get him to learn to read, but they didn't help him learn to read. He is growing and becoming more confident every day.
Confidence booster

Derived From Web

, May 29, 2020

I finished the book for my 5 year old in August. We took 10 months, but we took a month break in between, and we weren't doing the book consistently. The book is not very exciting with colour pictures, so I targeted 3 lessons every week. Other books were similar to BOB books. This worked for my son and he gained a lot of confidence. My 4 year old daughter enjoys reading this book. She started lesson 40 two months ago. The book builds confidence despite the progress being different for each kid.
Tough but worth it

Derived From Web

, Feb 3, 2020

Lessons 1 through 10 were not easy to learn. There were a couple sentences my child read. The dread of working in a boring book was gone once this happened. My 4 year old is very proud of the progress and it is easier to get him to sit down and do the work. You have to do it according to the instructions. There aren't any shortcuts. The book is boring, but worth the journey to get the results. It's hard in the beginning, but persistence will get you there. Hearing my 4 year old read makes me excited.
Scripted guide to teach reading

Derived From Web

, Nov 2, 2019

I have used and recommended this book many times. It has a script for the teacher to follow. Our neighbor was frustrated because her seven year old child couldn't read. This book was recommended to me. He was reading short stories in a week. When our daughter was three years old, I started her with this book. At four years old, she was reading at a second grade level. Suggestions 1. Post it notes with the cover story illustrations. After the first reading, do a big reveal. 2. Allow your student to put a sticker on the front of their classroom. 3. To lightly color illustrations, use colored pencils.
Not for children! Horrible, mean...

Derived From Web

, Aug 4, 2019

The reading section of this book has bad stories for kids to read. People being called fat, bad singers, mean ducks, kids being mean to dogs until they dig up gold and make the kids rich are some of the stories. What in the world? This book is for your child. Try to find a book that is child friendly.
Inaccurate website description

Derived From Web

, Nov 20, 2018

This program is not recommended for poor readers who have been taught how to read but make frequent mistakes, because I purchased this book to help my 2nd graders who struggles with reading. I would have known that the book and method were not for us if they included that information in their website description.
but I have used it to teach three of my children to read and highly recommend it. It is SO EASY

Derived From Web

, Jan 6, 2018

I have used this book to teach three of my children to read, and it is one of the best books I have ever read. It is easy. I prefer to use a different model so I have always skipped the last section of the day. After I found my stride and gained confidence, I don't always follow the script exactly as written, but have had good results when I follow it to the letter. The stories at the end of the book are silly. When my children finish the book, they don't cover all blends, so I still give some reading instruction. It is a great start.
Taught all three daughters to read with one $13 book!

Derived From Web

, Jul 2, 2017

I bought this book for my child when he was 4 years old. She was reading at a second grade level within 100 days of me starting, but she only knew a few sounds. I was pleasantly surprised. I used the same book on my daughter a month before her 4th birthday and she was reading at a second grade level within 100 days. I wasn't surprised that she was able to read so quickly because she had a high vocabulary to begin with. I have a very stubborn daughter who is 4 12 and we are on lesson 25 and she is doing amazingly. I taught my daughters to read the same book for only $13. It's so much better than flash cards, I've seen the kids in kindergarten struggle with trying to memorize all the words, when my girls are able to read anything and everything by sounding it out. The words on the flash card are words that my girls memorize.