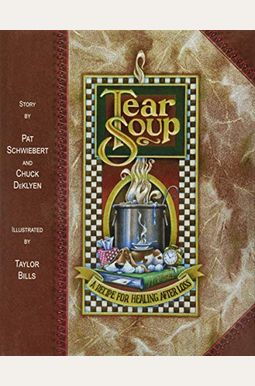 
 
Tear Soup: A Recipe For Healing After Loss
Frequently bought together
Frequently Asked Questions About Tear Soup: A Recipe For Healing After Loss
Books like Tear Soup: A Recipe For Healing After Loss
Book Reviews
(16)
Did you read Tear Soup: A Recipe For Healing After Loss? Please provide your feedback and rating to help other readers.
A must

Derived From Web

, Apr 20, 2022

The book is very good and cheap. My friends are dealing with the loss of a loved one, so I bought 5 of them for them. It's better if you have a card or flowers. The friend who gave me the book paid more for it. After my friend left the book with me, I did lots of grieving and re-reading it over and over again. I saved a lot of money buying books. I only have one left. There wasn't a charge for shipping. A must for everyone.
TOUCHED MY HEART BEYOND WORDS

Derived From Web

, Apr 20, 2022

I lost my husband to cancer two months ago and have wondered how I would survive. The book shows what I felt and what would happen. I was hesitant about buying because I thought it might be too cutesy. It was nice to know that I wasn't the only one. I enjoy reading fast and easy. It's Beautifully illustrated too. It gave me hope and comfort. I recommend this book to everyone. Like me, you will find others who want to buy this book for you.
Grief finds its way to us and our loved one's far more than we realize.

Derived From Web

, Apr 20, 2022

This book gives permission to grieve regardless of the type of loss. Although written like a child's book it can bring relief and understanding to any age for many types of loss. It's a great gift and a great book to keep on the shelf when you're having a down day. The author understands the type of pain that one experiences.
A wonderful book for those who are grieving

Derived From Web

, Jan 24, 2022

The book is easy to read. It looks like a children's book with great illustrations. The age of the person I bought the book for was rated by Amazon as a book for children. It's a book for adults, but could be used by children. I received one after my husband's death, and in the last few months I have bought several for others. A Hospice grief counselor uses it in her group sessions. There are many resources listed at the end of the book. It could be a help for people who don't know what to do when someone dies.
This book speaks to me

Derived From Web

, Oct 25, 2021

I have bought this book 19 times. I give this book to my friends and family who are grieving. After my mom died, I was given this book. We all took it very hard when my mom died. When I read this book, I understood what my soul was feeling. I know that it won't speak to everyone in the same way it spoke to me. I think it is worth a try. It's written like a children's book but I don't think it's for kids. I think the kids could benefit from it.
Great book for anyone dealing with grief

Derived From Web

, Mar 29, 2021

On my Dad's last day in the hospital, a social worker recommended this book to me, and I ordered it. I thought it might be a tad over their level of understanding when I read it to my children. I was relieved that they both got it. I was having trouble explaining it to you. It is written in a way that brings up the uncomfortable subject of grief, in our case death, and related it to real things that were happening around us. My 8 year old told me that it made her feel better. She recommended it to my Mom as she was crying. When we returned home after the funeral, my girl said that we were going to have to read Tear Soup a few times. I highly recommend this book to anyone who is struggling with grief.
It speaks to everyone regardless of age. A+

Derived From Web

, Mar 9, 2021

I buy this book to give away all the time. It is sweet and profound at the same time. Dealing with grief for all ages is a classic.
Book for all ages to process grief

Derived From Web

, Jan 13, 2021

I gave this book to a 12 and 15 year old who lost their grandmother, and I liked it very much. Although some of the content may be advanced for the younger one, it gives descriptions of types of loss and how a child could come to terms with processing their grief. There are several pages of how to talk to young children in the back of the book. Every classroom, library, home and grief support group should have this book.
Perfect grief read for all ages

Derived From Web

, Nov 15, 2020

Excellent read for children and adults. I highly recommend it to anyone who is going through a tough time.
Speaks To My Broken Heart

Derived From Web

, Jan 23, 2019

This book spoke to my heart more than any other book I have read, because my son was killed recently. I am giving this one to my friend who lost her husband.