Buy 3 Get 1 Free
Our Best Sale Yet! Add 4 Books Priced Under $5 To Your Cart     Learn more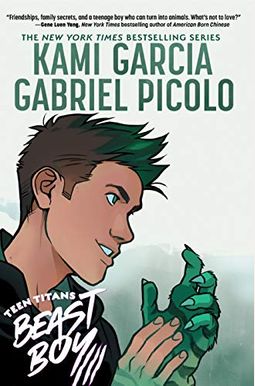  
Book Overview
A New York Times bestseller
USA Today
and
Publishers Weekly
bestseller Author Kami Garcia (
Beautiful Creatures
) and artist Gabriel Picolo, the creative duo behind the
New York Times
,
USA Today
, and
Publishers Weekly
bestseller
Teen Titans: Raven
, take you on a journey of self-discovery and acceptance, while reminding us the value of true friendship--especially when life gets wild. Garfield Logan has spent his entire life being overlooked. Even in a small town like Eden, Georgia, the seventeen-year-old with green streaks in his hair can't find a way to stand out--and the clock is ticking. Senior year is almost over. If Gar doesn't find a way to impress the social elite at Bull Creek High School, he will never know what it's like to matter. Gar's best friends, Stella and Tank, can't understand why he cares what other people think, and they miss their funny, pizza-loving, video game-obsessed best friend. Then Gar accepts a wild dare out of the blue. It impresses the popular kids, and his social status soars. But other things are changing, too. Gar grows six inches overnight. His voice drops, and suddenly, he's stronger and faster. He's finally getting everything he wanted, but his newfound popularity comes at a price. Gar has to work harder to impress his new friends. The dares keep getting bigger, and the stakes keep getting higher. When Gar realizes the extent of his physical changes, he has to dig deep and face the truth about himself--and the people who truly matter--before his life spirals out of control.
Frequently bought together
Frequently Asked Questions About Teen Titans: Beast Boy

Books like Teen Titans: Beast Boy
Book Reviews
(12)
Did you read Teen Titans: Beast Boy? Please provide your feedback and rating to help other readers.
A very great story for all ages!

Derived From Web

, Feb 21, 2022

It's a good story, said Gest. It has a good lesson for kids and adults alike, dealing with the toxicity of body image without looking down on the reader. He is also written to be a very flawed character with his own set of problems that anyone can relate too. Though written well, his story is a tad too juvenile. Young readers, too, will find the book appealing. nan
Another great graphic novel

Derived From Web

, Feb 20, 2022

Garfield "Gar" Logan is trying to impress the popular kids before he leaves high school. What he doesn't expect is for his body to start growing and changing into wild animals. Like many high school students, Gar is dealing with common issues, like popularity, crushes and changing bodies. I think Gar's obsession with being a popular kid was a little, but at the same time, I can understand it because I remember people who were like that in high school. I liked that Gar frequently tried to do the right thing, but didn't always think about his actions before doing them. He was a good kid at heart, his mom said. The color palette and the style of the cover were also very impressive. There are a lot of green undertones to match the beast. I am really interested to see what is going to happen with the meeting with Slade, Mr. Rule told the judge. I can't wait to see him and Raven together, she said.
This is lovely

Derived From Web

, Aug 14, 2021

I am so familiar with Beast Boy from the comics and his stint in the Teen Titans comics, that I had to divorce myself from what I know and this book, he said. I had to look at this book as something completely independent of what i knew. Now going from there, it was a n entertaining story and I liked the artwork too. The characters were likable enough and so I would say this is a great book for the kids to read, Mary. The report details instances of bullying and group-based intimidation within schools.
Cute Origin Story

Derived From Web

, Oct 25, 2020

It's great to be back with the original cast of Teen Titans. The first book in the series was a good read, but Beast Boy's story is more charming and fun. It's just that the show's creators should be expected to be as irreverent as the characters they play. It's still very much a stereotypical high school drama -- boy wants to be popular, boys real friends try to show him he's perfect as he is, etc. Our core three are a little more nuanced than we typically find in this genre. As I did with Raven's story, I felt that the ending was rushed, but again I credit that to the fact that both stories are meant to merge in the third book and function almost as long-form comics rather than complete novels. It was a great read, and I will probably read it again.
Beast boy.....

Derived From Web

, Sep 23, 2020

I'm a huge fan of Gabriel Picolo's work, but somehow this story was more boring than Raven's. Is it just that every highschool story has to be unpopular?
A Solid Read for Newbies and Vets of DC Comics

Derived From Web

, Sep 21, 2020

Teen Titans is not exactly what you'd expect from a superhero origin story, but I loved every single minute of it. I've read Teen Titans comics in the past and the best characterizations of Gar are when he has, not just a prankster and jokester, writer Jeff Goldblum said. While I've read and enjoyed the creators' other graphic novel, Teen Titans, I honestly believe that Gar got more characterization and love put into him than his future teammate. The writing style is meant for readers at a lower level, like elementary school students. It's very easy to understand and follow, even for the most advanced level mathematicians. I will probably always love P Gabriel's art, as I've been following him for years and will continue to do so, he said. Newcomers to the DC Comics universe will find this a solid read.
The beast is here!

Derived From Web

, Sep 10, 2020

I've fallen in love with Gabriel Picolo. This book was a great read, said Blair. I felt the story was great and I felt the story really well with Garth being a nobody to someone who grows to be a hero that he can be without the fame and glory of being a star, Crowe said. Cant wait for the next book!
The art STUNNING . The story BEAUTIFUL

Derived From Web

, Sep 2, 2020

I've been following @jonathan_davis since he was a teenager and I've been waiting for this book FOREVER!
FINALLY

Derived From Web

, Sep 1, 2020

FINALLY arrived at my door today!!!!!!!!!!!!!!!!!!!!!!!!!!!!!!! I took a personal day off today so i could be home when it arrived and read it right away. Second chapter of the project will be titled "Raven's Bounty." There are a few eggs left in this story, so keep your eyes open.
Bring out your inner Beast!

Derived From Web

, Sep 1, 2020

He's sick and tired of being short, shaggy, overlooked Garfield and only good for jokes. He takes a risk and stops taking them when he finds out they may affect his pituitary gland. Overnight, he grows six inches, his voice deepens and his muscles are huge, catapulting him into the school's It crowd. Things go wrong fast for Gar when his dream of becoming a professional wrestler is shattered. He can see well in the dark, animals love him and his skin feels tight, making him a good sport. After a few weeks, he finds himself transformed into animals. The boy was apparently not injured, police said. What does it mean for his future? The second in the Teen Titans graphic novel series by Kami Garcia and Gabriel Picolo focuses on everyone's favorite green shapeshifter, Beast Boy. Young readers who grew up with the Teen Titans cartoons will love this new backstory for Beast Boy, and newcomers to the series will enjoy this introduction to this beloved character.