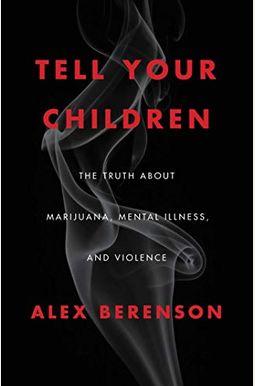 
 
Tell Your Children: The Truth About Marijuana, Mental Illness, And Violence
Frequently Asked Questions About Tell Your Children: The Truth About Marijuana, Mental Illness, And Violence
Books like Tell Your Children: The Truth About Marijuana, Mental Illness, And Violence
Book Reviews
(11)
Did you read Tell Your Children: The Truth About Marijuana, Mental Illness, And Violence? Please provide your feedback and rating to help other readers.
Great Book to share with teens and young adults.

Derived From Web

, Mar 4, 2022

He had no idea of the super strains of marijuana and the dangers associated with using. This is not the marijuana of the flower children '' and hippie '' and Woodstock '' generation a must read.
Not leisurely reading for me

Derived From Web

, May 12, 2021

A friend suggested I set this out for my kids to sneak a peak when they were curious. It is not that kind of book, nothing real tempting, it looks like an AP English homework assignment.
Should Be Titled "Warn Your Children!"

Derived From Web

, Apr 15, 2021

Now that New Jersey has passed the legalization of pot, we should understand what we got into. I also recommend Alex Berenson's book Tell Your Children ''. The data gathered by Mr. Berenson is very concerning and is being dismantled by the profiteers of the Marijuana industry. People need to know the truth and clearly more research is needed about the connection between marijuana and psychosis.
Eye opening

Derived From Web

, Oct 27, 2020

This book confirms what I had already suspected is the cause of so many local crimes in our newspaper. As surrounding states legalize recreational marijuana, it becomes both in terms of lives and resources more expensive to fight the negative effects of this destructive drug in our own state. The battle is worth fighting and I am grateful for the dialogue that this book has promoted.
The Truth Seeker's must read

Derived From Web

, Jun 7, 2020

This book is scientifically researched, thoroughly written and scientifically proven to be an honest presentation of facts about marijuana and its effects. Based on the people I have crossed paths with who have had their lives altered by this drug, makes so much sense. Make no mistake that marijuana is far more dangerous than the political figures who seek to know from its legality. Book must be read, and PLEASE tell your children.
Informative on Marijuana

Derived From Web

, Jul 25, 2019

I recommend it highly, especially to parents today.
No Hype, Just the Facts

Derived From Web

, Jul 18, 2019

This book deals with facts, is well-written and provides a good in depth look at the potential dangers of Marijuana usage without being bogged in technical language.
Should be required reading for all legislatures

Derived From Web

, Apr 12, 2019

The book is very interesting. I '' felt that it was fair and impartial. People across this country are jumping on the legalization of marijuana, but relying on the marijuana industry to educate them.
Very interesting

Derived From Web

, Feb 21, 2019

I enjoyed reading this perspective fully. It is a political book in the midst of helpful correctness.
No evidence!

Derived From Web

, Jan 23, 2019

There is not a citation in the book. I was looking for a bibliography where I can read the research that led to the author's conclusion. We would not accept a book that says Studies show that marijuana can cure cancer '' without citing any evidence. Why should we accept a book that says it causes violence, etc. without evidence?