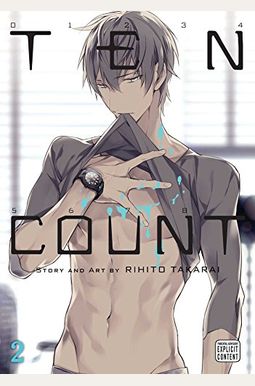 
 
Book Overview
Corporate secretary Shirotani suffers from obsessive-compulsive disorder in this doctor-patient romance fraught with compulsion
Corporate secretary Shirotani suffers from obsessive-compulsive disorder. One day he meets Kurose, a therapist who offers to take him through a ten-step program to cure him of his compulsion. As the two go through each of the ten steps, Shirotani's attraction to his counselor grows. Shirotani begins opening his heart to Kurose, until the counselor suddenly tells him that their sessions are over. Shocked, Shirotani withdraws into his home, refusing to come out. Out of the blue, Kurose texts him and asks to see him. What will Shirotani do when he finds out the secret Kurose has been hiding from him this whole time?
Frequently Asked Questions About Ten Count, Vol. 2
Book Reviews
(9)
Did you read Ten Count, Vol. 2? Please provide your feedback and rating to help other readers.
over heated

Derived From Web

, May 24, 2022

So hot... just wow. They dont go all the way, but what they do is wow. The art is done beautifully for these two and the story continues to grab me. i just want to read book 3! This slow build is awesome yet cruel, such a deep seme and uke story that makes my whole body feel overheated.
Story Ruined by Ugly Trope

Derived From Web

, May 24, 2022

The set for this series was really great and the art is beautiful, but here it has already fallen back to the assault as a relationship trope. I was hoping for a nuanced story with good character development, eventually ending in passionate romance, but instead ended with this ugly stereotype.
Practically New!

Derived From Web

, Dec 12, 2021

This was used, but came almost new! No wearing, no yellowing, nothing! Honestly, I am very happy with this. I love this story a lot and have read it many times and decided I would buy it without regrets this year!
Great Content/Product, but Collectors be Warned

Derived From Web

, May 21, 2021

Great book itself, just a little unhappy with the way it arrived cracked and torn at the top, despite being plastic wrapped. For new books, Amazon should really consider bubble wrapping and putting inside a box instead of just sticking them in a bubble mailer.
Warning Volume 2 Not a light romance

Derived From Web

, Sep 10, 2019

Volume 1 was light a light romance for anyone who wants just a short story, but Volume 2 is more of a hard yaoi romance still amazing but fair warning to anyone who doesn 't want some intense physical scenes lol.
Mature, masterful.

Derived From Web

, May 16, 2019

Adult content is written by several adults. Beautiful artwork by Handsome. Large font is simple to read. I became addicted immediately, wanting more of the series! ''
I feel like the medical condition for which they are using as ...

Derived From Web

, Jun 3, 2018

This is a cute but not quite rapey story. I also feel like the severe medical condition they use as an example is much more serious and could not be cured so easily or at all. But I enjoyed the story long enough to read it again one day.
Absolutely incredible

Derived From Web

, Jan 2, 2018

I have read this one as well as Volume One, and I love both. I actually purchased the first volume just so that I could push the artwork as a means to study my own artwork out of my comfort zone. Typically, I am not into stories like this, when they are focused on leaner and thinner men. However, the story has pulled me in and I am a huge fan of this particular series. I look forward to reading the rest of them and purchasing the rest.
Buy it!

Derived From Web

, May 4, 2017

This is great, the characters, drawing, the story is really consistent. In a lot of yaoi, it seems that the mangaka seem to forget the plot and the characters'personalities when they get to the steamy parts. Takarai does a good job of keeping the steamy parts and giving everyone true to their character. It is what makes reading so tantalizing!