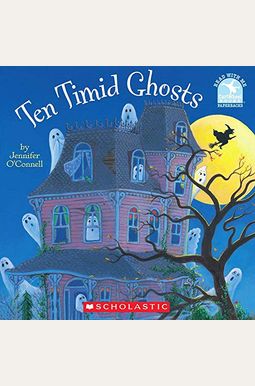 
 
Book Overview
It's Halloween, and ten timid ghosts in a haunted house have a problem: a mean witch is preparing to move in and scare them away, one by one Young trick-or-treaters learn to count backwards from ten to one as each ghost flies away to the woods after seeing a gleaming skeleton, a bat black as night, a frightening hoot owl, or an enormous rat, just a few of all the witch's tricks. But one clever ghost, before flying away, unravels the witch's plan Together, the ghosts rise up against the witch in a big, scary BO Jennifer O'Connell's wacky yet mysterious illustrations lead the reader through the ghosts' dilapidated mansion. And her gently spooky and rhyming text encourages children to participate in the haunted countdown, making reading and learning eerie fun
Frequently Asked Questions About Ten Timid Ghosts
Books like Ten Timid Ghosts
Book Reviews
(12)
Did you read Ten Timid Ghosts? Please provide your feedback and rating to help other readers.
Fun Halloween story

Derived From Web

, May 10, 2022

Halloween - story is fun. It is fun to search for the ghosts hidden on each page. I would highly recommend! ''
A fun twist on an old favorite!

Derived From Web

, Oct 25, 2021

Five Little Monkeys is a creative adaptation of Ten Timid Ghosts, but it has a twist. Not only do the ghosts return one by one, but they also go away. The fun text makes this a great book for small children but because it is a repetitive, playful story, older children also like it. It is a great tool to help you count as well. I recommend you guys definitely!
OK but can be scary for littles!

Derived From Web

, Sep 7, 2021

Some of the photos in this book can be a bit scary for littles who are not in a fun Halloween, but more scary-moded Halloween. Some of the creatures in the story are not as scary as they could be for little children. The book is recommended for 4-6 year old children. The rhyme is for less than 4, but the story by itself is not a very good one. Basically, the foolish ghosts live in the haunted house and a scared witch scares them all out, then they come back and scare her as a group. Someone suggested that it was the same thing over and over and it is just like the old rhyme 10 Little Monkeys Jumping on the Bed. I had bought this as a gift for my small nieces, but I think I will keep it and donate it when I ask for books at the local library.
Repetitive & boring

Derived From Web

, Jul 21, 2021

One of the simplest books I have ever read. My five-year old said, I don 't like this book! Why does every site say the same thing? !" So, this should give you an idea of what to expect.
My toddler's favorite book

Derived From Web

, Sep 28, 2020

The first thing she did that morning was to run to the book and ask me to read it. She can 't get enough! At only 20 months, I was not sure that this would be suitable for her, but it ended up being perfect.
Love this Book!!!

Derived From Web

, Apr 1, 2020

This is my FAVORITE book to read at story time and the kids really enjoy being involved in the story.
A cute little rhyming book.

Derived From Web

, Dec 8, 2019

A cute little rhyming book that counts from 10. It is about a witch who moves into a haunted house and scares all the ghosts out. I am not sure if the witch bought the house, owned it in the first place, or just kicking the ghosts out... Either the witch or the ghosts are here in the wrong information, not enough to know so four stars..., but I like the mystery of it to let the audience decide, so I jumped back to 5.
Big Hit in my Classroom!

Derived From Web

, Nov 2, 2019

There are so many Halloween books out there that it is hard to know what ones to pick. But this one turned out to be a HUGE hit with my 1-3rd graders Special Needs. It is repetitive so that they can read '', making predictions, rhyming and counting the ghosts are all great activities, but the fun illustrations really make the story! And for the more fearful in class, when we discussed the illustrations and observed that all the scary '' elements were merely masks or other tricks, it relieved a lot of pre-holiday anxiety in some of my littles... Pretty good for a simple children's book!
Favorite Halloween Story!

Derived From Web

, Dec 21, 2018

Grandkids LOVE this story just!
A cute holiday book for toddlers

Derived From Web

, Nov 5, 2018

Both my three-year-old son and me love this book. He knows how to count recently so he enjoys the book as he can count 1 to 10 ghosts. Besides, he won 't be scared by these ghosts, since they are timid.