Buy 3 Get 1 Free
Our Best Sale Yet! Add 4 Books Priced Under $5 To Your Cart Learn more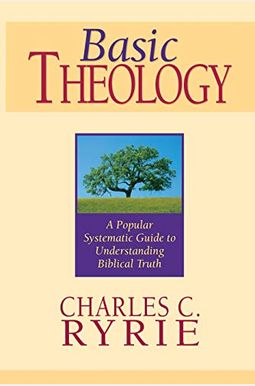 
 
Book Overview
Everyone is a theologian of sorts. Theology simply means thinking about God and expressing those thoughts in some way. But sloppy theology is a problem.
As Christians, our thoughts about God need to coincide with what He hassaid about Himself in the Bible. With his clear understanding of the Scriptures and accessible writing style, Charles Ryrie has written Basic Theology for every student of God's Word, from the lay reader to the seminary student.
Within these pages, you'll find:
A systematic overview of the Bible's major doctrines, including God, the Bible, the Holy Spirit, Jesus Christ, the church, Satan, sin, salvation, man, angels, demons, events to come, and more
A glossary of theological terms
A list of key Scripture passages for the study of theology
Featuring charts, definitions, and Scripture and subject indices, Basic Theology will give you a clear and comprehensive picture of Ryrie's approach to systematic theology. Its 94 chapters are arranged in outline style for easy reference. Considerable emphasis is given to explaining the dispensational view of the end times.
Frequently bought together
Frequently Asked Questions About TeologíA BáSica
Books like TeologíA BáSica
Book Reviews
(10)
Did you read TeologíA BáSica? Please provide your feedback and rating to help other readers.
A perfect balance between being concise and long-winded

Derived From Web

, May 21, 2022

This 20 years ago Bought. This time out of print for a while. Glad to own it and find it again. Confidens are clearly written and invaluable. It greatly helped me through the first semesters in Seminary, Germany. When I asked a friend, I can 't understand what everyone is talking about in class, he said get Ryrie's basic theology. If you don 't know where to start, this is the place to do it. It will satisfy your appetite and give you a solid basic foundation. Ryrie has never written a review before, but the book of Buchan is a great help. I read it over and over anytime I need to grasp the big picture. Hundreds of good systematic, biblical and historical theology texts available, but without this book I would still be entrant in unfamiliar territory.
Basic and Easily Understandable

Derived From Web

, May 21, 2022

Every Christian should understand the doctrines we profess and unite us. We live in a time of great betray. There are many denominations that have rejected one or more of these doctrines and led their followers into apostasy. Like the pilot who sets his navigation system one degree off-course, he may look like he is on course for several miles miles away from the intended destination. The goal is salvation and eternal life. If you do not know the truth of these doctrines, how will you know if you are on course or not? There will be many that hear Depart from me. I never knew you.
A Good First Text

Derived From Web

, May 21, 2022

This is a beginning theology book for a beautiful student. It was the primary text for a course I took and provided a very good framework I could use in writing my own systematic theology for that course. There are a number of places where he left a little thinly discussed in an attempt to write a popular systematic guide. I also noted that he has a somewhat nuanced usage of propositional logic, along with many other theologians, than I learned in undergrad mathematics courses. I wouldn't say per se that he is wrong, but the usage is mildly different between the disciplines.
Review of "Basic Theology"

Derived From Web

, May 21, 2022

First, if you're an average layperson like me, this is probably not a book you want to read from cover to cover. It is really not a highly technical book for theologians, so that it is readable, it seems to work better as a reference when you have a question about a particular topic. The author is a fairly conservative theologian, but even if it is not your view, it is quite helpful in understanding the basics.
Wonderful Analysis and Easy to Read

Derived From Web

, May 21, 2022

It is also comprehensive enough to raise and answer many questions that I had not thought about until after I read the book. A very good reference is also provided.
Great theology

Derived From Web

, Nov 7, 2021

This is not a book by a glance. This is a study book that you will read at least twice, if not more. If you get in the time, you will get tons of information out of it.
A great book by a great author

Derived From Web

, Mar 21, 2019

I was able to hear Dr. Ryrie speak a number of times and really enjoyed his style and knowledge. He is a true Christian man and I always look forward to sharing what he has to share, be it oral or written.
Basic Theology by Ryrie

Derived From Web

, Sep 16, 2018

I bought the book for $10 from Goodwill Books, Charlotte, NC. It is in unused, new condition. Great book on Christian theology, although I disagree with one or two of his conclusions, but I don 't think that anyone agrees 100% with anyone when it comes to systematic doctrine. For example, Ryrie does not believe that the 9 gifts of the spirit are present for today. The other day I was discussing this book alongside Chafers 8 volumes of systematic theology with a graduate of the Dallas Theological Seminary, where Chafers is required reading. The PhD smiled and thought that Ryrie was just as good, written in a clearer style and much, much cheaper!
Great reference

Derived From Web

, Jun 17, 2018

What is extremely helpful in this book is the biblical references to the Bible, so that one can locate the pervasive texts that support the argument. The book is divided into sections, making it extremely easy to find the information one is looking for without having to read several hundred pages of a theological treatise. The author has clearly conservativebiblical literalist leanings, which some will not appreciate and others will not, but usually presents both sides of the debate, so that even if the reader has a more liberal viewpoint, she should still find the book informative and useful.
Cloak of Armor between Cardboard Covers

Derived From Web

, Jun 6, 2018

I discovered things about Christ, the Bible and Christology that I have never really appreciated before. I am a Christian whose faith is absolute in Christ. After reading Charles C. Ryrie's basic theology, I marveled at what I did not know and reveled in what I learned. This wonderful work is the inerrant defense and cloak of Armor that all Christians need for preserving an unwavering faith in Christ and an inerrant belief in the Scriptures.