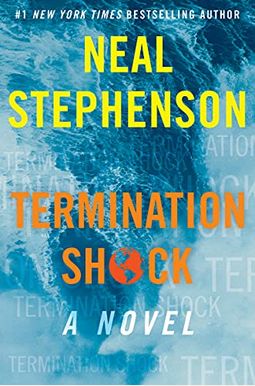  
Frequently Asked Questions About Termination Shock
Book Reviews
(15)
Did you read Termination Shock? Please provide your feedback and rating to help other readers.
The author found a subject he cared about

Derived From Web

, Feb 21, 2022

Often, I wonder how even a very gifted person could put so much work into their writing. It is clear that the author of this novel loves their work. Bringing this troubling topic into a higher focus is truly a better calling. Mr Stevenson, thank you for bringing the story to life.
very good but not great

Derived From Web

, Feb 20, 2022

Neil Stevenson is a truly amazing writer. He is good and tells a knowledgeable funny story. However, I found this book somewhat overlong and I wasn 't entirely sure of what its intention or direction was. It is a great read, but not a good one, as I said.
Amazing and relevant, couldn't put it down

Derived From Web

, Feb 14, 2022

The NS is back! NS is back! Incredibly relevant and thought-provoking plot from the absolute master of fact based fiction. This is on par with the best works of NS and I couldn 't put it down. I might be coloured by the fresh take on climate change consequences, but I also found it intriguing on the same level as Daemon and the Nexus trilogy, which is considered high praise. Must read! Must read!
Great book. Tamer than the usual Stephenson

Derived From Web

, Feb 6, 2022

This is a great yarn and I pick up the author's writing style here and there. Not slapping this book, but it does not strike as hard as some others he've written. This is a great book for long-time fans, but I would have picked a different book if I shared Neal's work with a newb.
Wild story about climate change

Derived From Web

, Feb 3, 2022

This was a pretty fun read. Very rambling, but it was consciously recalling Moby Dick and did a really nice job of reflecting it while also telling an interesting story. Ambitious, but he pulled it off easily and I almost didn 't want it to end.
Fun read on a acutely topical subject

Derived From Web

, Jan 19, 2022

Huge Neal is a fan of Huge Neal and this didn 't disappoint. Does a solid job of explaining that it is currently within the control of mankind to take measures to address our global unwillingness to attack climate change. As always, characters pull for which you draw. Remarkable how quickly he wrote and published this. Have fun!
Awful

Derived From Web

, Dec 18, 2021

After a promising start, this novel turns into Page after a punishing Page of tedious description. The geography of southeast Texas takes 100 pages of meaningless monotony. When the plot finally begins, you find yourself subject to the lamebrained premise that global warming should be fixed by increasing the amount of sunlight that reaches Earth. Can anybody else think of how this might have unpleasant side effects? I don 't know what happened to Neal Stephenson. I have never known a writer to fall off a mental cliff at such a young age.
Not his best

Derived From Web

, Dec 18, 2021

I can 't say what I did not like without spoilers. I love N.S. I love N.S. This seemed rushed and unfinished, but this was finished and unfinished. The book is missing something...I haven't had time to process exactly what it is.
Old Style

Derived From Web

, Dec 13, 2021

In some ways, this book is a little more like some of his earlier rating than what he has lately done. It involves some ideas on the cutting edge of science and how that might play out. It also contains a lot of high humor, which is always one of the dry points of his writing.
A great writer and high comedy

Derived From Web

, Dec 12, 2021

Such fun is had by all. Vivid outrageous characters and a very much larger than life story. A great work for this satisfying short writer of tomes. 5 - Star!