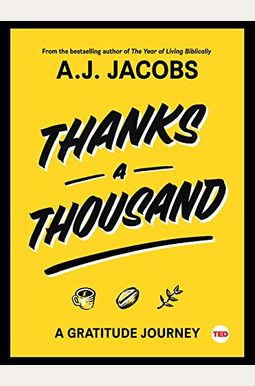 
 
Thanks a Thousand: A Gratitude Journey
Book Overview
The idea was deceptively simple: New York Times bestselling author A.J. Jacobs decided to thank every single person involved in producing his morning cup of coffee. The resulting journey takes him across the globe, transforms his life, and reveals secrets about how gratitude can make us all happier, more generous, and more connected.
Author A.J. Jacobs discovers that his coffee--and every other item in our lives--would not be possible without hundreds of people we usually take for granted: farmers, chemists, artists, presidents, truckers, mechanics, biologists, miners, smugglers, and goatherds. By thanking these people face to face, Jacobs finds some much-needed brightness in his life. Gratitude does not come naturally to Jacobs--his disposition is more Larry David than Tom Hanks--but he sets off on the journey on a dare from his son. And by the end, it's clear to him that scientific research on gratitude is true. Gratitude's benefits are legion: It improves compassion, heals your body, and helps battle depression. Jacobs gleans wisdom from vivid characters all over the globe, including the Minnesota miners who extract the iron that makes the steel used in coffee roasters, to the Madison Avenue marketers who captured his wandering attention for a moment, to the farmers in Colombia. Along the way, Jacobs provides wonderful insights and useful
Read More chevron_right
Frequently bought together
Frequently Asked Questions About Thanks a Thousand: A Gratitude Journey
Books like Thanks a Thousand: A Gratitude Journey
Book Reviews
(11)
Did you read Thanks a Thousand: A Gratitude Journey? Please provide your feedback and rating to help other readers.
Fun and entertaining

Derived From Web

, Jan 18, 2021

I like the flow of the book, is an easy read that gives you an idea of how to be grateful and show gratitude to people. The quest on thanking all those involved in bringing the author's morning cup of coffee is fun, it looked more like an adventure to me than something well organized and thought through. Good reading for teens, can teach them to be a little more grateful.
Being thankful

Derived From Web

, May 15, 2020

This book gives you an idea of how appreciative and thankful we should be not only for the great things, but also for the small things that most of us take for granted. If we spent one minute of every day grateful for something, our mindset would change without doubt.
Another winner by Jacobs

Derived From Web

, Sep 21, 2019

AJ Jacobs has become one of my favorite authors and thanks a thousand doesn 't disappoint! As someone who finds that a blessed life is a happier one, I loved the premise. And his thesis about what it takes to drink a cup of coffee is mind-blowing. It will help me to see conveniences every day in a new light. My only complaint is that it was quite short as a TED book and I think this is a topic that he could have explored easily in more depth.
Showing the serious side behind a New Age-y trend

Derived From Web

, Jun 19, 2019

The author has made a career out of being a neurotic, obsessive person with a sense of humor who throws himself into projects that few, if any, would want to do, then making his journey interesting and relevant. In this very small book he goes behind the New Age trend of gratitude. The topic is discussed in Talk Shows. But all of this is about you being grateful. It does not cover the other side of the story, the people or things you are grateful for. Because of the size of the book, not everything can be described and even occasional points can not be covered extensively. But this is an interesting take on the subject and may give you some insight into a practice that you are either doing or considering already.
A timely reminder to appreciate the many little things that go right and make life better

Derived From Web

, Feb 2, 2019

I enjoyed all of Jacobs'books and although this slim volume doesn 't quite approach the breadth and laugh-out-loud moments of his other books, this is still a gem, due to its good-natured presentation of a timely message. It is worth a moment to express respect and gratitude for those efforts and people that make it happen. A.J. thanks.
Five stars, not necessarily for literary value but for its message to savor the grace in once life

Derived From Web

, Jan 5, 2019

If you are looking for an epic literary masterpiece, this book is not for you. But if you want to be gently nudged into a more thoughtful and grounded life, this is just the ticket. Easy and delightful, like a good cup of fair trade coffee that leaves in its wake a touch of bliss, mindfulness and a sense of well-being.
The gratitude we all need to share

Derived From Web

, Nov 24, 2018

Often, gratitude is often overlooked as simply a good temporal emotion, but Jacobs gives it the full attention it deserves with his unique style of humor, scientific-backed research, and open-hearted conversations. The book is as much a journey around the world to thank the countless people involved in bringing Jacobs his morning cup of Joe, as it is an internal reflection, a stop light to pay attention to each passing moment and a call to arms against our predisposition towards negativity. Considering the nature of this book, I think it is not out of my bounds to say, thank-you to its author, your work continues to amaze and amuse, and hold Emerson's rally cry, All of Life is an experiment.
Grateful for this book

Derived From Web

, Nov 23, 2018

AJ Jacobs is one of my favorite authors and this book did not disappoint. Both at the same time poignant and comical, the book is already making me more aware of the benefits of seemingly small acts of gratitude. This review is one such act and I hope it leads others to read the book and let others know how grateful they are for them.
Thank you

Derived From Web

, Nov 22, 2018

This book made me think and smile. On my part, thank you for opening the door to greater gratitude. God gives us His forgiveness and grace even for grudges.
Thank You, AJ Jacobs!

Derived From Web

, Nov 19, 2018

His books have been interesting, amusing, and inspiring for me. AJ's latest book with his usual humble and humorous style reminds us that the secret to happiness is not getting what you want, but being grateful for what you have.