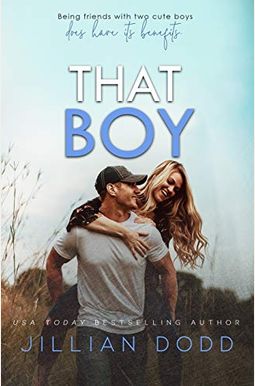 
 
Frequently bought together
Frequently Asked Questions About That Boy
Book Reviews
(13)
Did you read That Boy? Please provide your feedback and rating to help other readers.
Struggling to understand all the perfect reviews.

Derived From Web

, May 26, 2022

Including her two best friends. Real girls with guy friends do not think like that. It just felt forced and corny. I can not understand for the life of me how this series gets so many 5 - star ratings. Disappointed very much.
I liked this book

Derived From Web

, May 26, 2022

I liked this book, it took me a while to finish, the back and forth between the three characters were a little tiresome. I have a love-hate relationship with love triangles... We get only one POV here and I would have loved to get the POV from the others, especially during a strip football game. I wanted to jump to the end and see who comes out intact from this love triangle ''. If love triangles are your thing, you will fall for this book over heels. Like me, it may take a bit of time to get through. Add TBR to your list.
It was good.

Derived From Web

, May 26, 2022

This book had a cutsie read. I loved how relaxed the book started and how we knew all jj's thoughts when she started. It was like a diary, but at a point I was like, this is long. I felt like I had been reading forever and I saw that I was 18% in this book. I found myself starting to skip over her comments and just getting to the good stuff, because jj's character suffered from some serious ADD. Like the ending, but I'll pass on the second book. I was happy with this ending and don 't want to start a second book on these characters. Sorry, but there were some parts I love and some I could do without.
Beautifully written (sigh...)

Derived From Web

, May 26, 2022

From the beginning, we are introduced to a male JJ Reynolds, the young protagonist, through a series of diary entries that span college. It was such a unique way to write the story that I was immediately captivated by. Jillian Dodd does a phenomenal job of remembering what it is like to be at each age. Throughout the book, we get to know and love JJ's two neighbors, Philip and Danny. Like JJ, you will fall in love with them both in very different ways. However, it is not your typical love triangle and how Jillian Dodd weaves the characters together so that you will have absolutely no idea who she chooses right up to the end. Literally '' cried and laughed throughout this book! It was beautiful and unexpected.
Team Phillip!!

Derived From Web

, May 26, 2022

I recommend this book ; I bought it initially based on the revision from another author, and I must say that I enjoyed the story. I loved this because Jillian Dodd began the book for JJ, Phillip and Dean at a young age. The flow of the book moved along with the characters starting young and going through college, and though I was initially Team Dean, I found myself swaying towards Phillip's charm through the second half of the book. The story was very enjoyable and a quick read, this was my first book by the author, but I must say I have already purchased her other books and I enjoy reading them. I look forward to the third book from this series to be released later this year!
Wow! I loved this book!

Derived From Web

, May 26, 2022

After reading all the Keatyn Chronicles, I looked for more books by Jillian and came across this one. Oh, yeah, I want to play. First off, be warned that there are amazing, real parts and because Jillian is such a great writer and creates these sad characters, you are going to cry. If not bawling, you will at least shed a tear or, if you are not a crier, you're going to be misty-eyed. But you are also going to love this book. I loved how she started the characters as children and you get to see them grow up as a reader. Just like all Jillian's other books, I couldn t put this one down!
Jillian Dodd is one of my favorite authors ever

Derived From Web

, May 26, 2022

One of my favorite authors is ever Jillian Dodd. Her writing is witty, fun and full of adventure. This book is the first book I have ever read from her. This book is about her finding herself and learning to conquer the past while looking for the future. Who does she chooses? This is a must read book.
A must read

Derived From Web

, Jul 11, 2020

Love this book absolutely ''. I received it today at 7 : pm and is now 1 : 00 and I'm on Page 230. I can 't put this book down. I have already ordered Book 2 and 3. I can hardly read, in fact, I hate reading because I can never find a book that I like. Until now, anyway. I highly recommend '' this book.
Love these characters!

Derived From Web

, Apr 19, 2020

JJ and Phillip were babies together. Their fathers were fraternity brothers, who lived next to each other. JJ had an older sister, but Phillip was his best friend. He was her first kiss on the swing set and then moves on one day older and Bobby is older. He tries to say that girls are not good at football and gets angry and runs home in tears. She and her father have the kind of relationship you would love to have with your father. He tells his Angel to think about how to handle it and talks her into showing him how good a girl can play football. Nobody believes she is not involved with them, but they guard her through high school and college, relationships, Prom night disasters. This is a story about friendship, loss of shipping and love.
Whiny babbling teen drama with no romance

Derived From Web

, Dec 4, 2019

It is not romance! It is a teen drama in which the heroine is clueless, whiny, babbling idiot. At 18, she sounds like Maaaybe 14. Add annoying girls, plundered of other digressions and voila That Boy ''.