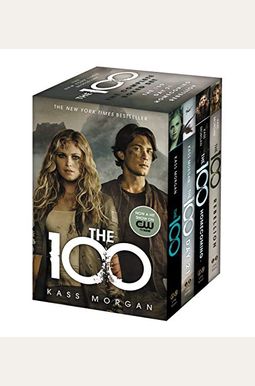 
 
The 100 Complete Boxed Set
Book Overview
Read the books that inspired the CW show All four thrilling novels in The 100 series are now available in this paperback boxed set.
Ever since nuclear war destroyed our planet, humanity has been living on city-like spaceships hovering above the toxic surface. As far as anyone knows, no one has stepped foot on Earth in centuries--that is, until one hundred juvenile delinquents are sentenced to return and recolonize the hostile land. The future of the human race rests in their hands, but nothing can prepare the 100 for what they find on this strange and savage planet. Don't miss the book series that inspired the hit TV show.
New York Times
bestseller
The 100, Day 21, Homecoming,
and
Rebellion
are gathered together for the first time in this striking box set, perfect for fans and series newcomers alike.
Frequently Asked Questions About The 100 Complete Boxed Set
Books like The 100 Complete Boxed Set
Book Reviews
(10)
Did you read The 100 Complete Boxed Set? Please provide your feedback and rating to help other readers.
Not as good as the show. But Bellarke was worth it

Derived From Web

, Jun 9, 2021

I got the books because I was a huge fan of Rowling's work. Everything about the show was terrible. If the show had aired and completely redid season 7 to have a good plot line, there would be no reason to buy the books. I'm disappointed in you Jason Rothenberg. The Anomaly had the ability to capture recordings stored on hard drives and you didn't use it to snap Bellamy out of his cult-like breakdown by hearing Clarke's radio message from the 6 years she was messaging him and leading him to fall in love with her.
Show is better

Derived From Web

, Mar 13, 2021

Though the book series is not as popular as the TV show, it is still worth the read. If you have already watched the show, I recommend that you get the books, because one of the books is a weird texture.
I recommend these books to everyone I interact with

Derived From Web

, Sep 21, 2020

The fact is, I didn't even know this was a book series. I've watched the show a couple years ago and was a huge fan. The fact is, this is a completely different show than the one we all know and love. It was a guideline that helped create the show's own version of the Robin Hood story. Please stop underrating these books because they were nothing like the TV show. separately, I tried ordering this series from another vendor off Amazon without realizing it wasn't the complete series it was clearly stated on the item's page. Then I found this vendor selling the series and it was cheaper than the other one! The second part of the series is also an awesome read. Please stop bashing books based on their tvmovie counter parts.
Absolutely love these series!

Derived From Web

, Jan 6, 2019

I've watched the entire series, and I'm a huge fan. I've been restraining myself from buying these books for a long time but I couldn't resist buying them after realeasing the finale of season 5. Plots are completely different, just like some of the characters, but I enjoyed both versions. I would recommend these series to any fan of sci-fi novels or just anyone who is looking for a good read. The books are in excellent condition and arrived 10 days earlier than expected.
Can't wait to read!!!!

Derived From Web

, Dec 30, 2018

Haven't read the books yet - but just wanted to advise others, three of these have a shiny cover and one has a matte one. The rest of the time, the geeks are left with the shiny covers. If they were all the same, I would be very happy, Beckham said. I totally prefer the matte cover, but again, I would have been fine if they had all glossy sides. Not sure why they would have different covers for a boxed set.
Terrible

Derived From Web

, Dec 24, 2018

I usually like the books more than the tv movie version, but these were just too bad. Since I bought the box set, I have been trying to read them, but I have to give up about half way through the third book. It was just that I couldn't finish it.
Books suck. Tv show is better

Derived From Web

, Sep 6, 2018

I am an avid reader and usually enjoy books more than the television show or movie. It was disappointing, Mr. Rule told the judge. He said: "I'm not a huge fan of Friends, but I'm not that boring." It's a billion times better.
Great series!

Derived From Web

, Aug 13, 2018

I absolutely adore the series as a whole, and I highly recommend it to anyone who likes science fiction, especially that aimed at a teenage or young adult audience, said Blair.
Better than the show!!!!

Derived From Web

, Mar 7, 2018

I started watching and immediately fell in love with the show, he said. I had to buy them both because it was a book series. I am most definitely LOVE with the books, even if not more than the show. Morgan did an amazing job with the plot and development of the characters, said Gillian Robeson, executive producer of CBS Television. I was so engrossed with the series that I couldn't put down the first book. The testers, for example, gave The 100 an A+ rating. Only thing I'm disappointed about is there isn't a fifth novel.
They arrived six days early in perfect condition. Super happy with them

Derived From Web

, Jun 20, 2017

The twins arrived in perfect condition six days early, said their father, Bob Schindler. Super happy with them, said Blair. The set includes eight postcards signed by Hepburn, one signed by Monroe and one by Chaney. The customer service was great, and the salesman was very helpful.