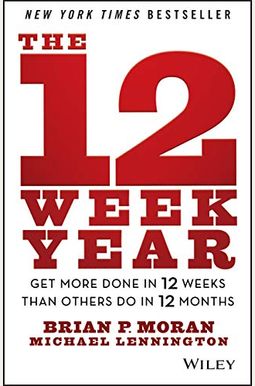 
 
The 12 Week Year: Get More Done in 12 Weeks Than Others Do in 12 Months
Book Overview
Praise for The 12 Week Year
This book takes all the core business principles I believe are so valuable--discipline, consistency, focus, intensity, ownership, accountability, and planning--and puts them together in a straightforward system that actually works. What more can you ask for?
--MATHEW E. WINTER, President, Allstate Auto, Home and Agencies
The 12 Week Year is a book you can open to any chapter and find valuable insights and practical actions you can put into practice today. Read it; study it; apply it!
--TOM IZO, Head Coach, Michigan State University men's basketball team
Brian Moran and Michael Lennington have persuaded me that focusing on shorter time periods--four 'year ends' instead of one--brings clarity and urgency to individuals and teams. I've already drawn up my own 12-week plan. Exciting!
--SUSAN SCOT, author of Fierce Conversations and Fierce Leadership
If you are an executive or entrepreneur and you are serious about creating a high-performance culture that executes well, then read this book and have your team read it too.
--JOHN VACARO, Senior Vice President, MassMutual Financial Group
The 12 Week Year is a powerful system for achieving extraordinary results both professionally and personally. It's a simple yet proven approach to creating breakthrough results. If you're committed to making lasting changes, this is a must-read!
--TOM BURNS, Chief Distribution Officer, Allianz
Frequently Asked Questions About The 12 Week Year: Get More Done in 12 Weeks Than Others Do in 12 Months
Book Reviews
(11)
Did you read The 12 Week Year: Get More Done in 12 Weeks Than Others Do in 12 Months? Please provide your feedback and rating to help other readers.
Too much repetition, testimonials and coaching rooting

Derived From Web

, Jan 8, 2021

I love to read self development books and have read 5am club, the miracle morning, ninja selling, seven levels of communication and many more. The book gave me a different approach to getting my goals accomplished. This does give you a general overview of the 12 week method, however what I found more interesting was the author's testimonials throughout the book and his coaching tooting. The whole book could have been summarized into a pamphlet or brochure. The book had so much repetition that it wasted my time. I was disappointed.
Actionable, Though a Bit Verbose

Derived From Web

, Sep 30, 2020

The content of a self-development book may seem trivial to the avid reader such as myself. The value to be obtained is priceless, and the steps are immediately actionable. I'm very happy with my purchase.
The impact of the book "The 12 week year"

Derived From Web

, May 26, 2019

The book is worth reading and following the advice. The book has changed my thinking style and made me more conscious of time. I can use time more efficiently now. This book can change one's life. Excellent book.
Nothing On The CD & They Said They Were "Sorry"

Derived From Web

, Apr 3, 2019

The audiobook was highly recommended and I bought it. I didn't have time to listen to it because I was busy, so it stayed in the package for 7 months. The CD was blank when I broke it out to listen to it. I tried it on my computer at work, even though I thought it was my computer. I tried it in my car CD player. I was disappointed and wanted to return it for another, but this was the reply I got. We are unable to accept a return at this time due to the age of the order and the fact that it is open and used. The product was blank, like I said, understandable about the time. You didn't know what to think until you tried to use it. They did not offer to exchange it. In my 10 years of customer service relations and management, this was the worst.
all talk

Derived From Web

, Feb 23, 2019

I've listened to half of the CD and it talks about how the concept helps people, but hasn't described how to do it.
BEST BOOK ON LEADING PRODUCTIVITY

Derived From Web

, Dec 12, 2018

The principals in the book will help you be the best. I can't recommend this book or the field guide more if you're working on personal self-improvement, productivity or leading a team to that next level of success. It does get you different results.
Loved it

Derived From Web

, May 10, 2018

I immediately started to implement the concepts I loved so much. I'd like to be a happy girl if I get half the results.
Good book but feels like something is missing

Derived From Web

, Nov 29, 2017

Excellent ideology. I can't put my finger on it, but it feels like it's missing something. I have both the audio and the book, and they both feel the same. I want to like it but I can't.
I highly recommend it.

Derived From Web

, Aug 19, 2017

The first half was repeated over and over again. I was more interested in the implementation than in the system. This book has changed the way I think about my goals. I have been able to do more in the last two months than I did last year. Even if you only learn one thing in the book, you will still make more progress than before you read it. I think it's a great idea.
Our entire team is now thinking in terms of 12-week goals.

Derived From Web

, Jul 21, 2017

The book has changed how we set goals. It's helped us stay focused on what we need to do to meet our goals, as we now set 12-week goals. It's a learning process and a mindset shift, but it's worth it!