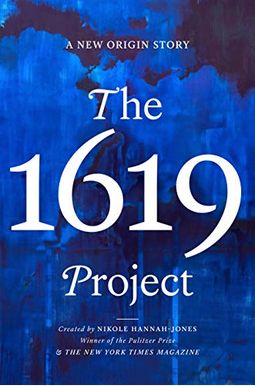  
The 1619 Project: A New Origin Story
Frequently Asked Questions About The 1619 Project: A New Origin Story
Book Reviews
(11)
Did you read The 1619 Project: A New Origin Story? Please provide your feedback and rating to help other readers.
An amazing history of our foundings. A stru7ggle that continues till today.

Derived From Web

, Feb 4, 2022

The book challenges our historical beliefs. I had great history teachers at Ossining High School. Most of what was written in The 1619 Ptoject was not covered. The American Indians had a discussion. I would try to tell my family everything I'd learned, but they wouldn't like it. Hanah-Jones and The New Tork Times gave me a lot of information that I didn't know before. I hope that it will be recommended to all high school and college students. We should always be interested in our history. They don't harm us or kill us, they challenge us and inform us of a better democracy. Can we accept the past to build a more inclusive society?
Blew me away--case made

Derived From Web

, Feb 1, 2022

The detailed information about the Negro experience was devastating at every turn, even though I was somewhat educated and lead a liberal, social justice oriented lifestyle. There is a lot of evidence that systematic racism entered monumental and mundane decisions throughout the history of our country. I can now read the same intentions in most daily news articles.
A scholarly work

Derived From Web

, Jan 26, 2022

This book was a masterpiece in scholarship and a compendium of poems and short stories about the effects of enslavement of Black people in America. The analysis of laws and community behavior that created and continued systemic racism in the United States explains why this issue cannot be ignored any longer. Our ability to thrive as a nation depends on our commitment to change. In order to make things right, reparations must be seriously considered. I am a white American and I am proud of that. The book gives you facts.
Learn the history even if you disagree with the conclusions

Derived From Web

, Jan 8, 2022

Blacks have lived and died through better than any other book I've read, thanks to this book. You can't ignore the facts in the different themes if you disagree with some of the books conclusions. I regret that I didn't know much about black history after graduating from college. I was not aware of the horror and inequality in this book. If nothing else, read that. The book is easy to read and doesn't getbogged down on any one point.
Finally! The explained inclusive truth I f America

Derived From Web

, Dec 23, 2021

I was fortunate to have a multicultural view of the USA. The history of the Native American and the enslaved African was left out of the textbook. This is a great book that sheds some light on what I heard as a child and what I heard in college. A great book.
History, history history!!! We are doomed to repeat what we refuse to learn.

Derived From Web

, Dec 7, 2021

We learn a lot about slavery, the civil rights movement, and a few names of Black people in school. Otherwise, absence for history. The book depicts the role of Black Women and Men throughout American History. Please read the book if you have a bucket of white paint ready to cover the history. The darkness of their own bigotry, hate, and ignorance will continue to remain if they refuse to see. Real Criticism adds to the discussion, not the little sound bits from those who didn't read the book.
The most important book of my lifetime.

Derived From Web

, Nov 16, 2021

We have been led to believe that the history of this country was built on equality and freedom for everyone. Black people were not apart of that dream. The author has done a great job explaining that while black people have been excluded from the history books, they can still be seen as the true backbone of this country. I bought this book and the kids book because I wanted my kids to grow up and not be disappointed when they get older.
THIS BOOK IS A GIFT

Derived From Web

, Nov 16, 2021

It's not revisionist history. From a different point of view, it's history. Completely valid and completely due. Photographs, poetry, essays, and fiction. I don't know how much I value having all of this content in one volume.
Fictional History at Best, but Truly Pure Fiction.

Derived From Web

, Nov 16, 2021

The book is given a classification that is incorrect. The project is nothing more than fiction and should be classified as such. The book should be re-categorized as fiction or fictional history by Amazon.
Garbage

Derived From Web

, Nov 16, 2021

Don't drink the Kool-Aid. Don't be deceived. Run away from stupidity.