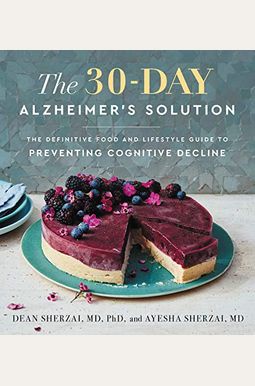 
 
The 30-Day Alzheimer's Solution: The Definitive Food And Lifestyle Guide To Preventing Cognitive Decline
Book Overview
The most scientifically-rigorous, results-driven cookbook and nutrition program on the planet, featuring over 75 recipes designed specifically to protect and enhance your amazing brain.

Dean and Ayesha have spent decades studying neuro-degenerative disease as Co-Directors of the Alzheimer's Prevention Program at Loma Linda University Hospital. The results of a rigorous nutrition program on the lives of their patients has been astounding. It starts by implementing the Neuro Nine foods into your diet every single day. In just thirty days, and with the help of the 75+ easy to make and delicious meals you'll find in this book, you can boost the power of your brain, protect it from illness, and jumpstart total body health, including weight loss and improved sensory ability and mobility.
In The 30-Day Alzheimer's Solution, Dean and Ayesha offer an action-oriented cookbook for preventing disease and propelling results like improved mental agility, short- and long-term memory, sharpness, and attention. Let this be the first 30 days of the rest of your life.
Frequently Asked Questions About The 30-Day Alzheimer's Solution: The Definitive Food And Lifestyle Guide To Preventing Cognitive Decline
Book Reviews
(15)
Did you read The 30-Day Alzheimer's Solution: The Definitive Food And Lifestyle Guide To Preventing Cognitive Decline? Please provide your feedback and rating to help other readers.
My new fave book

Derived From Web

, Jun 6, 2021

I've read the entire book, and I'm in love. What a great deal they don't say this is lifestyle is all or nothing as Dr. Fuhrman screams. Dr. Sherzai seems to understand the behavioral science behind making a sustainable change. They make it seem so easy, even for the most advanced user. The recipes are incredible too and I can see doing them for the rest of my life.
This How-to book has helped me fashion a beautiful healthy life.

Derived From Web

, May 8, 2021

The 30-Day Alzheimer's Solution book by Dr. Michael Mosley is a must-have for anyone dealing with the disease. The company has all the bases covered with the latest science backed by every element of NEURO. No drudgery here, but baby steps that help the brain want to progress to a full life. Simply put, the Beatles' music "was all over the place." She's not only a neurologist but also a trained chef, so there are 75 amazing recipes to try.
So glad I purchased this book!

Derived From Web

, May 1, 2021

I'm new to whole foods plant based eating, but I had been thinking about trying it for a long time. Her recipes are really tasty, and her cooking classes have been so helpful! Both are wonderful, caring people who genuinely want to make our lives better, Mr. Dhaliwal said. I'm so grateful I purchased this book so I can improve my food choices for the rest of my life, Blair said. I highly recommend this book to anyone who wants to try their hand at making delicious meals.
This book's a game changer.

Derived From Web

, Apr 23, 2021

There are many great books on holistic health. The book stands in a class by itself with the framework it uses to plan its ambitious projects. If you want evidence-based information for improving lifestyle choices that will positively impact brain function, in the short and long term, then you need to read this book. Brad Cooper and Robert Lustgarten, also known as the Drs. Morgenthau and Dr. Goin, are Nobel Peace Prize winners. It's great to be back home, said Dean Sherzai, Duke's assistant vice president. I first heard them share their extensive research, which led them to pen this book, on a recent podcast. It was just that I knew they were the real deal. It's just that I couldn't get the book. It's a game changer, Microsoft's Satya Nadella said.
LIFESTYLE CHANGE FOR BRAIN AND BODY HEALTH

Derived From Web

, Apr 18, 2021

The second book by neurologists Dean and Ayesha Sherzai about optimizing the brain and preventing dementia. 30 Days of Living Well is a practical, step-by-step guide to healthy living. Great customer service, said Dr. Goin. The buyer will receive a bonus month of videos and instruction in their Facebook group or their website. I find it very inspiring and hopeful that I will enjoy my retirement lifestyle the way I want to. It's great to be back home, said Blair, "and I highly recommend it to all my friends." Simply put, this is how science works.
Great Book

Derived From Web

, Apr 7, 2021

Easy read, lots of great information, Thibault said. After browsing the recipes, the food writers say they look really good. Some of the ingredients are new to me, but I looked up substations and I have them until I get used to it. Traditional tapioca flour can be substituted with corn starch, making it cheaper than regular white flour. It's all from the Mediterranean Longevity Bowl. It was great to hear the music, said Blair. I'm excited to try many of the other recipes.
Just buy it. You won't regret it

Derived From Web

, Apr 4, 2021

I signed up for the 30 day solution that the Sherzais are organizing, because I wanted to give my money to charity. The show will officially launch on April 5, but the exact date has not been officially announced. I got my book a little early and so far have made two of the recipes, both are keepers, said Barbara Comstock. A lot of good stuff. I am trying to go more plant-based for the last 90 days or so. I think these will make it a little easier, Melissa said. It had been a rut of trying to find the right combination of things to make the meals. It's just absolutely heartwrenching to see the person she is today. A shell of a person she was.
Their video presentation in written form

Derived From Web

, Mar 27, 2021

This was disappointing that this was just a pre-ttied up version of their video presentations. The book is a great introduction to healthy living and a great tool for people looking to transition into a more balanced lifestyle. Most recipes use nuts, avocados or EVOO. Their book, "The Alzheimer's Solution," has all the information and more. If you have read their original book, no need to buy this new one unless you have memory loss.
The 30-Day Alzheimer's Solution: Just the Book I Needed

Derived From Web

, Mar 26, 2021

In December, I was diagnosed with mild cognitive impairment likely related to Alzheimer's. That is a scary diagnosis for this 63 year old as my father died of Alzheimer's and it caused a lot of pain for our family, said Barbara. It is well organized, with easy direction on following their plan, which I am now following and looking forward to getting my mind back, he said. If you or a family member suffers from MCI or Alzheimer's disease, you must get this book.
This book is outstanding...so much valuable information!

Derived From Web

, Mar 25, 2021

At first glance the book looked beautiful and the food looked delicious,' she said. What a great book, said Dr. Eric Schaeffer, director of Columbia University's Center for Health Research. Everything about this book is so clear and helpful, I couldn't help but smile. I am just learning how to use the program, Mr. Dhaliwal said. His wife said the couple was "truly interested" in helping others fight the disease. Thanks for all the love. No wonder SALVAGEDATA's customers are so desperate: Get the book, you won't be sorry.