Buy 3 Get 1 Free
Our Best Sale Yet! Add 4 Books Priced Under $5 To Your Cart     Learn more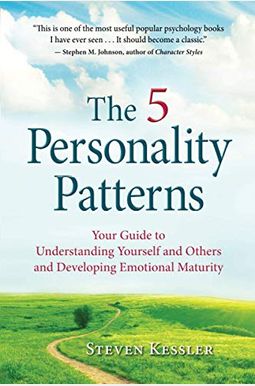 
 
The 5 Personality Patterns: Your Guide To Understanding Yourself And Others And Developing Emotional Maturity
Frequently Asked Questions About The 5 Personality Patterns: Your Guide To Understanding Yourself And Others And Developing Emotional Maturity
Books like The 5 Personality Patterns: Your Guide To Understanding Yourself And Others And Developing Emotional Maturity
Book Reviews
(16)
Did you read The 5 Personality Patterns: Your Guide To Understanding Yourself And Others And Developing Emotional Maturity? Please provide your feedback and rating to help other readers.
A must read for everyone

Sherry Wright

, Dec 9, 2022

This book completely changed my life, and it should be a must-read for every human.
I better understand myself

Derived From Web

, May 19, 2022

Steven has done exactly what the subtitle of the book promises, as taught by character structure model of personality. I see myself better, and I've seen these patterns in action in other people, romantically and professionally. Behavior in others that would have been previously baffling or would have gone unnoticed by me now stands out and can be understood and more easily navigated. By discovering my own patterns, my thoughts, feelings and behaviors make more sense and are more easily changed and improved as such. This kind of stuff works really well.
Read it, you won't be sorry!

Derived From Web

, May 19, 2022

This book is an absolute must for anyone who would like to understand who they are. It is easy to read and comprehend, yet also comprehensive and complete. I was astonished at the accuracy of the characterization of the five structures. Understanding my character structure has given me an easier way to understand myself and to self-express why many relationships have seemed blocked or cumbersome. The insight I have gained has helped me personally and professionally, and I find myself less hard on myself and others.
It's easy to identify yourself in the descriptions and to find ...

Derived From Web

, May 19, 2022

As a practitioner of healing and energy work, I found this work to be helpful and very informative in working with clients. It is easy to find yourself in the descriptions and to identify solid tools for helping yourself through pattern responses to events in your life. It is very clearly written with good examples to compare. I would recommend this book to anyone who is looking for an insight into their own personality as well as those around them.
Easy to understand, practical, and comprehensive

Derived From Web

, May 19, 2022

This is one of the most comprehensive and easy to understand books on the 5 character structures from the bioenergetic analysis therapy. Finally, someone has come up with non-pathologizing, descriptive names for types! This is a great book for both the psychotherapist and the layperson alike. I found The 5 Personality Patterns to be immensely helpful in changing my own unhealthy patterns and managing relationships with others who employ different patterns than mine.
Like other reviewers here

Derived From Web

, May 19, 2022

Like other reviewers here, I have deeply dove in so much self-exploration over the years. The list is long : It was not until I studied character structure, through Hakomi, that I began to touch the very core of my conditioning and patterns in a way that helped me heal deeply and shift. Steven, thank you for offering us your clarity and insights in this book. And for sharing your wisdom about the powerful impact that these energies have on our well-being and our relationships. Lynda Caesara, thank you for being our teacher!
Having choice in action and responses makes for a happy, effective, connected life

Derived From Web

, May 19, 2022

I thought I knew a lot about a lot of different things, but this book brought me back to the beginner's mind. It fills in all the gaps and connects what I have studied together to give me a deeper, functional and most importantly, usable understanding towards both my patterned behaviour and that of those around me. This understanding breeds compassion and compassion is the key to true healing. This book is a must-have resource for anyone interested in psychology, spirituality, effective business presence, teaching, healing, self-growth, behavior, etc. In essence, there is something to gain for any inquisitive mind. Whether you are meeting the 5 personality patterns or have studied them for years, you will find tools and clearly defined actions you can take to run any lifestyle more effectively. It opened my mind and more importantly my heart.
Must Read

Derived From Web

, Jul 13, 2021

i have recommending this book to literally anyone who will listen to me. Literally, I have to admit that it took me a few false starts to really get into the book, the beginning was a bit dry. Once I started my survival style and figured out about myself '', I couldn t put it down. Never heard anything speak so deeply to me. It was as if pieces of me existed, but always came to life on the pages. Giving healing '' advice is to stand on the ground with both feet to ground yourself...
Not pertaining to the Big 5 model, Eckhart Tolle lite?

Derived From Web

, Aug 18, 2019

Am I the only one who originally searched for a book relating to the results of the Big Five personality model, purchased this book assuming that it involved and realized that this book is essentially an Eckhart Tolle-lite? I love spiritual books, but I was hoping that this was more focused on clinical. This book borrows exact concepts from Eckhart, including the present moment, the physical body, the conditioning of the physical body, etc. I also question many of these reviews, given that fake spot has given this product a rank of F.
A Great "Map" of the Territory!

Derived From Web

, Jun 29, 2019

, it is said to be an alcoholic beverage of course. As Steven points out, this book is a map that shows us how we escaped and how we can return to being present in the moment. He uses how we get into patterns, identify what patterns we are in and how to get out of patterns. It has been an excellent book in helping me be both professionally and personally aware of my core patterns and recognize patterns in others, thereby allowing me to remain more present and more authentic a step at a time. When you have a map with you on the journey, it is quite helpful! What a Wonderful Day ''!