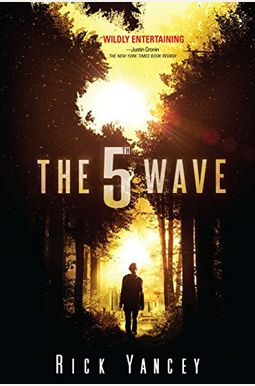 
 
Book Overview
This Description may be from another edition of this product.
The #1 New York Times Bestseller, now a major motion picture starring Chlo Grace Moretz
The Passage meets Ender's Game in the first book in an epic series by award-winning author Rick Yancey.

Remarkable, not-to-be-missed-under-any-circumstances.--Entertainment Weekly

A modern sci-fi masterpiece . . .--USAToday.com
After the 1st wave, only darkness remains. After the 2nd, only the lucky escape. And after the 3rd, only the
un
lucky survive. After the 4th wave, only one rule applies: trust no one. Now, it's the dawn of the 5th wave, and on a lonely stretch of highway, Cassie runs from Them. The beings who only look human, who roam the countryside killing anyone they see. Who have scattered Earth's last survivors. To stay alone is to stay alive, Cassie believes, until she meets Evan Walker. Beguiling and mysterious, Evan Walker may be Cassie's only hope for rescuing her brother--or even saving herself. But Cassie must choose: between trust and despair, between defiance and surrender, between life and death. To give up or to get up.
Wildly entertaining . . . I couldn't turn the pages fast enough.--Justin Cronin, The New York Times Book Review
An Amazon Best Book of the Read More chevron_right
Frequently bought together
Frequently Asked Questions About The 5th Wave
Book Reviews
(14)
Did you read The 5th Wave? Please provide your feedback and rating to help other readers.
No love triangle in this one folks! Great alien invasion story.

Derived From Web

, May 22, 2022

I really enjoyed the different view ''. The silencers are mainly important. Cassie was funny, feisty, and strong. I honestly believed that she and Parish would meet and fall in love from the beginning. I knew, especially with her huge crush on him, that when she met Evan, I knew that Parish did not have a chance. Sammy seemed older for his age at times and then younger during different times. I made a real connection with all the main characters and was extremely happy when an unnamed sadist was killed. I hope the movie does justice because this is one heck of a book. You don 't want to miss it. I bought it in paperback because it was cheaper than kindle.
everything about this book is right

Derived From Web

, May 22, 2022

This is one of those rare, heartbreaking stories that you won 't be able to put down. Rarely '' feel this good about a book. On a hand '', I could count the perfect books I have read, though I have probably read thousands of books before. This is one of them. This story is all about action and at the same time is an emotional roller coaster. The characters are just right, people that we would all like to be if a crazy apocalypse took over our Earth. The three main characters are all brave and they are not afraid to make difficult choices. Because of that, you either hate them or you will love them by the end of the book. I highly recommend '' this story. If you like YA, paranormal romance books, you will LOVE this story! I can 't write more because I have to buy the second installment and figure out what happens next! , but you can also find a twig of magic.
Quick read

Derived From Web

, May 22, 2022

I was not sure if I would like the book, but recommended that I read a sample and then wanted to read more. You hear the story from a couple of different characters voices, which gives it something new. But these days, don 't you see most things? It is a story that could be a little bit of a lot of things, but the author uses his imagination and makes it his own. I liked the book because it did not start with some love story or even focus with many similar ya books like many similar. It was really about survival. Sure, but it is not the main story and who knows if it even carries into the second book. I'm interested to know if the human race can even survive all that has happened and how the author chooses to end it.
Enjoyable. Exciting. Ending could have been better, though

Derived From Web

, May 22, 2022

I thought the idea was unique how they invade in waves and each was interesting. It was fast and easy to use. Nothing too complicated or arbitrary. Some POV changes were at first a little tricky, but it wasn 't horrible. I guess I don 't have much to say on this one. But it did not leave me OMG! or WHAT! , like I would have liked it. I'm sure I finish the series at some point, but the way this book ended, it is not making me go out immediately like most books leave me. That is the only reason I give it 4 stars instead of 5 because the ending has left me a little disappointed. Other than that, it was a good read.
I liked this book

Derived From Web

, May 22, 2022

I liked this book ''. It did not seem to be a rip-off of something else, it was well written. Cassie's main character was likable and seemed to actually want to achieve her goals, she didn 't meet the boy she fell for and give up. She spends the book trying to find her alien brother while making discoveries about herself and the little attack. The twist at the end doesn't necessarily surprise you or come out of nowhere, but it is interesting and makes you want to read the next one to find out what happens to Cassie and crew.
Wondeful!! Did I mention I don't like stories about aliens?

Derived From Web

, May 22, 2022

What thought I did? I don 't like alien books. They have never interested me. I read it so. I love it! The way Rick Yancey gives us different points of view seamlessly is wonderful. Cassie liked that she was not a whimp. Rick Yancey writes her in such a way that is like 99% of the teenage girls out there. She is a strong heroine and one that you could relate to. She goes, but no teenager I know swears with perfect speech. I certainly didn 't. D Then there are Evan and Ben. Both are different in their own ways. It is a unique twist of adventure and love and the basic question of what makes us human? Truly, a great read. I can 't wait until the second comes out. The characters are interesting and likeable.
Inventive Take on an Old Theme

Derived From Web

, May 22, 2022

I am reluctant to invest in another alien takeover series, but this one surprised me. The title refers to the stages - waves in an alien invasion that appears to have wiped out most of the human population at this point. At least that is how it appears to Julie, one of the few survivors who became a bitter warrior over the course of watching her family and her friends die in the previous waves. We gradually learn of her past and the preceding waves as the narrative unfolds, most of it takes place in real-time, as Mad Max struggles to find and save her younger brother in a real world. She does not know who we trust and neither does it makes things interesting and allows for a subtle but sophisticated exploration of what it means to be human.
The 5th Wave: The first book of the 5th Wave by Rick Yancy

Derived From Web

, May 22, 2022

I bought it for my husband, because he is into Sci-Fi and I didn 't realize until I got it home that it was for youth readers. After reading the cover more closely at home and discovering this, I assumed that my husband would not read it, but since I bought it, I read it. Although I generally do not like Sci-Fi, I was completely absorbed and finished it quickly. I told my husband that it was a great read, so he also gave it a thumbs up. We can 't wait for the next book to come out. Note of interest : My husband and I are both in our sixties, I would recommend this book to anyone, regardless of age and even if you think you are not into Sci-Fi. Enjoy!
One of my favorite books

Derived From Web

, May 22, 2022

This book deserves definitely a five - star rating. I loved how the author really let us go into Cassiopeia's mind, asking I really admired the way she thought and did things. I would recommend this book to any body, but it is really intense, so I wouldn 't recommend it for children. I was even reading it before bed and couldn 't fall asleep because I was so shaken and scared.
A surprisingly deep YA book--really good!

Derived From Web

, Dec 9, 2021

I decided to read this book because they are making a film based on it. I haven 't heard that many books are about alien invasions, so I was not really sure what to expect. I loved it absolutely ''. From Ben's humorously witty and sarcastic remarks to Cassie overcoming his mistakes and weaknesses to Evan's torn heart to all the intriguing minor characters, I was hooked from the beginning to the end. You feel yourself coming alongside these characters and wrestling with the same questions : What does it mean to be human? What is the best part of humanity? , etc. This seemingly ordinary YA novel creates some hard questions, tackles fascinating characters and ties it all up in an alien invasion story that keeps you reading for more.