Buy 3 Get 1 Free
Our Best Sale Yet! Add 4 Books Priced Under $5 To Your Cart     Learn more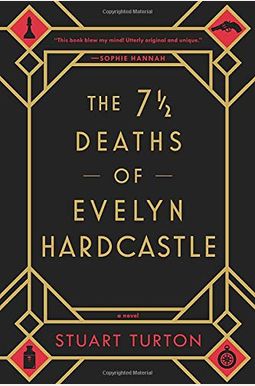 
 
The 7 ½ Deaths Of Evelyn Hardcastle
Book Overview
This book blew my mind Utterly original and unique.--Sophie Hannah, New York Times bestselling author
A murder mystery novel inspired by Agatha Christie with a dash of Groundhog Day and a hint of Quantum Leap and Downton Abbey.
Aiden Bishop knows the rules. Evelyn Hardcastle will die every day until he can identify her killer and break the cycle. But every time the day begins again, Aiden wakes up in the body of a different guest at Blackheath Manor. And some of his hosts are more helpful than others. With a locked-room mystery that Agatha Christie would envy, Stuart Turton unfurls a breakneck novel of intrigue and suspense.
The 71/2 Deaths of Evelyn Hardcastle is a breathlessly addictive mystery that follows one man's race against time to find a killer, with an astonishing time-turning twist that means nothing and no one are quite what they seem.
From the author of The Devil and the Dark Water, Stuart Turton delivers inventive twists in a thriller of such unexpected creativity it will leave readers guessing until the very last page.
Praise for The 71/2 Deaths of Evelyn Hardcastle:
Sunday Times Bestseller
Costa First Novel Award 2018 Winner
One of Stylist Magazine's 20 Must-Read Books of Read More chevron_right
Frequently bought together
Frequently Asked Questions About The 7 ½ Deaths Of Evelyn Hardcastle
Book Reviews
(19)
Did you read The 7 ½ Deaths Of Evelyn Hardcastle? Please provide your feedback and rating to help other readers.
Wow, Just…. Wow!

Derived From Web

, Jan 5, 2022

It fits my thoughts perfectly. I am a bit shocked. This book is amazing. What a great story. It is gripping and thought provoking. Read it! I can't say anything else. The concept is unlike any other book I have ever read, and I can't believe I stumbled upon it. It has been a long time since a story had me confused from plot twist to plot twist giddy. It's time to read it. I don't think everyone will see or experience what I did, but on the chance that you will, I will let you read it.
Fatphobic

Derived From Web

, Oct 12, 2021

The one fat character in the story line was constantly burdened and ashamed of how heavy he was. If you don't know what kind of feelings Stuart has towards fat people, this book makes it clear that he thinks of being overweight as disgusting, to the point where the fat character in this book has an uncontrollable need to eat. Shame on you.
What a ride!

What a wild ride of a book! And what a debut! This definitely did not feel like a debut release. It was so detailed and intricate and had me guessing every step of the way. I will say it took me 3 or 4 days to make it through the first 150 pages because it's so complicated and, just like our guide through this novel Aiden Bishop is, we are literally thrown into this story that has been going on before blindly. This is a little jarring at first and makes you stop several times to take stock of the information we have as readers at each moment. But once I got the hang of this, I sped through the rest of the book in about a day and a half. The ending answers shook me and I felt so satisfied by the ending.

I was just reading that the book has been purchased by Netflix for a mini-series and I am so excited for this. The complex narrative structure will make for an incredibly fast paced and high intensity television show.
I would have given it a 5 but...

Derived From Web

, Jul 30, 2021

I wasn't sure if I wanted to finish the book or not, but I was curious as to why. It would have helped if I had known it would take a while to put it all together. I liked it so much that I understand why. I don't want to give away anything, but I think it was worth a read. I might read it again knowing how all the puzzle pieces fit. If you like mysteries with twists, this is the book for you.
Beyond Confusing

Derived From Web

, Jul 6, 2021

The book is a mess. It goes off the rail and just keeps on going. What is a plot? Yes, but impossible to follow. What characters are there? Yes, it is. It's a nightmare to keep straight with too many. Is this the end? Well, it ends. I only read this book because it was a book club choice and I don't understand anything about it. I had to force myself to pick it up after finishing it. Reading became boring. It is dark and confusing.
Unfathomable

Derived From Web

, Apr 9, 2021

I don't know why I finished this book. Is it personal pride? I want to not feel like I wasted money. Too late for the latter and not enough for the former. I didn't know what was going on after the first three pages. The main character is in the middle of a supernatural game that is never explained but is monitored by an entity wearing a plague doctor mask from the middle ages, as he changes his identity almost every chapter. I wish the author good luck next time, but save money and time.
It amuses me to see people complain they hate the characters.

Derived From Web

, Feb 21, 2021

That's the point if you keep reading. Every single one of them is a bad person. Anna and Alan are the exception. I found this book well done. The characters in The Masks are similar to the family in the classic twilight zone episode. There's no way to get to the end without them all, because each has their own strengths and weaknesses.
I've bought it several times...

Derived From Web

, Feb 4, 2020

One of the most interesting books I have read in a long time, the fourth one I have purchased after leaving one in an taxi while late for a train. I got myself a second copy to replace it, then one for my parents and one for my e-reader so I could revisit it. The hardcover is beautiful, but the paperback has a map of the house which is more useful than the map of the grounds in the hardcover. Since I am using it to read again, the Kindle is still very effective, even though it lacks the elegance of a hard copy. I found the discount on the Audible book to be annoying after I bought three hard copies. The reader uses a high pitched voice for the female characters and I found that offputting. It is definitely one to read in hard copy if you choose to do so.
Interesting and Richly Entertaining

Derived From Web

, Jun 9, 2019

The 7 12 Deaths of Evelyn Hardcastle was written as if it happened in the late 19th century but is more likely to happen in the future. It is contained in a very narrow timeline that keeps repeating and you must pay attention to keep the story straight so you can appreciate the richness of the mystery. The novel is well written and well executed.
Confusing, dark, depressing

Derived From Web

, Mar 25, 2019

I read it on someone else's recommendation. I forced myself to finish it for that reason. The plot was confusing, the atmosphere was dark and depressing, and I didn't care about the characters at all. A who-dunit mixed with time travel, a murder mystery that died at the hands of its own cleverness.