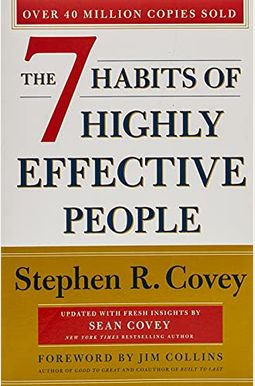 
 
The 7 Habits Of Highly Effective People: 30th Anniversary Edition
Book Overview
*New York Times bestseller--over 25 million copies sold *
*The #1 Most Influential Business Book of the Twentieth Century*
One of the most inspiring and impactful books ever written, The 7 Habits of Highly Effective People has captivated readers for nearly three decades. It has transformed the lives of presidents and CEOs, educators and parents--millions of people of all ages and occupations. Now, this 30th anniversary edition of the timeless classic commemorates the wisdom of the 7 habits with modern additions from Sean Covey.
The 7 habits have become famous and are integrated into everyday thinking by millions and millions of people. Why? Because they work With Sean Covey's added takeaways on how the habits can be used in our modern age, the wisdom of the 7 habits will be refreshed for a new generation of leaders. They include:
Habit 1: Be Proactive
Habit 2: Begin with the End in Mind
Habit 3: Put First Things First
Habit 4: Think Win/Win
Habit 5: Seek First to Understand, Then to Be Understood
Habit 6: Synergize
Habit 7: Sharpen the Saw This beloved classic presents a principle-centered approach for solving both personal and professional problems. With penetrating insights and practical anecdotes, Stephen R. Covey reveals a step-by-step pathway for living with fairness, integrity, honesty, and human dignity--principles that give us the security to adapt to change and the wisdom and power to take advantage of the opportunities that change creates.
Frequently Asked Questions About The 7 Habits Of Highly Effective People: 30th Anniversary Edition
Book Reviews
(9)
Did you read The 7 Habits Of Highly Effective People: 30th Anniversary Edition? Please provide your feedback and rating to help other readers.
Life changing!

Derived From Web

, Mar 8, 2021

I like this book. I am 45 years old. I have heard of this book before, but I never paid attention to it because I thought it was a self- help book. I read it because I got the most random idea to do so. It is incredible. Covey is correct. He didn't come up with these ideas. The Almighty did. Covey distilled them into practical tidbits. This book is necessary for anyone who wants to learn how to steward well all that God has given them. This has helped me with my walk. The information in the book changed my life. I read it and then put it down.
Great content, Less happy with the physical copy itself

Derived From Web

, Jan 13, 2021

I started reading the book on the computer. After the first 100 pages of the book, I wanted a physical copy. I skimmed through the hardcover copy of the book and it seems to have been corrected. I will update the book review once I finish. I had to re- order my book because it came dinged. The cover of the second copy is a bit dirty, but it seems free of defects.
Good content. TERRIBLE STYLE OF WRITING

Derived From Web

, Jan 4, 2021

I started to focus on the style of writing in books that I have read because I have read so many. The content is good. The execution was terrible. I didn't like reading this book because of it's style. I don't recommend a new reader to read this book because I know he won't like it. Giving someone a good time as they learn is the best way to learn. My friends said they couldn't finish. The rating was excessive.
The quality of the book is seriously second grade

Derived From Web

, Nov 28, 2020

The pages are not very good. The print is very small and hard to read. I read this book and thought of buying it for my library, but I might return it.
Poor print quality

Derived From Web

, Sep 24, 2020

A lot has changed since I read this book 25 years ago. The paper and printing of this version are disappointing. The paper feels worse than the cheapest. The first handful of words are nearly impossible to read because of a printing error. It's not a huge issue to have a rough paper. Just was expecting better.
A Must-Read!

Derived From Web

, Aug 26, 2020

I understand why people love this book. There are amazing concepts, ideas and theories that can be used in both personal and professional life. It makes you think and consider. Some ideas and ways of thinking really spoke to me, and I have had multiple " WOW" moments. Sean Covey had additions and perspectives that were great. I was surprised that the book had actionable items and exercises that you could work on while reading it. Highly recommend, as do many others.
Unless you have an Amazon device do NOT buy this

Derived From Web

, Jul 6, 2020

I' ve downloaded AmazonAudible books before and had no issues. But they have changed their system. Unless you have an Amazon device, you will not be able to download your purchase. You can't get a refund from Amazon. I wasted close to 3 hours trying to download this as I'd already been able to do so before, but I was able to get it refunded through Audible. I tried using the Windows partition, but it couldn't download it. So. If you don't buy this version, you will save yourself time, trouble, frustration and money.
Next to the Bible, the Most Transformative Book of my Life

Derived From Web

, Jun 26, 2020

As part of my graduation presents, I buy this book. I gave a young woman this book yesterday and told her that it was the most important book in my life. Although it has been years since I read it in full, I still use its principles in my life. I'm thinking about buying the course for myself. Not a book to read. If you apply the principles in your life, I will transform your life.
Didn't receive the audible book

Derived From Web

, Jun 15, 2020

The audible book is free with the purchase of the book. I would have tried to find a way to buy the audible version if I knew that wasn't the case. Since I don't have a lot of time to read, it's ideal for me to have an audible book. Trying to find a way to get the book.