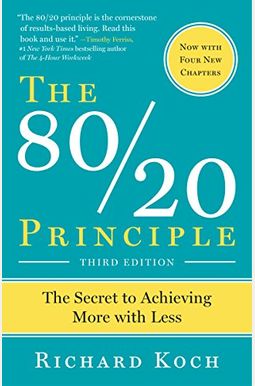 
 
The 80/20 Principle, Expanded and Updated: The Secret to Achieving More with Less
Book Overview
How anyone can be more effective with less effort by learning how to identify and leverage the 80/20 principle--the well-known, unpublicized secret that 80 percent of all our results in business and in life stem from a mere 20 percent of our efforts.
The 80/20 principle is one of the great secrets of highly effective people and organizations.
Did you know, for example, that 20 percent of customers account for 80 percent of revenues? That 20 percent of our time accounts for 80 percent of the work we accomplish? The 80/20 Principle shows how we can achieve much more with much less effort, time, and resources, simply by identifying and focusing our efforts on the 20 percent that really counts. Although the 80/20 principle has long influenced today's business world, author Richard Koch reveals how the principle works and shows how we can use it in a systematic and practical way to vastly increase our effectiveness, and improve our careers and our companies.
The unspoken corollary to the 80/20 principle is that little of what we spend our time on actually counts. But by concentrating on those things that do, we can unlock the enormous potential of the magic 20 percent, and transform our effectiveness in our jobs, our careers, our businesses, and our lives.
Frequently bought together
Frequently Asked Questions About The 80/20 Principle, Expanded and Updated: The Secret to Achieving More with Less
Books like The 80/20 Principle, Expanded and Updated: The Secret to Achieving More with Less
Book Reviews
(7)
Did you read The 80/20 Principle, Expanded and Updated: The Secret to Achieving More with Less? Please provide your feedback and rating to help other readers.
High-impact priorities

Derived From Web

, Apr 20, 2022

Richard Koch points out that he is apparently the first author to write a full-length book on the 8020 principle. That is an astonishing gap in management education, and I have seen the consequences many times over in companies unable to define high-impact priorities at virtually all levels. Koch does a great job of explaining 8020 management, and I recommend-or rather strongly* recommend that everyone who wants their organization to prosper should buy and distribute a few caseloads of this book. Koch is somewhat less successful in extending the principle of 8020 beyond business world. He's absolutely correct that it is a useful tool for establishing personal priorities, but Koch needs to be more helpful in determining how to make this happen. His current approach, even with the updating in this new edition, arguably takes away from the strong focus in the first half of the book.
I really loved this book

Derived From Web

, Apr 20, 2022

I really loved this book, it made me realize how much time I was wasting in my work. It helped me realize a radical change in the way I invested my time at work. Patricia is a Peruvian woman.
Thought provoking

Derived From Web

, Apr 20, 2022

The principle of 8020 is something that, if properly understood and applied, will change the way you work, play and live.
17 chapters too long

Derived From Web

, May 6, 2019

This book was recommended in preparation for a training course I will take for my job. It was probably the most difficult and tedious book that I have ever read. It was not engaging and repeatedly said the same thing. What took the author 20 chapters to say, could easily have been conflated into 2-3 chapters.
At least it proves it's principle

Derived From Web

, May 25, 2018

Save yourself 80% of your time by reading the title and nothing else. The input - output - ratio is nonlinear in most circumstances in most circumstances. If you accept the premise of the title, there is little value offered by reading this book.
Extraordinarily redundant

Derived From Web

, Apr 19, 2018

The author explains that he is surprised that there are a lot of articles on the 8020 principle, but no book on the subject. The 8020 principle itself is amazing, but 95% of the points of this book are explained by 5% of its words. The same SINGLE idea is repeated in 20 different contexts each day, so read an article or introduction about the 8020 principle and that's all you need to know really.
Could have made a bigger impact if it was under 150 pages

Derived From Web

, Jan 25, 2018

It is five stars because it opened my eyes to something I never knew or even heard before and I immediately could see how this could affect me, but it is also 3 stars because I felt the same or more could have been achieved with fewer pages. It seemed to drag some topics out that were unnecessary and I became rather bored on many pages.