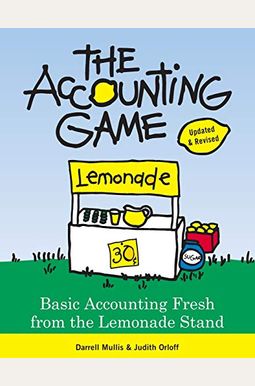 
 
The Accounting Game: Basic Accounting Fresh from the Lemonade Stand
Book Overview
For anyone looking to simplify their bookkeeping, get ready for the clearest explanation ever of key accounting basics
Wheather you're a manager, business owner, or aspiring entrepreneur, you've likely found yourself needing to know basic financial accounting and become intimidated by the typical, complicated accounting books. You don't want to become accountant, you just want to get the finances for dummies So, how does one manage an account balance? And how do you increase profits?
The Accounting Game makes complex financial accounting as simple as running a lemonade stand Dive into basic, simple accounting with:
Accounting made understandable: Using the world of a child's lemonade stand to teach the basics of managing your finances, The Accounting Game makes a dry subject enjoyable and understandable. As you run your stand, you'll begin to understand and apply financial terms and concepts like assets, liabilities, earnings, inventory and notes payable.
Master the basics with intuitive learning techniques: Unlike other accounting books and technical textbooks, The Accounting Game uses the accelerated learning method. You'll use your senses, emotions, and critical thinking skills to lean new tasks quickly without feeling like you're in a boring classroom. In addition, the story Read More chevron_right
Frequently Asked Questions About The Accounting Game: Basic Accounting Fresh from the Lemonade Stand
Book Reviews
(16)
Did you read The Accounting Game: Basic Accounting Fresh from the Lemonade Stand? Please provide your feedback and rating to help other readers.
Aggravated Me

Derived From Web

, May 2, 2022

It was very slow and, at times, repetitive, often speaking in a slow and deliberate manner reminiscent of a child learning how to read. It took me years to fully enjoy every single chapter before giving up reading. I found the pace of the book to be very fast. If you're patient and can tolerate the dumbing down, you can get a lot out of this book, Garton said. I'm not a big fan of watered-down examples, but this was too much. The worksheet in each chapter differs from the workbook in that it relies on information from earlier parts of the book. The book expects you to remember numbers details instead of refreshing the information from previous chapters.
A good Book

Derived From Web

, May 2, 2022

The benefit of this book comes from being able to sit down for a week or so and work slowly and painstakingly through it. It wont make you into an accountant but it will definitely give you a better understanding of accounting practices. I would recommend it to anyone.
Enjoyable read

Derived From Web

, May 2, 2022

This book is a light read, and makes a very dry subject fun to learn about, Easy to do, and enjoyable to read, too. It's a high level book, So don't worry. t expect any real depth, but it gets the basic concepts across easily and is therefore a good book for what it tries to do, it said.
I wish every text book was written like this! Not only do the authors make it ...

Derived From Web

, May 2, 2022

I wish every book was written like this. Not only do the authors make it fun, but they break down accounting so that ANYONE can understand it.
A Must Read

Derived From Web

, May 2, 2022

The seller was timely and the book is great. Opened it to glance at it starting scanning the beginning and could not put it down until I had finished the 1st chapter. Excited to get into the rest of the season, Tunick said. East to understand, fun to read, Raymond said.
Easy Peasy

Derived From Web

, May 2, 2022

Basic accounting is so easy and I love that! Great book for beginners and I would recommend it to even teenagers to learn about the real world and making money. A great book.
A very nice walk through of the basics of accounting

Derived From Web

, May 2, 2022

Good walk through the basics of accounting. I really liked how they started with the very basics and worked up step by step, said Janet Floyd, executive director of music for AOL Europe. Overall, I would recommend it to others.
Almost good

Derived From Web

, Mar 7, 2022

I am in my second year of earning an associate's in accounting and I bought this book to supplement what we are learning in class. The second issue is that not all answers are listed in the back. The book broke down the terms that it is easy enough for a novice accountant.
Helpful, if Not a Little Condescending

Derived From Web

, Dec 26, 2021

I did not pay attention to my accounting classes at all. Low B's and a lot of that was dumb luck, Mr. Dhaliwal said. Now that I'm going for a Bachelor, I figured I should work out how to do this stuff. The book is extremely helpful, Simon says. For example, capitalization versus expensing really confused me in school, but I now understand the difference and feel confident that I could go back and improve my grades in college, she said. It's nasty, but I have no problem with it being the way it treats you as a reader. The book reads like they're talking to you like you're a kid running a lemonade stand. If they were to ask, I understand that's the point, but I feel like they could ease off the childish rhetoric a bit when they're in the middle of a question. For me, the book was exceptional and incredibly helpful.
Excellent book, though has a few printing mistakes

Derived From Web

, Sep 23, 2021

A real nice book, got through all of it, Morgenthau said. Learned some key concepts such as how to roll up the earnings from one week to the next from the balance sheet, learning that the net profit from the income statement always matches the earnings week to date on the balance sheet. Note that the total equity ownership for the book is $15, which is already printed. On page 173 for purchases on the income statement, I cannot find the number 4 for purchases on prior income statements. It appears to me that it should be the number 24 because of the way it was calculated, not 4. It's maddening trying to find the $4 when it's clearly not there. It must be another numerical error in the book. Even with a few numerical errors, it did a fine job with the basics, the compiler said. It would have been helpful to have a mention of debits and credits, but overall a good book, said Dr. Goin.