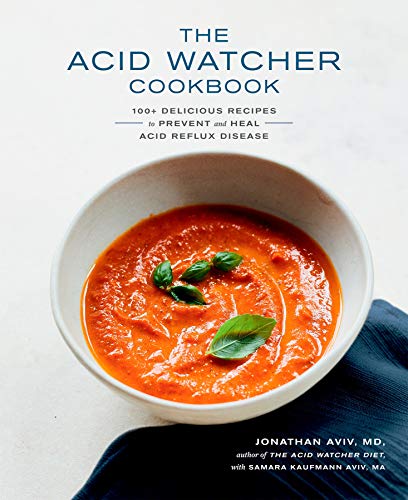  
The Acid Watcher Cookbook: 100+ Delicious Recipes to Prevent and Heal Acid Reflux Disease
Book Overview
Jonathan Aviv, renowned ENT physician and author of The Acid Watcher Diet, supplies readers with new recipes and advice on how to stay acid-free and reverse inflammation for optimal health.
In
The Acid Watcher Diet
, Dr. Jonathan Aviv gave acid reflux sufferers a pathway to healing, helping them identify the silent symptoms of acid damage and providing a two-phase eating and lifestyle plan to reduce whole-body acid damage and inflammation.
Now,
The Acid Watcher Cookbook
widens the possibilities of what acid watchers can eat without repercussions. For many people struggling with acid damage, acidic foods like tomatoes, citrus fruits, vinegar, and reflux-inducing foods like raw onion and garlic, and chocolate are off-limits. After hearing patient after patient bemoaning the loss of vinaigrette, tomato sauce, ketchup, guacamole, and other staples, Dr. Aviv and coauthor Samara Kaufmann Aviv developed an innovative method of cooking that combines acidic foods with alkaline foods so that acidity is neutralized. By following a few simple guidelines, anyone will be able to enjoy dishes that had previously exacerbated their acid reflux symptoms. The 100 new Acid Watcher-approved recipes included in this comprehensive cookbook are delicious, safe, and anti-inflammatory, allowing readers to reclaim the foods they love without risking their health.
Read More chevron_right
Frequently bought together
Frequently Asked Questions About The Acid Watcher Cookbook: 100+ Delicious Recipes to Prevent and Heal Acid Reflux Disease
Books like The Acid Watcher Cookbook: 100+ Delicious Recipes to Prevent and Heal Acid Reflux Disease
What should you read after The Acid Watcher Cookbook: 100+ Delicious Recipes to Prevent and Heal Acid Reflux Disease Book? Here is a list of books to read if you read and loved The Acid Watcher Cookbook: 100+ Delicious Recipes to Prevent and Heal Acid Reflux Disease
Book Reviews
(10)
Did you read The Acid Watcher Cookbook: 100+ Delicious Recipes to Prevent and Heal Acid Reflux Disease? Please provide your feedback and rating to help other readers.
Great info on LPR & GERD

Derived From Web

, Apr 5, 2021

Also, I liked all the info on how pepsin can carry acid reflux up the esophagus and how eating or drinking anything more acidic than pH 4 will reactivate the pepsin in the esophagus. However, eating meals high in pH will not necessarily provide relief from many of the symptoms. It would have been great to have more complete lists of the pH of some foods and had more information on the complete onion family, Raymond said. Garlic and onions cannot be used in healing. It seems that leeks can be used in healing phase, Armstrong said. It is used in no recipes and has no explanation. Berries can be neutralized with the veggie milks but you have no guidance as to how much is needed to neutralize them except by following the recipes exactly.
Bought it for my H.Pylori - recipes worked really well!

Derived From Web

, Oct 30, 2020

I took Antibiotics for H. Pylori 2 months ago, I thought it didn't work because I still had symptoms, so I started a strict low-acid H. Pylori diet using this cookbook, she said. And today, 1.5 months since I got this book, I found out that I'm H. Pylori negative! i'm not sure if it was the Antibiotics or the diet the cured it, all I know is that I still felt symptoms after the Antibiotics, even though I started the watcher diet. The recipes are doable, list ingredients was not too expensive and it felt really good to still be able to enjoy yummy food within the very strict H. Pylori diet. Obviously, I could not eat everything in there, but the protocol says you can limit dairy, bread and any wheat products. But the book had some really good ideas, especially for gluten-free recipes, such as cauliflower toatdas.
Delicious and Easy

Derived From Web

, Oct 22, 2020

Given the restrictions of the diet, I think these are delicious, too, said Blair. I'm not much of a cook and don't like to spend a lot of time in the kitchen, he said. These easy-to-prepare meals are quick and easy to make. I'm really shocked by the number of complaints, Mr. Dhaliwal said. I'm in the healing phase of the diet and between the original book and this one, I have almost enough recipes to get by, he said. I would be first in line to get a third book, he said. My favorite recipes so far that I've included coconut shrimp, seared ahi tuna, lentil soup, the veggie stir fry, all the smoothies, and the banana bread, she said.
If you have stomach problems, gerd or acid reflux (clearing your throat) - read this!

Derived From Web

, May 12, 2020

Despite my medical background and knowledge of the problem, I have had stomach issues for years, clearing my throat and feeling sick every morning. My dentist told me I had acid reflux and he could tell from my teeth! Crazy, right? I bought this book because it changed my life. Easy to follow and not too heavy a labor, these are great for parties or home cooks. Some even add tomatoes and citrus in ways that neutralize them. I always thought I could drink apple cider vinegar and lemon, but it's just too strong.
Interesting ingredients

Derived From Web

, Apr 15, 2020

I absolutely love this book, Mary. There are some that I didn't love, but that is just because my taste buds are picky! It is a lot of money spent to do the start up items, but then it is just normal maintenance after that, Mr. Dhaliwal said. It has helped me a lot with my reflux, Cheri said. I have been able to reduce my stomach meds from 3 AC Pepcid to 2 a day and from 8-10 tablets a day to 4-6 after dinner. I still have issues with cinnamon and sometimes lemon, so I just don't add it. Play around with the recipes! I hope they come out with another great book. Thanks so much for the book, Diana. I have been so happy and my family has also loved some of these recipes, Melissa said.
More than I bargained for

Derived From Web

, Feb 29, 2020

This is a great cookbook, I can't argue with that. It's a lot of money, Bruno told the judge. If you want to overhaul everything about your diet, I would recommend trying to do it all over again. I bought this cookbook to try some recipes that won't aggravate acid reflux. This book is the most maintenance-free of cookbooks. What I'm trying to get at is, this is a good cookbook if you want to make a total lifestyle change, he said. But not a great cookbook if you are trying to simply find some good ol' meals to make that won't hurt your throat.
Not creative enough

Derived From Web

, Feb 24, 2020

I recently got diagnosed with silent reflux and struggling a lot by giving up almost everything! Diet has been a part of my whole life and I accepted that, but with this I felt it can push people towards misery! The doctor is using all the correct words, but he is not enough. Next thing you know the book tells you to give up everything. I had high hopes for this book, Mary. Authors can think of all the ways they have cooked the books again for inspiration, but really read them again for the inspiration!
Use when at maintenance only

Derived From Web

, Feb 8, 2020

I was surprised how few recipes actually were included for the healing phase, Melissa said. It's just too big a cap," said Blair, director of music for AOL Europe.
lots of great recipes

Derived From Web

, Dec 28, 2019

Bought this as a present for my husband and we were pleasantly surprised by the diversity of the recipes. From fish tacos to mac and cheese, there's something for everyone. Easy to make and use, the recipes don't have tons of ingredients to buy.
Amazing Cookbook for Acid Watchers

Derived From Web

, Nov 16, 2019

If you struggle with GERD or LPR, this cookbook is for you. By neutralizing acidic food with alkaline foods, it lets you eat all kinds of foods you never thought you could. The original Acid Watcher Diet book was also a huge hit.