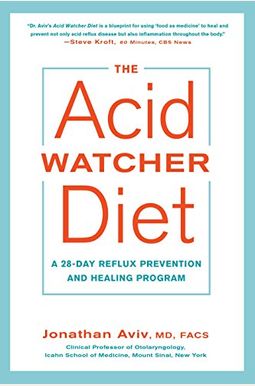 
 
The Acid Watcher Diet: A 28-Day Reflux Prevention And Healing Program
Book Overview
Dr. Aviv guides readers through healthy dietary choices with targeted recipes, helping them balance their bodies and minds for optimal health and break acid-generating habits for good.
Do you suffer from abdominal bloating; a chronic, nagging cough or sore throat; postnasal drip; a feeling of a lump in the back of your throat; allergies; or shortness of breath? If so, odds are that you are experiencing acid reflux without recognizing its silent symptoms, which can lead to serious long-term health problems, including esophageal cancer. In
The Acid Watcher Diet
, Dr. Jonathan Aviv, a leading authority on the diagnosis and treatment of acid reflux disease, helps readers identify those often misunderstood symptoms while providing a proven solution for reducing whole-body acid damage quickly and easily. His 28-day program is part of a two-phase eating plan, with a healthy balance of both macronutrients (proteins, carbs, and fats) and micronutrients (vitamins, minerals, antioxidants), that works to immediately neutralize acid and relieve the inflammation at the root of acid reflux.
Frequently Asked Questions About The Acid Watcher Diet: A 28-Day Reflux Prevention And Healing Program
Books like The Acid Watcher Diet: A 28-Day Reflux Prevention And Healing Program
Book Reviews
(11)
Did you read The Acid Watcher Diet: A 28-Day Reflux Prevention And Healing Program? Please provide your feedback and rating to help other readers.
Fantastic book!

Derived From Web

, May 7, 2021

This book is amazing and I HIGHLY recommend it! It is so informative. It really helps you understand how your gut works and how your body works. Your gut health is everything. I bought this book after suffering with 2 ulcers and GERD, IBS, Gluten Sensitivity with 2 ulcers and GERD, IBS, Gluten Sensitivity. It's an easy read, loaded with facts and information about preventive measures and lifestyle changes. Back recipes are in the back.
You'll feel better within a week

Derived From Web

, Mar 22, 2021

Recipes require a lot of preparation work, some recipes are complicated. I, however, love the schedule provided for eating at certain times. Since then, I have felt better and I have lost weight.
Highly recommended for People suffering with Acid Reflux

Derived From Web

, Apr 11, 2020

I have suffered from acid reflux for a few years, I've also done my own researches online, but I would recommend people living with GERD to read this book. It is not a cookbook only, but a very in-depth explanation of what goes on with you when you have GERD and what triggers or worsens the situation. Well organized and explained, really worth reading.
Helped me greatly

Derived From Web

, Oct 19, 2019

The best diet I ever tried. I had my LPR and I lost my last ten lbs. of baby weight in a month. You have to stay at this 100% for at least 6 months to see the full effects.
Improved the quality of my life

Derived From Web

, Sep 20, 2019

Unfortunately, I was on budget healthcare and didn 't have a whole lot of good vibes with my doctor. After researching this book, it not only gave me a great process to use, but also gave me a lot of inspiration. Highly recommended for anyone trying to make an informed reflex and to avoid troubleshoot diet changes.
Life changer

Derived From Web

, Aug 25, 2019

I recently developed signs of GERD. This book came from a random Google search. I followed the eating plan while I was on medication for reflux, and it really helped to calm the symptoms. While the eating plans are not 100% clean, the meals are specifically tailored to people with GERD, unlike other health books. Highly recommend giving it a try at least if you're looking to develop eating habits that are kind to GERD.
THE book to get for acid reflux.

Derived From Web

, Mar 12, 2019

This book is a must-have for anyone suffering from acid reflux. Written by a very knowledgeable doctor, you will get a good understanding of your condition and the options available to treat it. The recipes are very helpful and even if you don 't follow them directly, it gives you a guideline for things you can and cannot eat. This is the way I healed myself from my acid reflux and was able to get back on track.
Do the little things in the book like stop drinking caffeine for 4 weeks.

Derived From Web

, Jan 27, 2019

It is a good read whether you have acid reflux or not. Lots of little things you can do to make yourself feel a little better. My biggest take-a-way was giving up caffeine for 6 weeks. I'm a barista. Any idea how hard that was!!? But I felt better. Wouldn 't have stoppedslowed drinking caffeine without reading this book.
Some Good, a few Bad, and very Incomplete

Derived From Web

, Jan 18, 2019

Good - I think the tips and recipes work for GERD and LPR Bad - Disorganized and hard to refer to later - you have to follow everything religiously. If you are eating a meal and returning to square 1. -Most people cannot follow diets - the acidity level is not on nutrition labels, making it very difficult to follow. The logic isn 't consistent. For example, you can eat some alkaline foods if they are combined with acidic foods. If this were the case, I should be able to drink alkaline water after all, and all will be well in the world. Caremongering, based on non-science, incomplete modern medicine, loves to treat the symptoms, but not the root cause of anything. Telling someone not to eat acidic foods because you have acid reflux is lax science. There is a specific reason that each individual has reflux... something that needs to be analyzed and treated for each person.
A wake up call...

Derived From Web

, Sep 3, 2017

Very informative and well written. I am trying the Diet out, which is a challenge. It has already been a few days, but it is only a little better now.